Geography and Travel. 1041: Barbara Hofland, The Panorama of Europe
| | |
| --- | --- |
| Author: | Hofland, Barbara (Hoole) |
| Title: | The panorama of Europe; or, a new game of geography. By the author of The Officer's Widow; Clergyman's Widow; Daughter-in-Law; Little Dramas; Son of a Genius; Sisters; Northern Tourist, etc., etc. |
| Cat. Number: | 1041 |
| Date: | 1813 |
| 1st Edition: | |
| Pub. Place: | London |
| Publisher: | Minerva Press, A. K. Newman and Co., Leaden-Hall Street |
| Price: | Unknown |
| Pages: | 1 vol., 240pp. |
| Size: | 17 x 10.5 cm |
| Illustrations: | Fold-out frontispiece |
| Note: | |
Images of all pages of this book Note: these have NOT been verified or catalogued. Use with care.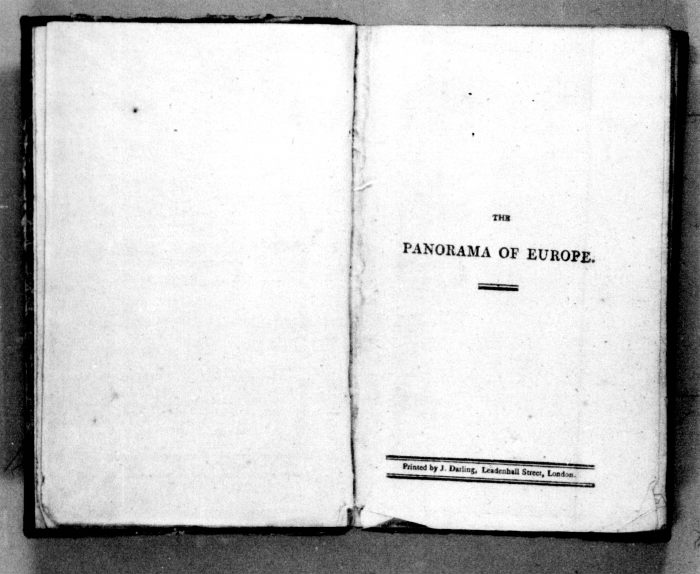 The 'Advertisement' relates that the author used to run a boarding school, and that she used to play this game there. The book's narrative, however, is not set in a school, but within the Davenport family, comprised of the two parents and their nine children. Even the best children, Mr. and Mrs. Davenport know, will be mutable and negligent, so they strive to entertain as well as to instruct them, hoping 'that their young family might never want a stimulant to their exertions' (p.6). It is with this in mind that Mr. Davenport designs a game for his children and their visiting friends.
The game involved each child impersonating a country. Mr. Davenport worries that the youngest children will not be up to the task, but when he asks them if they know any geography their answers prove that all their geography text-books have not been written in vain. William, now six, has been his mother's pupil for two years, and has 'written ever so much about places in my exercise book.' (p.9) Charles, yet younger, knows 'the four seasons, and the zones, and the quarters of the world, and all the capitals in Europe; and the seas, and the mountains, and all about William the Conqueror.' (pp.9-10) Two orphan girls who are staying, Maria and Anne, are afraid they will not be able to play since they have been at school only a short time and they 'get off their lessons in such a hurry, and repeat them so fast' that they cannot remember much geography (p.11). Mr. Davenport promises to give them lessons.
Over the next three weeks the children learn their parts, some planning to read their speeches, others learning them by rote. The day finally comes for the festival. Mr. Davenport sits on a throne in the garden to judge the performances. Mrs. Davenport plays England, dressed as Britannia and also seated on a throne, for 'it was proper that Great Britain should be represented in a position more emblematical of power and ease than any other nation in Europe.' (p.19) She has her two youngest sons by her - William as a Scot, and Charley as Ireland, with a doll - for Wales - on her lap. Mr. Davenport looks on her with admiration - in the midst of beauty, fortune and friends, she was devoting her life to her family - a lesson, Hofland notes, to all women. How fitting! - Mr. Davenport thinks - 'a just representative of a country, which, like her, not only spreads her matronly arms over her own children, to rear them to virtue, and refine them to elegance, but extends the blessings to strangers also, and bids the children of many a distant land rejoice in her protection.' (pp.20-21)
Each child in turn presents him or herself before the thrones and recites the standard descriptions of each country, as found in so many eighteenth and nineteenth-century geography text-books. The information is couched in the form of dialogues between Mr. Davenport and the children, all of whom are dressed to represent their countries. They answer his questions on the location, main cities, rivers, productions and history of their country.
Mrs. Davenport, as England, gets by far the longest speech (pp.118-185). She gives a detailed history of Britain and a long enquiry into its principal features, including its authors, both ancient and modern, including Byron, Scott, Henry James Pye, Coleridge, Southey and others (p.174). Mr. Davenport notes that she has included no women, to which she replies that 'I did not think myself authorized to name ladies as authors, lest I should seem to place them on an equality with the great names I have mentioned' (p.176). Yet she says that female writers
have been particularly useful to youth of both sexes; for the very highest talents have stooped to their wants, as the names of Barbauld, Edgeworth, and Trimmer, fully testify; to these I must add, Radcliffe, Opie, Smith, West, Baillie, and Seward, as poets. Miss Hannah More holds distinguished rank, not only as such, but as a moral and theological writer. Cowley, Inchbald, and Lee, are dramatic writers of great merit; and there are numerous well-written novels by Bennet, Meeke, Roche, etc, etc.; but Mrs. Hamilton, Miss Edgeworth, Mrs. West, and Mrs. Opie, are the first authors in this department of literature at present. (p.178)
After Mrs. Davenport has finished, her husband thinks it his 'duty to give you some account of those various changes in Europe which have, within my own time, entirely changed the political state of her affairs' (p.186). His account goes up to Napoleon's invasion of Russia and its repulse, Wellington in Iberia and the War of 1812. Though the French Revolution is described in full, it is distilled down to the treatment of Louis XVI's son and daughter, whose horrible fates are described (worst of all, they are deprived the benefit of education, that which they had already received dwindling away: see p.196). He ends with the hope that the time has come to throw off the shackles of Napoleon, even if Britain has not lost anything herself during the long conflict. His audience profess themselves to be 'delighted' with his 'lecture' (p.219). Mr. Davenport then tells them that there is a charitable campaign underway to collect money for the starving Russians, victims of French violence. He encourages them to give what they can to it, to which all the children respond enthusiastically (p.221).
The volume ends with a plan to repeat the game again, but with people - that is to say it will teach history and biography. '[T]he girls may fitly represent the fine arts, or rather those persons who have excelled in them;' says Mr. Davenport, 'while the boys start up as heroes, legislators, and philosophers; what think you of this plan?' (p.240)