Fables and Fairy Tales. 0002: Anon., The Little Esop
| | |
| --- | --- |
| Author: | Anon. |
| Title: | The Little Esop |
| Cat. Number: | 0002 |
| Date: | No date but c.1842 |
| 1st Edition: | |
| Pub. Place: | London |
| Publisher: | Tilt and Bogue, 86 Fleet Street |
| Price: | 1s 6d ('A neat leather box, containing eight ... [similar] volumes, lettered in gold "MY OWN LIBRARY," may be had price 14s') |
| Pages: | 1 vol., 191pp. |
| Size: | 7 x 6 cm |
| Illustrations: | 47 coloured plates |
| Note: | There is an advertisement at the end of the book for 'Tilt's Hand-Books for Children' which lists other titles in the series. |
Images of all pages of this book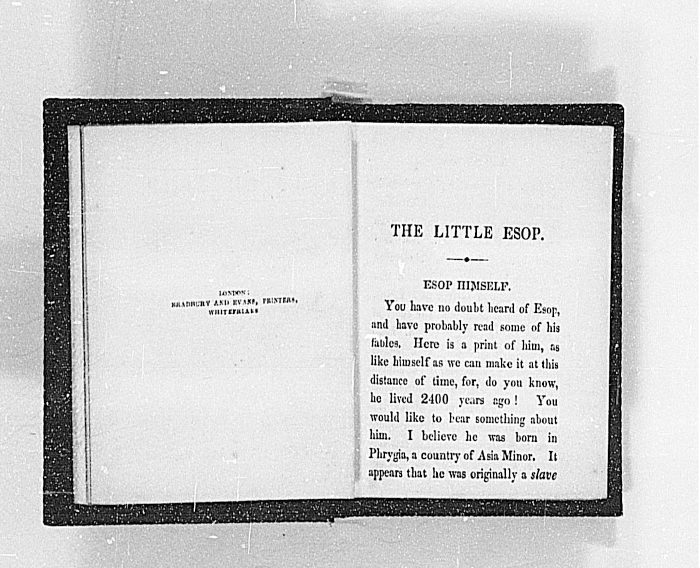 Introductory essay
Aesop's tales were first printed in England by William Caxton in 1484. Like most later editions the text was accompanied by many illustrations, but it was only very gradually that the work became established as especially suitable for children. John Locke did an excellent marketing job for Aesop when he recommended it in his Some Thoughts Concerning Education (1690) as virtually the only book suitable for children who had just learned to read. The entertainment value of the fables would encourage the child to read, said Locke, but would not fill his or her head with vice, folly or 'useless trumpery' (see Locke 1690: 212). Almost immediately after Locke's recommendation, Sir Roger l'Estrange compiled a new version of the fables (1692). Other similarly influential versions followed: by Samuel Croxall in 1722, Samuel Richardson in 1740 and Robert Dodsley in 1761. John Newbery published a verse edition in 1757. Because the origins of the fables were so obscure, each compiler had a great deal of freedom over which particular tales to include, and indeed what morals to draw from them.
This version of Aesop's Fables in the Hockliffe Collection is remarkable for being so small. It is less than two and a half inches wide by less than three inches high (7 x 6 cm), placing it comfortably within the defining limits of the miniature book tradition. Many miniature Bibles and other religious texts were published in the seventeenth and early eighteenth centuries. From the middle of the eighteenth century the titles printed in miniature form began to diversify, and the link between small books and young readers began to be forged. Probably the most famous early example of non-religious miniature books for children were the ironically-titled Gigantick Histories of Thomas Boreman which appeared from 1740 to 1743 (see Stone 1933). By the nineteenth century, such books were reasonably common, and many were regarded as much as objets d'art as texts to read. John Harris and John Marshall did much to popularise children's miniature books in the first decades of the nineteenth century. They exploited the cuteness of tiny books by publishing whole series of them, which could be collected and kept in a miniature cardboard book-case which the publisher would supply. Charles Tilt (1797-1861) was a late player to emerge onto the scene. He issued his small books under the series title 'Tilt's Hand-Books for Children'. All of them measured about three by two-and-a-half inches, had around 192 pages, were bound in gilt-stamped cloth, and illustrated with 48 pretty wood cuts. Many were devoted to aspects of natural history.
None of 'Tilt's Hand-Books for Children' are dated, but the series was probably launched in c.1835. Welsh and Weber's Bibliography of Miniature Books (Welsh 1989) suggests dates of 1835 for The Little Esop and 1840 for the Hockliffe Collection's other volume in the series, The Little Robinson Crusoe (0165 and 0166). A slightly later date of publication is derived from Philip A. H. Brown's London Publishers and Printers (Brown 1982) which suggests that Tilt and Bogue, the joint publishers of The Little Esop, operated together only from 1841 to 1843. Before that Tilt operated alone.
For more information on the development of miniature books, see Bondy 1981, Alderson 1983, and the on-line annotated catalogue from an exhibition held at the University of Iowa in 1996: https://www.lib.uiowa.edu/exhibit/tinytomes/index.html.
Locke, John, Some Thoughts Concerning Education (1690), ed. John W. and Jean S. Yolton, Oxford: Clarendon Press, 1989
Stone, Wilbur Macey, The gigantick histories of Thomas Boreman, Southworth Press, Maine?, 1933
Welsh, Doris Varner, and Weber, Francis J., A Bibliography of Miniature Books (1470-1965), New York, 1964; rpt. 1989
Brown, Philip A. H., London Publishers and Printers, c.1800-1870, London: British Library, 1982
Bondy, Louis W., Miniature Books. Their History from the beginnings to the present day, London: Sheppard Press, 1981
Alderson, Brian, 'Miniature Libraries for the Young', The Library, 3rd ser., 6 (1983), 3-46