Stories Before 1850. 0165: Various, Little Robinson Crusoe and Book of Fables
| | |
| --- | --- |
| Author: | Defoe, Daniel, and Anon. |
| Title: | Little Robinson Crusoe and Book of Fables |
| Cat. Number: | 0165 |
| Date: | No date (but c.1840) |
| 1st Edition: | 1719 |
| Pub. Place: | London |
| Publisher: | D. Bogue, Fleet Street (from title-page) or Tilt & Bogue, Fleet Street (from half-title) |
| Price: | 1s 6d for each volume |
| Pages: | 2 vols., 191 and 191pp. |
| Size: | 7.5 x 6 cm |
| Illustrations: | 2 vignettes and 95 plates |
| Note: | Two separate titles are enclosed in the same binding |
Images of all pages of this book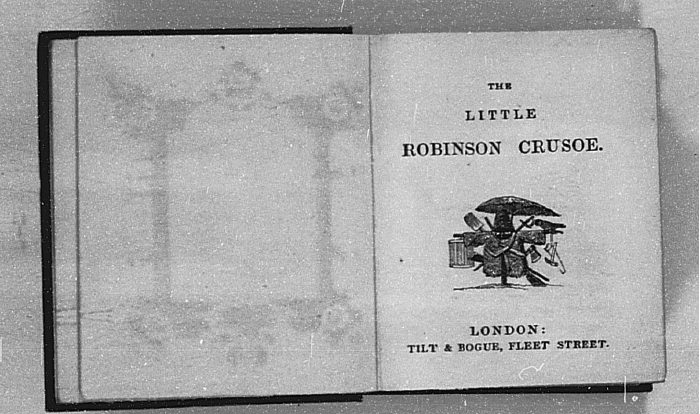 Introductory essay
Two distinct titles are contained within the same binding in this volume of 'Tilt's Hand-books for Children'. Although the two titles appear separately in the book-list which closes the volume, the common title-page makes it plain that it was the publisher's intention that Robinson Crusoe and Litte Esop should appear together. The Hockliffe Collection also possesses separate editions of each of these titles (0002 and 0166).
Charles Tilt (1797-1861) issued his small books under the series title 'Tilt's Hand-Books for Children'. All of them measured about three by two-and-a-half inches, had around 192 pages, were bound in gilt-stamped cloth, and illustrated with 48 engraved plates. Many were devoted to aspects of natural history. None of them were dated, but the series was probably launched in about 1835. A Bibliography of Miniature Books (1470-1965) suggests dates of 1835 for The Little Esop and 1840 for The Little Robinson Crusoe. A slightly later date of publication is derived from Philip A. H. Brown's London Publishers and Printers, c.1800-1870 which suggests that Tilt and Bogue, the joint publishers of the books, operated together only from 1841 to 1843. Before that Tilt operated alone. For more information on the development of miniature books, see the essay accompanying 0002 and Louis W. Bondy, Miniature Books. Their History from the beginnings to the present day, Brian Alderson, 'Miniature Libraries for the Young', or the on-line annotated catalogue from an exhibition held at the University of Iowa in 1996: 'Tiny Tomes: The Charlotte M. Smith Collection of Miniature Books (https://www.lib.uiowa.edu/exhibit/tinytomes/index.html).
Abridgements of Daniel Defoe's Robinson Crusoe were common in Britain and Europe in the century and a half after its original publication in 1719. Versions especially designed for children were published by Francis Newbery and Thomas Carnan in 1768 and Benjamin Tabart in 1805, but children doubtlessly read the many chapbook versions which began to circulate immediately after the work's original publication. Unlike these chapbook versions, which could compress the narrative into a mere eight or sixteen pages and which tended to concentrate on Crusoe's feats of arms, this edition by Tilt and Bogue places a strong didactic emphasis on the tale. The preface begins the process, drawing a moral from the story which Defoe might not have foreseen:
Let us hope that this tale of wonderful adventures, bitter sufferings, and perilous escapes, will teach our young friends the advantages of a safe and quiet home, and cure them of that sad disorder of the mind, a discontented and restless disposition. (pp.6-7)
The appropriation of the classic Crusoe story for pedagogic purposes, and the rather hectoring tone it adopts, becomes fully evident within a page or two of the book's start:
Robinson, however, disregards all that can be said and done to attach him to his home; he becomes ill-tempered and reserved, and would you believe it, he forms the sad resolution of leaving his parents' house without their leave or knowledge! I quite expect to find him in some dreadful situation of distress the next time we hear of him - let us see. (p.11).
The narrator's expectation was not to be frustrated, as we discover on the next page. Later Crusoe is punished for his involvement in the slave trade (p.44) and criticised for not paying enough attention at school to be able to speak French, Spanish or Portuguese (p.36). This didacticism exceeds that imposed by some other revisions of Defoe's text, such as Joachim Heinrich Campe's New Robinson Crusoe (1778-1780; first translated into English in 1788), but is not as extensive as that which appears in others, such as Johann David Wyss's Swiss Family Robinson (1812-13; first translated into English in 1814). One other arresting change to Defoe's original text which was incorporatated into Tilt and Bogue's version is that Crusoe's island apparently becomes part of the British Empire on his departure: p.188.
For further discussion of Robinson Crusoe see the essay accompanying 0080.
For another version of Robinson Crusoe see 0037. For a 1788 version of Philip Quarll, another Robinsonnade, see 0090. For more on Aesop's Fables see the essay accompanying 0002.
Welsh, Doris Varner, and Weber, Francis J., A Bibliography of Miniature Books (1470-1965), New York, 1964; rpt. 1989
Brown, Philip A. H., London Publishers and Printers, c.1800-1870, London: British Library, 1982
Bondy, Louis W., Miniature Books. Their History from the beginnings to the present day, London: Sheppard Press, 1981
Alderson, Brian, 'Miniature Libraries for the Young', The Library, 3rd ser., 6 (1983), 3-46