Stories Before 1850. 0077: Anon., Busy Ben, and Idle Isaac
| | |
| --- | --- |
| Author: | Anon. |
| Title: | Busy Ben, and Idle Isaac |
| Cat. Number: | 0077 |
| Date: | No date but c.1856-1870 |
| 1st Edition: | |
| Pub. Place: | London |
| Publisher: | Dean and Son, 11 Ludgate Hill |
| Price: | 2d |
| Pages: | 1 vol., 11pp. |
| Size: | 15.5 x 11 cm |
| Illustrations: | 11 vignettes |
| Note: | Ornamented front and back covers, with full publication details, are missing from the digitised images |
Images of all pages of this book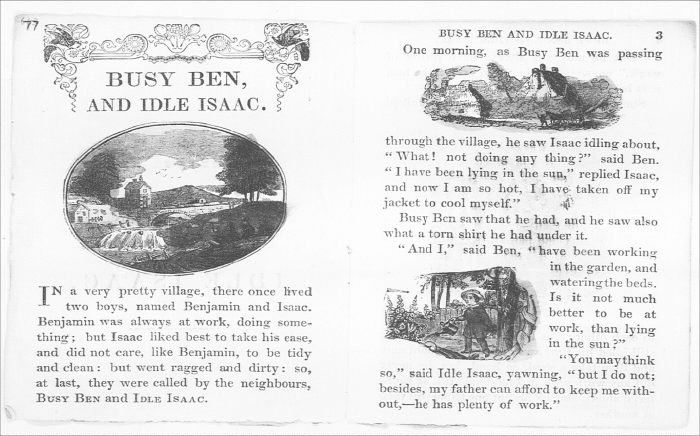 Introductory essay
See below for synopsis
The Hockliffe Collection copy of Busy Ben, and Idle Isaac is encased in its original highly decorated covers, but these have not been digitised. The outside front cover gives the following imprint:
DEAN & SON'S | NEW COLOURED | TWO PENNY BOOKS | Nurse Rockbaby's | PRETTY STORY BOOKS | BUSY BEN | AND IDLE ISAAC. | 11 | LONDON DEAN & SON. | 11, LUDGATE HILL.
Dean's was an established firm of children's publishers throughout the first half of the nineteenth century. According to William B. Todd, though, Thomas Dean was trading as 'Dean & son' at Ludgate Hill in London only from 1856-70 (Todd 1972).
The tale itself is fairly standard. Ben is an industrious boy while his childhood friend Isaac is lazy. Ben is taken on as an apprentice ship-builder and gains promotion after promotion, eventually becoming his own master and building a famous ship which pleases the Queen. He becomes rich and is knighted. Isaac remains indolent until he reads of Ben's success and tries to reform. They encounter one another again when Isaac, in his role as a cat's-meat man, calls at Ben's large house. This gives Ben the chance to read a lecture which explains the virtue of hard work and of saving up a little each day. Generously, Ben offers that '...if you will promise to save up a part of what you earn, and put it into the savings bank, I will put as much money to it every half year, that you may have something to live on in your old age.' (pp.10-11) Samuel Smiles published his hugely successful Self-Help in 1859. Busy Ben, and Idle Isaac distils the same ideas into almost fairy-tale form for an audience of children.
Todd, William B., A Directory of Printers and others in Allied Trades, London and vicinity, 1800-1840, London: Historical Society printing, 1972