Stories Before 1850. 0078: Edmund Butcher, Moral Tales
| | |
| --- | --- |
| Author: | Butcher, Rev. Edmund |
| Title: | Moral Tales: designed to amuse the fancy and improve the hearts of the rising generation ... To which is added, by a lady, The unhappy family; or, the dreadful effects of vice. A tale |
| Cat. Number: | 0078 |
| Date: | 1801 |
| 1st Edition: | 1801 |
| Pub. Place: | London |
| Publisher: | Vernor and Hood, Poultry, and Sold by E. Newbery, Corner of St. Paul's Church-Yard |
| Price: | Unknown |
| Pages: | 1 vol., 210pp. |
| Size: | 13 x 8 cm |
| Illustrations: | Engraved frontispiece |
| Note: | |
Images of all pages of this book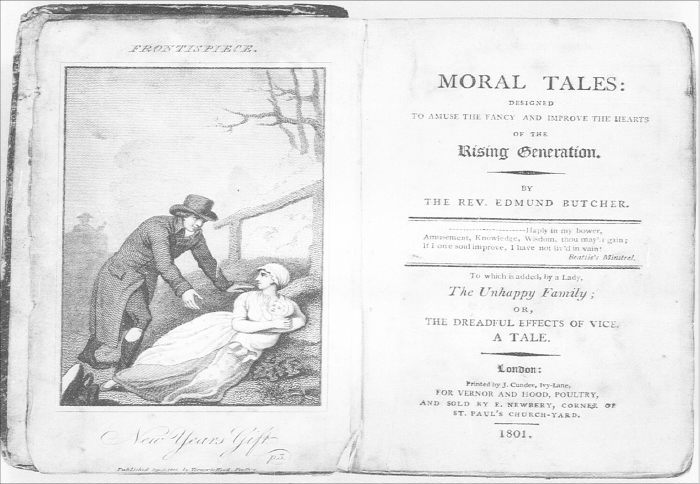 Introductory essay
See below for synopses.
Edmund Butcher (1757-1822) was a noted Unitarian minister in London and then in Sidmouth, from where the preface to Moral Tales is dedicated. As well as being engaged in the development of dissenting theology, Butcher published several collections of sermons and prayers, a number of hymns, and some topographical work. Moral Tales was his only work produced specifically for children (see D.N.B.).
Three separate narratives are contained within Moral Tales, 'The New Year's Gift' (begins p.1:see below for synopsis), 'Coniston, or, Female Excellence the Source of Real Felicity' (begins p.135), and 'The Unhappy Family' (begins p.188: see below for synopsis). According to the full title, only the first two were written by Butcher, the last being by an anonymous lady. While this last is almost impossibly brief, having the tone of a chapbook rather than a moral tale, Butcher's two offerings combine solid didacticism with engaging narrative. 'The New Year's Gift', for example, uses a plot which might have come from many a contemporary novel. A mysterious, distressed woman is introduced, and the story of her persecution by her apparently barbarous father-in-law, who had opposed her marriage to his son, is gradually revealed. The abduction and attempted murder of her husband adds more interest, and Butcher even includes a short 'Robinsonnade'. The narrative itself, unlike many children's books, has no overt and consistent moral tendency. At one point, when he has been reunited with his wife and thus found out how bountiful God is, our hero does repudiate his former 'groundless contempt for religion' (p.83). But other than this, the story does not, in itself, prove the necessity of living a virtuous life, for the hero and heroine would have been forced to undergo their adventures however pure their lives. But Butcher does infuse into his plot very explicit lessons on a variety of subjects. There is propaganda for marriage (pp.79-80) and for charity (pp.27-28), as well as for religion. There are also passages promoting breast-feeding (pp.32-33) attacking slavery (pp.87, 91) and providing a geographical and anthropological survey of Tenerife (pp.89-90). And it is clear from Butcher's preface that he saw his role as primarily to inspire virtue in his readers, even if he clothes it in 'such a dress, as shall render it pleasing to their minds' (p.iii). Unlike his more Rousseauian contemporaries, Butcher regarded vice as the 'default setting' in young minds. The mind is like a field, he says, with proper cultivation it will produce beautiful flowers, 'but, if neglected, it will certainly bring forth rank and poisonous weeds.' (p.iv) Clearly, for Butcher, chidren's literature was an essential tool for steering children on the path of virtue.
Synopses
'The New Year's Gift. A Tale' (p.1)
Mr. Howard, 'heir to all the hereditary virtues of his name' (p.9: perhaps a reference to John Howard, prison reformer, or the Dukes of Norfolk, whose family name this was) comes across a woman run over by a coach. She and her baby are almost lifeless (depicted in the frontispiece). Mr. Howard takes them to his home. To celebrate the new year, Mr Howard distributes presents to his family - a housewife (i.e. a sewing kit), a pocket-book, a red morocco purse, various books. His son, Edwin, for instance, receives 'EVAN'S Sketch of the Denominations of the Christian World at which 'his eyes sparkled with pleasure' (p.22). The real 'new year's gift' of the title, though, is the poor woman and her child.
Mr. Howard soon has his suspicions confirmed that the distressed woman he has taken in originally came from a wealthy background. Her name is Maria Villars and she recounts her story (beginning p.40). At a young age, she fell in love with Henry Villars. They wanted to wed but waited for permission to arrive from his father, then in Bengal. The longed-for letter did not arrive, and following the death of her father (her mother was already dead), Maria decided to marry Henry. Soon he was kidnapped by masked ruffians for no obvious reason. She issued an advertisement with a fifty pound reward, but she discovered nothing. She lost her home and her furniture. Seven months later her child, also called Maria, was born. Maria took employment as a mantua-maker, but she was about to take refuge in a poor house when she was run over, and then rescued by Mr Howard.
The main narrative continues with Mr Howard and his friend Dr Blake finding a villain, on his death bed, who confesses to having helped to kidnap Henry Villars. After his abduction, he was put on board a ship at Greenwich. What happened to him after this, he cannot say. Next, an advertisement appears in the paper asking Mrs Villars to make herself known. She visits the public house named in the advertisement, and Henry Villars is there. Reunited with his wife and child, Henry tells his story (beginning on p.85). The ship he was put onto at Greenwich was going to Guinea with cargo, which would be exchanged there for slaves. The ship was wrecked in the Bay of Benin. Only Henry and a man named Green, a former conspirator against him, survived. Green explained the plot against Henry. He was to be taken to South America where he would be introduced to the woman his father had decided that he should marry. His father was still alive, and a wealthy East India merchant. Green and Henry are washed up on an island which they later find to be St. Matthew's, a Portuguese possession, but bleak, barren and uninhabited. They lived in a cave, eating salvaged ship's biscuits, wild goat, trapped birds, and so on. After five months Green died by falling off a crag while trying to signal to a ship. After another two months, an English ship arrived, attracted by Henry's signal, and he was rescued.
Henry receives a letter from his father. The father explains that he has discovered a plot of his steward to murder Henry and thus inherit the father's wealth. It was he who stopped and forged letters to keep Henry ignorant of his father's plans for him, and who arranged for Henry's abduction. All can end happily then, with Henry's father having returned to Britain and generously giving £1000 to Mr Howard and £500 to each of his family.
'The Unhappy Family; or, the Dreadful Effects of Vice. A Lesson for Youth' (p.188)
Mr. Clindon is a rich merchant, until his ships founder. He is forced into near-poverty. His wife dies as a result, but he still has a son and a daughter, Zelinda. All his friends desert him except a Mr. Meadows in St. Domingo. The family journey there, on a ship called 'The Victory', but Zelinda is killed in an engagement with Algerine pirates. The son, Young Clindon, is taken under the wise tutelage of Meadows, but falls in love with a dangerous coquette, steals from Meadows, and elopes to Paris. Mr. Clindon traces him there, but finds him about to be executed for murder. After a last interview, Mr. Clindon dies.