Stories Before 1850. 0080: Joachim Heinrich Campe, The New Robinson Crusoe
| | |
| --- | --- |
| Author: | Campe, Joachim Heinrich |
| Title: | The new Robinson Crusoe; [An Instructive and Entertaining History for the Use of Children] |
| Cat. Number: | 0080 |
| Date: | 1818 |
| 1st Edition: | 1779-80 (1788 in English) |
| Pub. Place: | London |
| Publisher: | John Arliss, Juvenile Library, Newgate-Street |
| Price: | 2s 6d |
| Pages: | 1 vol., 179pp. |
| Size: | 13.5 x 8.5 cm |
| Illustrations: | Frontispiece and five further wood engravings |
| Note: | The Hockliffe copy has its title-page missing. Much of the above bibligraphical information is derived from a copy, apparently from the same edition, in the Britsh Library |
Images of all pages of this book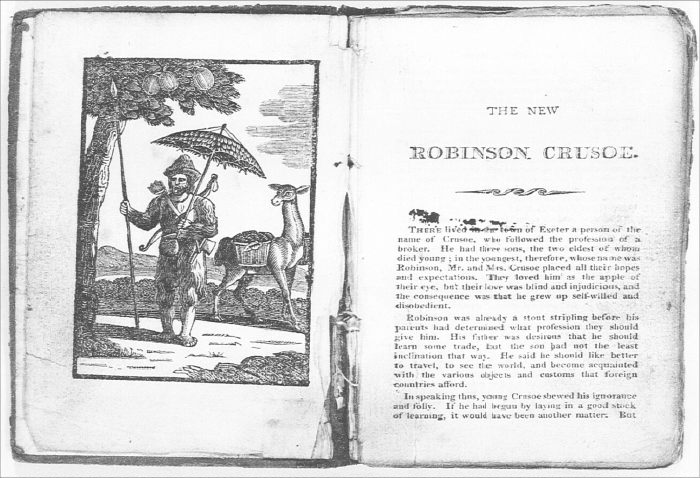 Introductory essay
The Hockliffe copy of The New Robinson Crusoe is missing its title-page. An edition of the work in the British Library, identical in all respects to the Hockliffe copy, has its title-page intact, and establishes the date of this edition as 1818, its publisher as John Arliss, whose Juvenile Library operated in Newgate Street, London, and its price as two shillings and sixpence.
Abridgements of Daniel Defoe's Robinson Crusoe were common in Britain and Europe in the century and a half after its original publication in 1719 (with sequels in 1719 and 1720). Versions especially designed for children were published by Francis Newbery and Thomas Carnan in 1768 and Benjamin Tabart in 1805, but children doubtlessly read the many chapbook versions which began to circulate immediately after the work's original publication. Although many different abbreviated versions were published from many different presses, only four basic variants were produced in the century after 1719, but some of these chapbook editions succeeded in compressing Defoe's original 364 pages into just 8 (including cuts).
Also common, particuarly in the nineteenth century, were reworkings of the story, using Defoe's theme of a solitary man marooned on a desert island, but changing his name, his adventures, or the morals to be drawn. Philip Quarll, for example, first published in 1729, achieved almost as much success in chapbook form as Robinson Crusoe had done (see 0090 for an edition of 1788). Likewise, Joachim Heinrich Campe's The New Robinson Crusoe, after it first appeared in German in 1779-80 as Robinson der Jungere, began to rival the text which had inspired it. It was first published in London in 1788 by John Stockdale, oddly 'translated from the French' (although later editions returned to the original German source). By the turn of the century a further six London editions had been forthcoming from Stockdale or Elizabeth Newbery, several of them abridged. In 1806, John Harris brought out an edition costing only sixpence. Within three or four decades of its orignal appearance there were translations published in cities as far apart as Paris, Madrid, Cork, Boston, Amsterdam, Warsaw and Livorno, and in languages as different as Latin and Turkish. Given this kind of international success, it is hardly surprising that there was a rush of further 'Robinsonnades' in the early and mid-nineteenth century. The Swiss Family Robinson (1812-13), Agnes Strickland's The Rival Crusoes (1826), Frederick Marryat's Masterman Ready and R. M. Ballantyne's Coral Island are merely the most successful reworkings for British children of the Crusoe theme.
Why children were so attracted to Robinson Crusoe and its variants is open to speculation. Rousseau, who went out of his way to praise the book in his Emile, thought that it was the fact that Crusoe was utterly free, and living in a state of nature, which made the story so popular amongst children, for children themselves lived a similar life. A more prosaic explanation is that Defoe had written what was first and foremost an adventure story. This alone must have made it attractive to many readers, perhaps especially boys who might revel in the courage, ingenuity and pride of the solitary hero. What is remarkable is that the work seems somehow to have picked up an aura of respectability by the late eighteenth century, perhaps simply as a result of its venerability, and it was not targeted by those who sought to purify children's literature. When the moral tale began to dominate children's literature, the escape from didacticism which being castaway with Crusoe offered must have seemed doubly appealing. Campe's New Robinson Crusoe only enhanced the credibility of Defoe's work amongst the strict, early nineteenth-century arbiters of the morality of children's books. In effect, Campe gave the book a new lease of life in a new moral climate, although never wholly ousting Defoe's original. But though Campe introduced many more lessons into his fiction than had Defoe, he did not eradicate the sheer adventure of the tale.
For a brief discussion of the importance of Robinson Crusoe and its progeny to the development of children's literature see Margaret Kinnell, 'Publishing for Children 1700-1780', pp.42-44, in Avery and Briggs, 1989.
For other versions of Robinson Crusoe in the Hockliffe Collection see 0037, 0093 and 0166.
Avery, Gillian and Briggs, Julia (eds.), Children and Their Books. A Celebration of the Work of Iona and Peter Opie, Oxford: OUP, 1989