Stories Before 1850. 0081: Anon., The Castle on the Rock
| | |
| --- | --- |
| Author: | Anon. |
| Title: | The castle on the rock: or, the successful strategem |
| Cat. Number: | 0081 |
| Date: | 1808 |
| 1st Edition: | 1808 |
| Pub. Place: | London |
| Publisher: | J. Harris, Successor to E. Newbery, at teh Original Juvenile Library, at the Corner of St. Paul's Church Yard |
| Price: | Unknown |
| Pages: | 1 vol., 360pp. |
| Size: | 11.5 x 8 cm |
| Illustrations: | Engraved frontispiece |
| Note: | Pages 5 and 27-35 missing |
Images of all pages of this book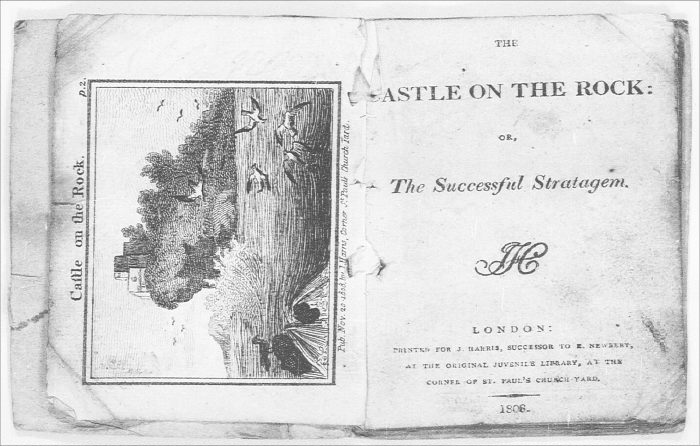 Introductory essay
The frontispiece of The Castle on the Rock bears the date 1808. John Harris was not famous for his chapbooks, but this work fits squarely into that tradition. It is short, lively, highly gothic in tone, and shows no obvious sign that children, rather than poorer and only just literate adults, were its intended readers.
It shares its names with A. Kendall's 3 volume novel The Castle on the Rock: or, Memoirs of the Elderland Family. By the Author of Derwent Priory (London, 1798). It was a reasonably common practice to produce short, chapbook versions of successful novels, but this is not one of them. It operates loosely in the same highly gothic area as the novel, but it neither simply abridges Kendall's novel nor even appropriates characters, settings or plot-lines.
The narrative is staightforward. On the coast of the East Riding of Yorkshire was an old castle belonging to the family of Errington. The family lived abroad, and the castle was used by the powerful Count of Easingwold to imprison his enemies. Amongst these are Mercia of Windermere and Eritha, two friends, neither of whom would consent to be the Count's mistress. They are separately incarcerated, but their kindly gaoler allows them to write to one another. Mercia has a son, Henry, whom the gaoler allows to play there too. One day a fire breaks out, started by another prisoner whom they later meet - a desperate woman who dies in front of them. During the fire Mercia had lowered her son out of window but he has not been seen again. In the aftermath Mercia and Eritha are allowed to share a cell.
Here, pages 27-34 are missing.
The text in the Hockliffe copy resumes once the two heroines have been rescued, apparently by one Farmer Williams, disguised as the gaoler. The women are reunited with Henry of Windermere and they all depart to live happily together in obscurity.