Stories Before 1850. 0095A: Sarah Catherine Martin, The Droll Adventures of Old Mother Hubbard, and her Wonderful Dog
| | |
| --- | --- |
| Author: | Martin, Sarah Catherine? |
| Title: | The Droll Adventures of Old Mother Hubbard, and her Wonderful Dog |
| Cat. Number: | 0095A |
| Date: | No date |
| 1st Edition: | 1805 |
| Pub. Place: | Edinburgh |
| Publisher: | Oliver & Boyd, High-Street |
| Price: | 6d plain, or 1s coloured |
| Pages: | 1 vol., 34pp. |
| Size: | 13.5 x 8.5 cm |
| Illustrations: | Frontispiece, decorated title-page, and 15 further prints are included in digitisation (but several pages are missing) |
| Note: | Several pages missing. Bound together with 0095B-0095E |
Images of all pages of this book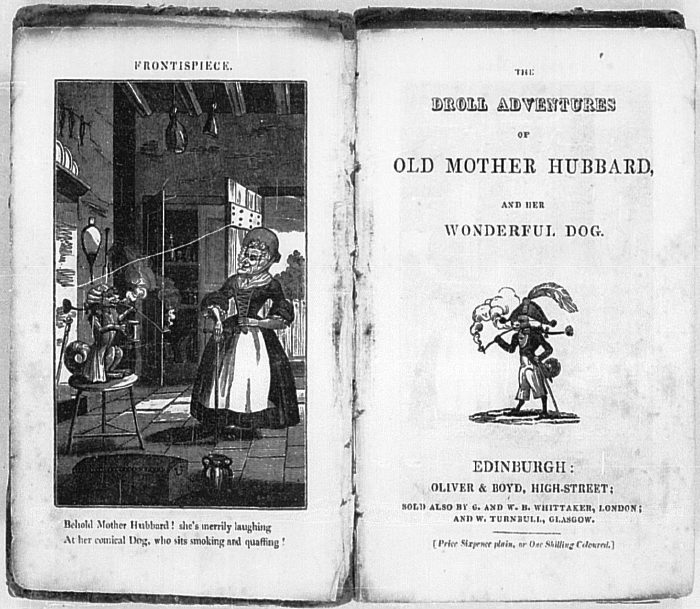 Introductory essay
Under the title The Comic Adventures of Old Mother Hubbard and her Dog, this rhyme was first printed by John Harris in 1805, with a Continuation in 1806. It was instantly popular. Many editions followed from a variety of publishers, and it would seem that few, if any, respected Harris's copyright. The Hockliffe Collection, for example, contains a chapbook version published by J. G. Rusher of Banbury (0821), as well as a much later, Glasgow edition (which omits the death of the dog: 0032) and this Edinburgh edition which probably dates from the early to mid-nineteenth century. Oliver and Boyd, its publishers, were operating in Edinburgh from at least 1808, but they continued in business throughout the nineteenth century and beyond, making it almost impossible to suggest even a rough date for this edition. Numerous imitations of the work also followed, notably Dame Wiggins of Lee and her Seven Wonderful Cats (1823: 0848).
The verses are usually attributed to Sarah Catherine Martin (1768-1826). The Oxford Companion to Children's Literature records that she composed the piece after one John Pollexfen Bastard M.P. ordered her to 'run away and write one of your stupid little rhymes' (Carpenter and Prichard 1984: 364). It seems likely that Martin based the piece on an existing rhyme which constitutes the opening stanza ('Old Mother Hubbard / Went to the cupboard...'), for this is in a different metre to the rest of the composition. Also, there are various references to a Mother Hubbard figure scattered through the popular literature of the seventeenth and eighteenth centuries. She seems to have been another 'Mother Goose', 'Mother Bunch' or 'Dame Trot'. Indeed, Old Mother Hubbard and her Dog bears some similarlity to a less enduring piece, Dame Trot and her Comical Cat, published in 1803.
A contemporary reader's response to 'Old Mother Hubbard and her Dog', or rather the author's attitude to all such light-hearted books, is to be found in the Hockliffe Collection's edition of Lucy; or, the Little Enquirer, published in 1815 (0095C). The four-year old Lucy has chosen and bought a book, but she is now tired of it, and repents her choice. Her description of the book fits 'Old Mother Hubbard':
"I wish I had not chosen that silly book: it says a great deal that I am sure is not true. Dogs cannot dance; can they, George? It says in the book that a dog danced." (0095C: p.53)
Despite the fact that her brother, George, has in fact seen dogs dancing, along with tame bears, this still functions as artful propaganda against frivolous books such as 'Old Mother Hubbard', and by implication, for much more serious and edifying moral tales such as Lucy; or, the Little Enquirer.
Carpenter, Humphrey & Pritchard, Mari, The Oxford Companion to Children's Literature, Oxford: OUP, 1984