Stories Before 1850. 0095C: Anon., Lucy; or, The Little Enquirer
| | |
| --- | --- |
| Author: | Anon. |
| Title: | Lucy; or, The Little Enquirer: being the Conversation of a Mother with her Infant Daughter |
| Cat. Number: | 0095C |
| Date: | 1815 |
| 1st Edition: | 1815? |
| Pub. Place: | London |
| Publisher: | Darton, Harvey, and Darton, no.55, Gracechurch-Street |
| Price: | Unknown |
| Pages: | 1 vol., 71pp. |
| Size: | 13.5 x 8.5 cm |
| Illustrations: | Frontispiece plus three engravings |
| Note: | Pages 29-32 missing. Bound together with 0095A-0095B and 0095D-0095E |
Images of all pages of this book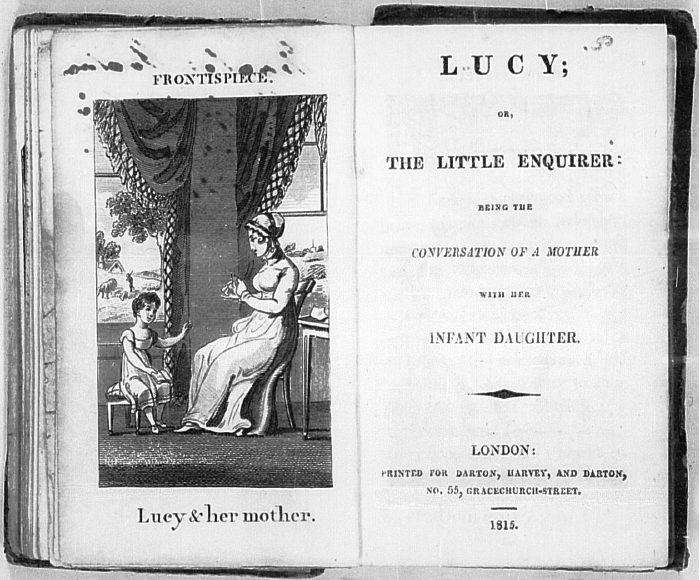 Introductory essay
Lucy; or, The Little Enquirer is a tale written in the manner of Maria Edgeworth's later, more instructional work. It has no narrative, and its protagonists have had no adventures during its course. It ends abruptly at the point where it seems the story might just be about to begin. Instead of incident, the volume is filled with conversation between the four-year-old Lucy and her mother, who, rather oddly, talks to her daughter in the third person, emphasising the didactic nature of the book. Lucy tells her mother about her outings and encounters, for she apparently spends most of her time in the company of her nurse and her siblings rather than her mother and father, the latter of whom never appears at all. Her mother explains various natural phenomena to Lucy. The reader finds out, for instance, what a fledgling is (pp.13-14), and where and how a crocodile lives (pp.42-45). These lectures culminate in a lengthy disquisition on the habits of various kinds of goat (pp.56-62). Lucy's mother inveighs against outdoor sports, namely hunting (p.60), and frowns upon 'useless amusements' such as indoor games, namely fox-and-goose (even though her son has made the equipment for the game himself: 65). By encouraging a desire to win, the author argues, such games necessarily cause querrulousness when some participants necessarily lose. Books are better: 'I like to hear stories and reading, very much indeed' says Lucy's brother (64) - but not books designed purely to amuse. Lucy had been allowed to purchase a book of her choice, and she chose just such a book - The Comic Adventures of Old Mother Hubbard and her Dog (1805: see 0095A by her description of it. Now she regrets her choice:
"I wish I had not chosen that silly book: it says a great deal that I am sure is not true. Dogs cannot dance; can they, George? It says in the book that a dog danced." (p.53)
Regardless of whether George, her brother, has in fact seen dogs dancing (he has), this passage still functions as artful propaganda against such frivolous books, and by implication, for much more serious and edifying moral tales such as Lucy; or, the Little Enquirer itself.
Despite this Puritanism, Lucy; or, the Little Enquirer proved popular. A fourth edition was published, with new and improved engravings, in 1824 (the 1815 edition in the Hockliffe Collection was presumably the first edition). Moreover, marginalia in several copies suggests that the book was read through to the end. The British Library copy of the 1815 edition has pencil crosses on pages 22, 31 and 51. These probably functioned as bookmarks. They divide the book into four lengthy sections, three of roughly twenty pages and one of ten, suggesting that the work was read with a certain avidity. Marginal marks in the Hockliffe copy show a different pattern of use. Amongst other vestiges of use, there are two sets of marks which occur consistently throughout the book - small pencil crosses, like those in the British Library copy, and the figure '21' (see pp.68-69 for examples of both). These marks, particularly the latter, are generally spaced every two or three pages through the book, suggesting that the reader(s) consumed the book is small bites (presumably one reader was Master Bodon, whose inscription on the fly-leaf records that the books was a present from his sister; other inscriptions in the Hockliffe Collection show his name more clearly, e.g. the fly-leaf to 0095D). Judging from the brevity of each visit to the book, it seems possible that the reader recited, or was tested on, or even committed to memory, each passage. The figure '21' may be comprised of the two separate figures '1' and '2', written in separately once the passage had been read through once, and then recited or analysed a second time. The two digits are sometimes compressed into a small space in the text, and occasionally they occur separately (e.g. p.43).