Stories Before 1850. 0095D: Anon., Sketches of Juvenile Characters
| | |
| --- | --- |
| Author: | Anon. |
| Title: | Sketches of Juvenile Characters, Exhibited in the Curious Girl Cured; and The Life of An Angry Boy |
| Cat. Number: | 0095D |
| Date: | 1820 |
| 1st Edition: | 1818 |
| Pub. Place: | London |
| Publisher: | E. Wallis, 42, Skinner-Street |
| Price: | 1s (from a book-list at the end of the British Library edition of Sophia and Mary by the same publisher) |
| Pages: | 1 vol., 72pp. plus three pages of advertisements |
| Size: | 13.5 x 8.5 cm |
| Illustrations: | Frontispiece plus four engravings |
| Note: | Bound together with 0095A-0095C and 0095E. Pages 29-32 missing. Another, complete, copy is in the Hockliffe Collection as 0216. |
Images of all pages of this book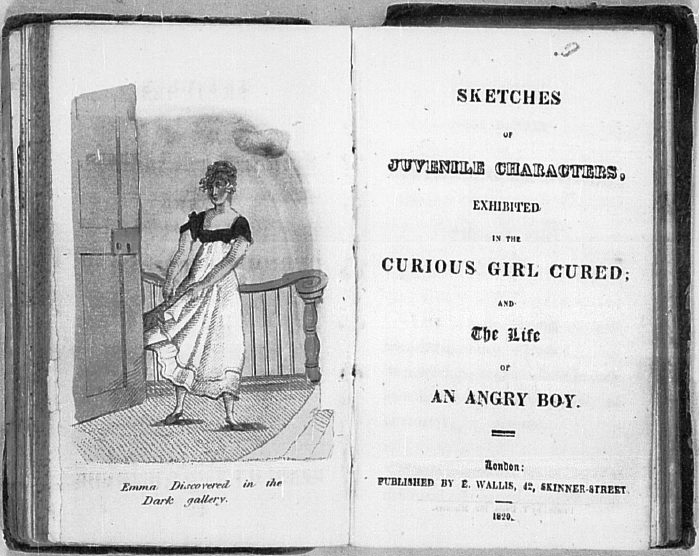 Introductory essay
Sketches of Juvenile Characters presents the reader with two cautionary tales. In the first, 'The Danger of Listening at Doors; or the Curious Girl Cured', there is none of the deliberate humour that would be employed in Heinrich Hoffman's Struwwelpeter or Hillaire Belloc's Cautionary Tales, but nevertheless the tricks played on the unhappy protagonist to shame her out of her crime are clearly designed to be amusing, even if they can seem now to verge on psychological abuse.
Emma is insatiably curious. Despite many lectures from her mother, she cannot refrain from spying on others whenever the opportunity arises. In an attempt to reform her, her mother takes Emma walking in Kensington Gardens, and when, inevitably, Emma's attention wanders from her mother's botanical lessons to the conversation of those around her, her mother leaves her there, alone in the park. Emma is puzzled, then frightened, then ashamed. After humiliating encounters with the promenaders in the park, she finally finds one of her family's servants who has been ordered to watch Emma's steps, and he conducts her home where he mother is waiting to rebuke her.
But the plan fails, for soon Emma is back to her old tricks. This time it is her brothers who attempt to reform her. Hearing her eavesdropping on them, they shut the door at which she is listening, deliberately trapping her frock (pictured in frontispiece). Her only alternative being discovery, Emma has to wriggle out of her clothes and return to her room, but even though she runs into a gardener as she is doing so, she is still not purged of her curiosity.
Finally, at a ball her mother has thrown, Emma is caught spying at the key-hole of her brothers' room. Her elder brother writes in charcoal 'Curiosity Insatiable' above the key-hole, knowing that Emma will try to look through once again. She does, and the words become imprinted on her forehead. She attends the ball in this state, only discovering her shame when she checks her head-dress in the mirror. Mortified she retires from the ball, but by the morning she has reflected on her folly, and as well as thanking her brother as her best friend, she vows nevermore to succumb to her curiosity.
The second tale, 'Henry Phillips; or the Life of the Angry Boy', is part school story, part Newgate chronicle, and part cautionary tale. Henry is indulged by his rich parents, especially his mother, and as a consequence is querulous, quick to take offence and quick to fight with his peers. His time at home, and at his first school, is marked by his inability to get on with any other children. This is also the case at the second school he is sent to, but there he falls in with bad company, and becomes even more addicted to bullying the other children. Brown, his only friend, is the biggest boy in the school, and offers protection to Henry, so that he never has to court the good opinion of the other boys and therefore never needs to reform his behaviour. When Brown leaves the school, Henry is subject to the contempt of his school fellows, but he is able to endure it and leaves at the earliest opportunity to become a soldier. In the days before he is to report to his first posting, Henry bumps into Brown, and they play at backgammon. A tendentious move having been made, they fall to quarrelling, and Henry's angry nature, joined with his pride in his new profession, actuates him to stab, and kill, his former friend (pictured opposite p.60). He is taken prisoner and put on trial for murder. Within a few days, he is sentenced and executed. His mother, hearing the news, dies. And all this because he refused to regulate his quick temper.
Although the owner of one of the Hockliffe copies of this book (0095D), Master Bodon, inscribed his book twice, once at the beginning of each of the two stories, there is no other evidence to suggest that the work was issued separately in two parts. The two parts certainly appear to form one title in the Hockliffe's other copy (0216). Master Bodon also owned the other books bound together in this volume: 0095A, 0095B, 0095C and 0095D.
An earlier edition of Sketches of Juvenile Characters was published in 1818, its title-page recording that it was published by E. Wallis in London and 'J. Wallis, Marine Library, Sidmouth'.