Stories Before 1850. 0113: Anon., The Four Seasons
| | |
| --- | --- |
| Author: | Anon. |
| Title: | The Four Seasons; and The Little Brother. With neat Engravings on Wood |
| Cat. Number: | 0113 |
| Date: | No date |
| 1st Edition: | |
| Pub. Place: | London |
| Publisher: | Dean & Munday, Threadneedle-Street; and A. K. Newman & Co. Leadenhall-Street |
| Price: | 2d |
| Pages: | 1 vol., 31pp. |
| Size: | 12 x 7.5 cm |
| Illustrations: | Frontispiece, decorated outside front cover, and eleven wood engravings |
| Note: | Inscription on outside front cover bears the name 'Ann Fanny Arnold' |
Images of all pages of this book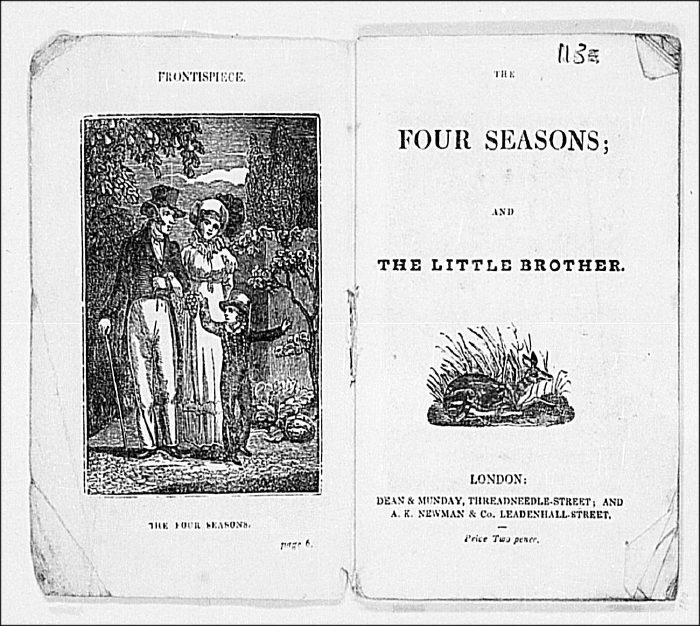 Introductory essay
'The Four Seasons' opens with a boy wishing that it could always be winter, so thoroughly does he enjoy sledging and building men of snow (p.14, illustrated p.5). Hearing this wish, his father asks the boy to write it down in his pocket-book. In due course, the boy wishes that it was always Spring, then Summer, then Autumn, and each time, his father requests that the boy record his wish in the book. Once the year has gone round, the father directs his son's attention to the book and points out the obvious moral. All the seasons are equally good and we ought to feel glad that human wishes do not have the power of determining such things, for otherwise our short-sightedness would deprive us of many pleasures which we do not foresee. Surprisingly, the father does not mention the divine plan, nor even the workings of Providence. He applies no overtly religious gloss to the lesson.
'The Little Brother' opens with the same father telling his daughter, Fanny, that God has given her a little brother. She rushes to see the baby and marvels at his size and frailty (pictured p.19). Her father explains that she was also once so tiny and helpless. In answer to her questions, he and his wife inform Fanny that it was they who cared for her, fed her, and taught her to talk and to walk (they emphasise that Fanny was breast-fed: p.20 and passim.). Had it not been for their tender care, Fanny reflects, she would surely have died, and she promises never more to be disobedient to her kind parents (a resolution which she keeps). Part of this tale's purpose was surely to teach a child how to react to a new sibling. Its gradual opening up of the mysteries of infanthood is also engaging, though, as, for instance, when Fanny's father disabuses her of the notion that the carpet she walks on has always been there (p.22). In fact, it was laid when Fanny was herself just born. In Fanny's acceptance of this, we witness her first awareness of the relationship between her own consciousness and the larger passage of time. After the initial two engravings, the illustrations which accompany the text appear to have little relation to the conversation between Fanny and her parents. They show miscellaneous childhood scenes - a school-room (p.27), for example.
The imprint of the book offers little help in pinning down its date of publication. Dean and Munday, the book's principal publishers, were operating in Threadneedle Street during period 1811 to 1847 (Brown 1982: 55). A. K. Newman, who took over the Minerva publishing firm from William Lane, and who also had a hand in this work, was operating over a similarly long span of time. The series of 'Uniformly printed' children's books advertised on the outside back cover (a series of thirteen, of which this is number eleven) contains such traditional titles that their dates of first publication are little help in establishing a date for The Four Seasons. The Butterfly's Ball, for instance, first appeared in 1807, but was frequently in print thereafter. The Red Indian, number one in the Dean and Munday series, is a more unusual title, but the date of its first appearance cannot easily be established. The first use of the phrase 'Red Indian' recorded by the Oxford English Dictionary is from 1831 (from Thomas Carlyle's Sartor Resartus), but of course it may have been in circulation earlier. Overall, and based on no hard evidence, a date of c.1830-35 seems about right for the book.
The one other piece of information which we have about the books is its owner - Anne Fanny Arnold - who inscribed her name on the outside front cover. Arnold owned at least 48 books which made their way into the Hockliffe Collection. Better still, she added the date to many of her books, the earliest of which is 1835 and the latest is 1845 (save one which, oddly, is dated 1859). It seems probably, then, that she was born in about 1830. Her collection evidently spanned all the varieties of children's literature. There are books in pretty much every category, from the very basic Guy's New British Spelling Book, which she dated 1835, to Female Excellence or Hints to Daughters designed for their use from the time of leaving school till their settlement in life, dated 1844, nine years later, which was a rather earnest new year's gift, she records, from her aunt. There's a cheap edition of Whittington and his Cat, there are books like The Good Child's Reward, containing 'Curious Engravings and Amusing Original Stories'. For entertainment and instruction together, in the recurrent phrase of the time, there was Public Buildings of Westminster Described, as well as more well-known works by John Aikin and Anna Laetitia Barbauld, Isaac Watts, and others. But there were also several religious tracts, and fairly weighty children's books of history, botany and arithmetic. Indeed, Arnold strikes one as rather learned, especially when it came to languages. She had primers for French, Italian and Latin, as well as books of stories and lessons in those languages. Some of these may have been books for school, and Arnold often made neat paper covers for them. But they all show signs of use, most often small pencil crosses in the margins, presumably to mark her progress.
Brown, Philip A. H., London Publishers and Printers, c.1800-1870, London: British Library, 1982