Stories Before 1850. 0144: Anon., Infant Stories
| | |
| --- | --- |
| Author: | Anon. |
| Title: | Infant stories: intended to convince little girls that to be good is to be happy. In words not exceeding two syllables |
| Cat. Number: | 0144 |
| Date: | 1825 |
| 1st Edition: | |
| Pub. Place: | London |
| Publisher: | Harvey and Darton |
| Price: | Unknown |
| Pages: | 1 vol., 108pp. |
| Size: | 14 x 8 cm |
| Illustrations: | Frontispiece plus one other full-page engraving |
| Note: | |
Images of all pages of this book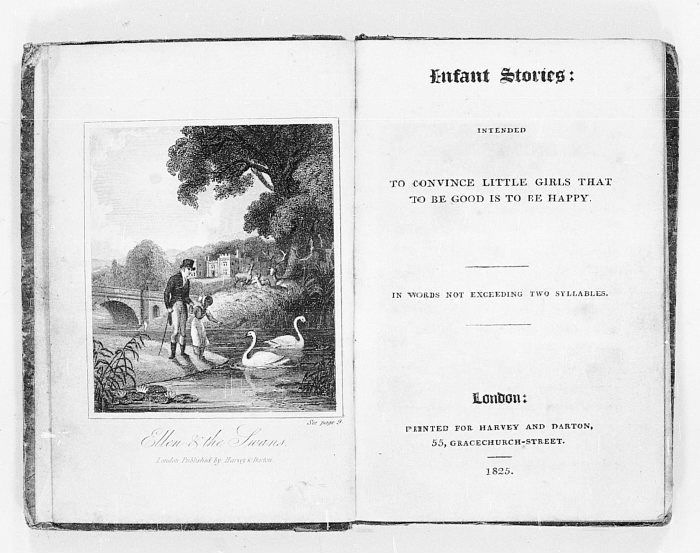 Introductory essay
There is no plot, as such, in Infant Stories. Rather the reader is presented with a series of only loosely connected episodes in the life of Ellen, a girl of about eight, who lives with her parents in a large house in elegant gardens. Each episode conveys short lessons, either moral or factual, or sometimes both. In the first few pages, for instance, the park around Ellen's house is described, and whenever a particular kind of tree is mentioned, its uses are described (e.g. p.4). Later, we learn about where tea, sugar and coffee come from (p.86ff), or about life at the seaside (p.36ff). The moral lessons are generally more narrative-based. Ellen is told not to dot the i's when she is writing until the ink is dry, but she does so anyway, literally blotting her copy-book. Thus she learns the value of patience and, later, that she must never try to dissemble in front of her mother.
First and foremost, though, Ellen learns to obey her parents and to subjugate her will to theirs. 'Do not you think, my dear, that your papa and I, who are so much older than yourself, know what is best for you?' asks her mother. 'Do you not know that we are too fond of you, to keep from you any thing that would make you happy?' Ellen knows that this is so. 'Well then,' continues her mother, 'why do you ask twice for what I should have given you at first, if I had thought it right to do so?' Faced with this kind of logic, Ellen is left with no alternative. She 'would kiss her mother's cheek, and go and learn her lesson, or take a run in the garden, or do what her mother had wished her to do, even if it were not just what she liked herself; and when it was done, she would jump for joy, and exclaim, "I see you are right, mamma: I see that to be good is to be happy."' (p.13f)
Much of the book revolves around the education of Ellen to fulfil the duties of her elevated social station. Principally, she must learn to be charitable. Having seen some poor girls gleaning, Ellen conceives of the idea of providing them with shoes so that their feet will not be hurt on the stubble. She laments that she is given only a penny a week by her parents, for at that rate it will take sixty weeks to save up enough for one pair of shoes. To encourage her benevolence, but retain her awareness of the value of money, Ellen's mother suggests a scheme whereby the money will be raised much sooner. She will match whatever sum Ellen comes to her with at the end of each week. A penny saved at the end of one week will be matched by a penny from her mother. And this sum will be matched by another two-pence at the end of the second week, and so on. So long as Ellen does not spend the money she saves, then, she will soon have enough cash. In effect, then, Ellen's charitable impulse becomes a tool for her education in the principles of thrift and even compound interest. (p.74ff)
Ellen occupies a privileged position in society, but her growing awareness of this needs to be schooled by her mother. How dreadful it is to be poor, Ellen muses. 'I do not quite agree with you there, my dear', says her mother. 'It is a sad thing to be so badly off as not to have enough food and clothing; but this I hope, is not often the case with those who are able and willing to work. I think that many of the poor people around us are as happy in their humble little cottages, living on the fruits of their labour, as we can be, who have nothing to wish or desire that wealth or riches can purchase.' (pp.106-107) There is nothing in the attitude of the recipients of Ellen's charity, nor in the flourishing state of the England in which she lives, to challenge this comfortable vision of a prosperous, happy and harmonious society.