Stories Before 1850. 0145: Anon., Jim Crow's Wonderful Travels
| | |
| --- | --- |
| Author: | Anon. |
| Title: | Jim Crow's Wonderful Travels |
| Cat. Number: | 0145 |
| Date: | No date (but c.1840?) |
| 1st Edition: | |
| Pub. Place: | London |
| Publisher: | J. L. Marks, 91 Long Lane, Smithfield |
| Price: | Unknown |
| Pages: | 1 vol., 8pp. |
| Size: | 10.5 x 6.5 cm |
| Illustrations: | Eight wood-cuts |
| Note: | Another copy of 0146 |
Images of all pages of this book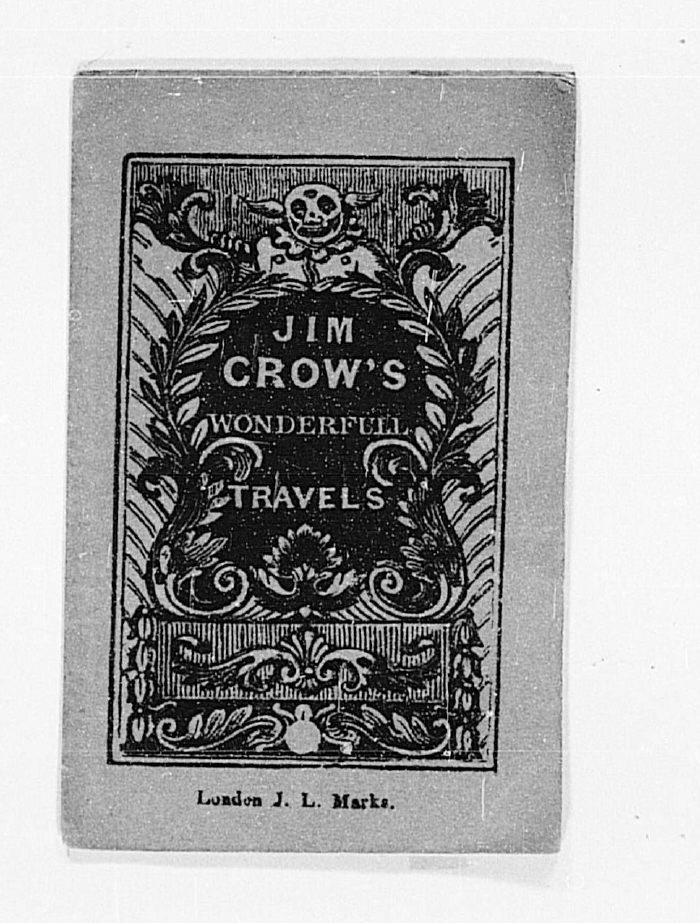 Introductory essay
'Jim Crow' was the colloquial name of a song popular among slaves in the southern United States in the early nineteenth century. By the early 1830s the song was being performed on the American stage by Thomas D. Rice (1808-60), and he brought his act to the Adelphi Theatre in London in 1836. Subsequently other so-called 'nigger minstrels', white actors who impersonated black slaves, included the song and the character of Jim Crow in their acts. The name became proverbial for a black slave, a theatrical or street-performer who used this act, and a turn-coat or traitor (from the refrain of the original song: 'Wheel about and turn about and jump Jim Crow').
Neither the text nor the wood-cuts of Jim Crow's Wonderful Travels suggest that the eponymous hero is either black or a slave. He is simply 'very poor' and 'not knowing what to do, he resolved to go out on his travels' (p.1). What follows is a remarkably concise story of Jim's journey to England where he finds his sister, who has married 'Dusty Bob', and settles down to live the life of a singer and dancer. The only episodes which complicate this story-line are Jim's meeting, while still in America, with a 'Red Indian', who 'would have roasted him for supper' had he caught him; his encounter with several sailors, who teach him to sing; and his amazement at London's manifold attractions. He is dazzled by Greenwich hospital, by the London shops, including a ballad shop where he buys the story of a Bleeding Nun, and by 'the shows'. These include 'the Living Skeleton, a picture of Death' and Mr. Merryman the Tumbler, who teaches Jim to be an acrobat.
Though the connection is not made explicit, it seems likely that the book was somehow connected with Rice's popularisation of the Jim Crow character in London in 1836. J. L. Marks, the London publisher of the book, was operating at 91, Long Lane in Smithfield according to the advertisement on its back cover. William B. Todd's A Dictionary of Printers locates Marks at this address from 1836 to 1857. Any more precise publication date than this must be speculative, but the appearance of the text and illustrations perhaps suggest a date nearer the beginning than the end of this range. It seems very possible, therefore, that Marks published the work as a sort of theatrical tie-in with the stage performance, although doubtless without the knowledge or consent of the performer.
Todd, William B., A Directory of Printers and others in Allied Trades, London and vicinity, 1800-1840, London: Historical Society printing, 1972