Stories Before 1850. 0154: Grace Kennedy, Anna Ross; a Story for Children
| | |
| --- | --- |
| Author: | Kennedy, Grace |
| Title: | Anna Ross; a Story for Children. By the author of "The Decision;" "Profession Is Not Principle;" "Father Clement," etc. |
| Cat. Number: | 0154 |
| Date: | 1824 |
| 1st Edition: | 1824 |
| Pub. Place: | Edinburgh |
| Publisher: | William Oliphant, 22, South Bridge Street ... |
| Price: | Unknown |
| Pages: | 1 vol., iii + 171pp. and four page book-list |
| Size: | 14 x 9 cm |
| Illustrations: | Frontispiece plus five further plates |
| Note: | |
Images of all pages of this book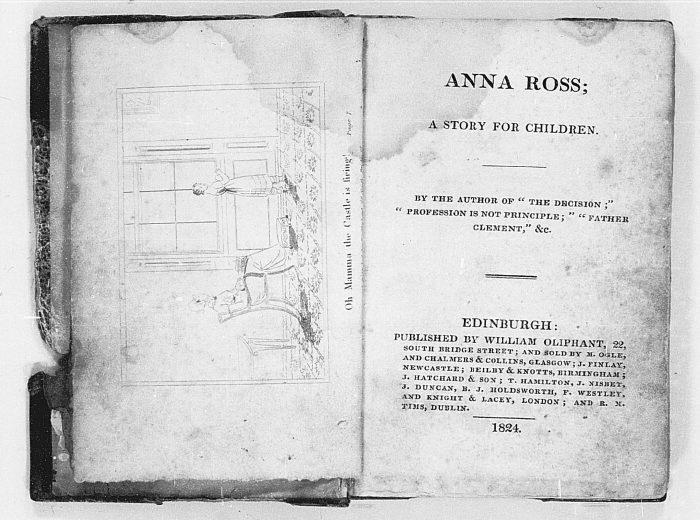 Introductory essay
Grace Kennedy (1782-1825) was born in Pinmore, Ayrshire but moved to Edinburgh early in her life, and remained there, unmarried, for the rest of her life. Anna Ross, sometimes subtitled 'The Orphan of Waterloo', first appeared in Spring 1824 and went through at least two editions that year. She wrote at least six other works intended for children which aimed to mix a sturdy narrative with solid Christianity. All of them were published between 1821 and her death in 1825, with a collected edition of her works following in 1827. Anna Ross reached a tenth edition by 1852, but her best known work while she was alive was Father Clement, a Roman Catholic Story which set out the major Roman Catholic practices doctrines but in such a way that the author's anti-Catholic opinions were always allowed to triumph. The book provoked several replies which aimed to correct or criticise the portrayal of Catholicism. It reached a twelfth edition in 1858 and was translated into several languages. The rather curious engravings which accompany Anna Ross were taken from drawings of her own. ('A Short Account of the Author', in Kennedy 1827: 1:1-19)
The first paragraph of the 'Introduction' to Anna Ross, missing in the Hockliffe copy, explains the author's principal purpose:
In the following Story an attempt is made to assist religious parents in impressing the important truth on the minds of their children, that this life is only a portion of time, short and rapid in its progress, in which the 'one thing needful,' is to prepare for the eternity that shall follow.
Kennedy's thoroughly Evangelical position is advanced throughout the narrative. She aims her attack not at those who are not religious, but at those who think themselves religious but, in reality, allow themselves to be dominated by worldly concerns. For example, it is not enough, Kennedy explains in the 'Introduction', that parents give their children a religious education if they also encourage them to aspire to worldly success too. For Kennedy, all temporal ties must stand in the way of the path to salvation and must therefore be renounced. In the story this degree of religious zeal becomes almost unpalatable. When about to die, for instance, Anna's mother asks her daughter whether she would not love God even more 'if God should show his love to your Mamma ... by taking her away to be happy with your Papa'? Since this is the first Anna has heard of the impending death of her mother, she is unsurprisingly shocked, and, when pressed, can only answer that she cannot be sure that she would love God more if her mother was to die. 'Then, my dear Anna,' her mother replies, 'you love me more than God; and you remember who is was who said, "He that loveth father or mother more than me, is not worthy of me"' (pp.26-27).
As may be guessed from this dialogue, Anna's father has already died. The novel had opened with the news filtering through to Edinburgh of the Battle of Waterloo. Anna's father had been a soldier there, and the newspaper had informed Anna and her mother that he had been seriously wounded. They decide to journey out to him immediately, taking a boat form Leith to Rotterdam. As they approach the town in which the wounded are billeted they see a funeral approaching. They meet Dugald, Anna's father's servant, who confirms what they already guess - that this is his funeral.
After the death of both her parents, nine-year-old Anna returns to Edinburgh to live with her aunt and cousins. They are affectionate girls who are being brought up too fashionably as far as the author is concerned. Because she has a habit of turning her toes in when she walks and of hugging everyone to show her affection, rather than speaking her love, one of the cousins, Marianne, is forced to sit in a high chair, with a straight back made specially to correct her posture, and to place her feet in the stocks (pp.39 and 43-44, pictured opposite p.39).
The narrative proceeds uneventfully from here, with Anna meeting various adults who seek to impress upon her their understanding of how life should be lived. The satire against fashionable, secular folk, mostly affluent and conscious above all of their social prestige, is fairly mild. By the end of the tale Anna has found a set of surrogate parents who are every bit as actively religious as had been her own parents.
Kennedy, Grace, The Works of Grace Kennedy, Author of "The Decision", 6 vols., Edinburgh: William Oliphant, 1827