Stories Before 1850. 0168: Mrs. Martin, Baby Tales in Prose
| | |
| --- | --- |
| Author: | Martin, Mrs. |
| Title: | Baby Tales in Prose. About The Ride, Birds' Nests, The Good Scholars, Burning Mountains, Be Not Too Vain, The Poney-Chaise, and The Thoughtful Children, by Mrs. Martin |
| Cat. Number: | 0168 |
| Date: | No date (but c.1825?) |
| 1st Edition: | |
| Pub. Place: | London |
| Publisher: | Dean and Munday, Threadneedle-Street |
| Price: | 6d |
| Pages: | 1 vol., 32pp. |
| Size: | 13.5 x 10.5 cm |
| Illustrations: | Eight full-page coloured wood-engravings |
| Note: | Another copy of 0169 |
Images of all pages of this book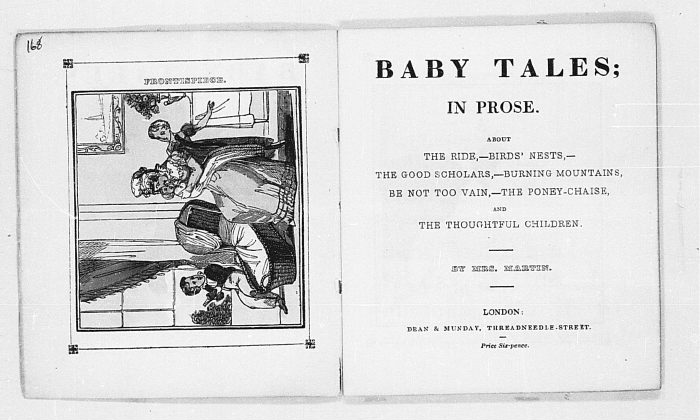 Introductory essay
Dean and Munday were operating as publishers in Threadneedle Street, London, from about 1811 to the 1840s. The appearance of this book suggests a publication date of about 1825, but this must remain speculation. Who the author, Mrs. Martin, was has also proved impossible to discover.
The most remarkable feature of the book are the carefully hand-coloured wood-engravings, which is perhaps to be expected given that the series in which it appeared was designated 'Original Toy Book' by the publisher. Of these, perhaps the most notable is that on p.23, with its unusual technique of drawing in quotation marks around a picture of a book to indicate that the boy is reading aloud, or that on p.14, showing a remarkably fashionable governess and two children, each with toys to help them learn to read. Also interesting is the representation of volcanoes on p.19.
The stories themselves are very short and were presumably designed with the intention of teaching children to read rather than providing them with any sustained entertainment. The print is big and clear, and the vocabulary is simple and familiar. Thus 'burning mountain' is preferred to volcano. The subjects - horror at cruelty to animals, birds-nesting, and the prospect of a coach-ride - are commonplace throughout children's literature.
0169 is simply a more complete version of 0168, including a half-title and covers.