Stories Before 1850. 0170: Mrs. Martin, The Evergreen
| | |
| --- | --- |
| Author: | Martin, Mrs. |
| Title: | The evergreen: containing stories about Ellen and her fawn, Sleepy Francis, The pleasure boat, Strawberries and cream, Politeness, Never stay by the way, and Keep your promise. By Mrs. Martin |
| Cat. Number: | 0170 |
| Date: | No date |
| 1st Edition: | |
| Pub. Place: | London |
| Publisher: | Dean and Munday |
| Price: | 6d |
| Pages: | 1 vol., 30pp. |
| Size: | 13.5 x 10.5 cm |
| Illustrations: | Frontispiece plus seven further full-page coloured engravings |
| Note: | |
Images of all pages of this book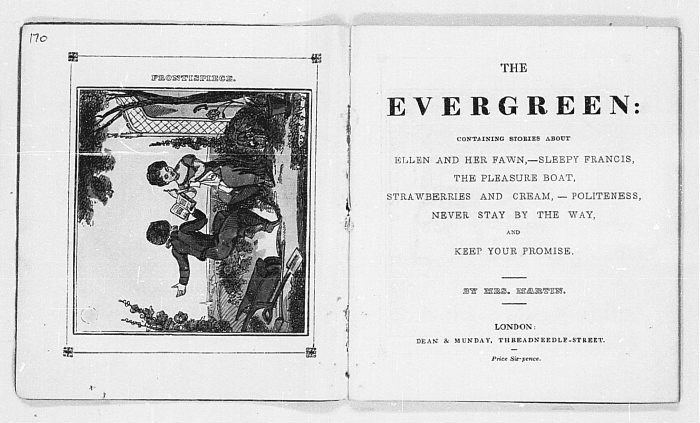 Introductory essay
Although it does not feature in the book-list at the back of Baby Tales in Prose (0169), also by Mrs. Martin, The Evergreen is evidently a very similar sort of book to the 'Original Toy Books' listed there. Its chief purpose was surely to teach children to read - hence the very large typeface and the attractive, carefully hand-coloured wood-engravings (some of which were reused from other Dean and Munday publications - compare for example the illustration on p.27 with that opposite p.23 of 0155). And hence also the very short anecdotes which make up the text. These contain little narrative content, and are hardly entertaining in any conventional sense. Rather, they present some very simple rules of gentility. Each 'story' introduces one or two polite young children whose only characteristics are that they behave well or faithfully obey the injunctions of their parents: they rise early, hand round refreshments to visitors, keep their promises, and so on. Only in one episode do the children disobey their parents, by dawdling on their way home. Unlike many contemporary cautionary tales, though, the worst that happens to them is that they get caught in a shower of rain.
Occasionally, as on p.13, manuscript corrections to the text are added in the margins. These might have been made by the publisher, in preparation for a new edition, but it is more likely that they were written in by a parent or teacher, anxious to ensure that the child reader learned only the most correct use of language.
Dean and Munday were operating as publishers in Threadneedle Street, London, from about 1811 to the 1840s. The appearance of this book suggests a publication date of about 1825 or 1830, but this must remain speculation. Who the author, Mrs. Martin, was has also proved impossible to discover.