Stories Before 1850. 0183: Anon., My Own Way
| | |
| --- | --- |
| Author: | Anon. |
| Title: | My own way |
| Cat. Number: | 0183 |
| Date: | No date |
| 1st Edition: | |
| Pub. Place: | London |
| Publisher: | Religious Tract Society, and sold at the Depository, 56, Paternoster Row, and 65, St. Paul's Churchyard |
| Price: | 3s 6d for 100 |
| Pages: | 1 vol., 12pp. |
| Size: | 18 x 10.5 cm |
| Illustrations: | Wood-cut frontispiece |
| Note: | Pages 8-9 missing from digitisation |
Images of all pages of this book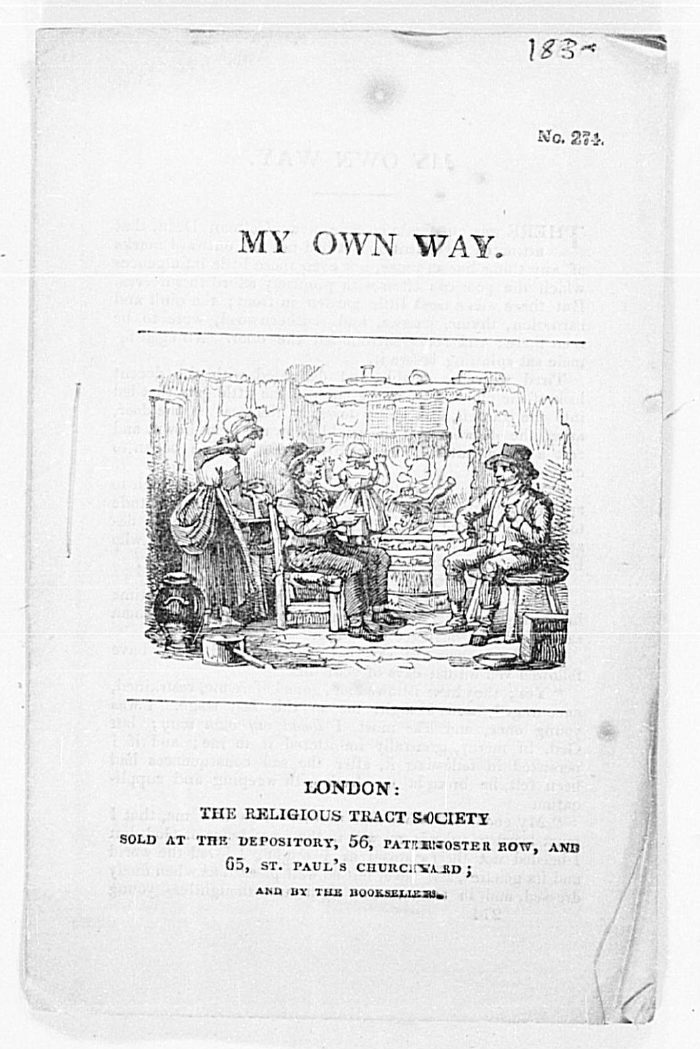 Introductory essay
My Own Way is essentially a monologue delivered by a poor, pious widow. She is content now, in her old age, but her tale includes much misery. All her trials, it becomes clear, were due to her willfulness, or, as she puts it, her desire to have 'her own way'. Thus she married a man who she thought she loved, but who she could not respect (meaning that he was not a Christian). Her parents counselled against the match, but she insisted on having her own way. He soon succumbed to debauchery, and squandered what money he earned, drinking himself to death and leaving our narrator and their two young children in dire poverty. In their turn, these children refuse to listen to their elders too, and both have found early deaths through their insistence of having their own way.
The Religious Tract Society (R.T.S.), publisher of this tract, was established in 1799. The aim of its founder, George Burder, and his associates was to produce cheap pamphlets for the poor which would use engaging narratives and pictures to lure readers into a more religious way of life. The R.T.S. endorsed an Evangelical type of Christianity which stressed religion for its own sake, rather than for any temporal benefits. The work which they sponsored had more in common with the later work of Mary Martha Sherwood (see 0211-0214) than the Cheap Repository Tracts (1795-98) of Hannah More which had initially inspired the R.T.S. More had written her tracts in response to the perceived perils of the French Revolution crisis. The R.T.S., by the early and mid-nineteenth century, was perhaps less anxious about an impending collapse of the established political and social order and so felt free to concentrate on saving souls rather than saving the nation. It was not afraid to cite chapter and verse from the Bible in its tracts, whereas in the later eighteenth century this would have been thought rather too Methodist. Methodism was then regarded by many in the Established Church of England as a rather radical fringe group. The R.T.S. also felt little need to curb its animosity to Roman Catholicism - see for example 0114L: pp.3f.. The R.T.S. continued to operate with an unchanged agenda throughout the nineteenth, and into the twentieth, centuries.
The R.T.S. began to produce pamphlets aimed exclusively at children only in about 1812 (Carpenter and Pritchard 1984: 447). The strategy of the R.T.S. was to supply tracts at very cheap rates to Charity or Sunday Schools, or to individuals who would then distribute the tracts amongst the local children. An advertisement on the back page of My Own Way notes that the tracts are to be sold for 3d. 6d. for a hundred copies, with a 'Considerable Allowance to Subscribers and Booksellers'.
My Own Way is number 274 in the R.T.S. catalogue. This probably dates it to some time in the 1830s or '40s, although it is difficult to establish even an approximate date. Certainly, the Hockliffe Collection's copy of My Own Way looks much more recent that tracts 38 to 50 which are also to be found in the Collection (0114A-0114M) which were probably published sometime in the 1820s or early 1830s. Other, probably later, editions of My Own Way omitted the verses to be found on the final page of the Hockliffe edition.
Carpenter, Humphrey & Pritchard, Mari, The Oxford Companion to Children's Literature, Oxford: OUP, 1984