Stories Before 1850. 0188: Anon., Occurrences of Master Manley's Journey to the Metropolis
| | |
| --- | --- |
| Author: | Anon. |
| Title: | Occurrences of Master Manley's Journey to the Metropolis. Ornamented with Cuts. To which is added, The Rhyming Alphabet; or Tom Thumb's Delight |
| Cat. Number: | 0188 |
| Date: | No date |
| 1st Edition: | |
| Pub. Place: | Chelmsford |
| Publisher: | I. Marsden |
| Price: | 2d |
| Pages: | 1 vol., 22pp. |
| Size: | 13 x 7 cm |
| Illustrations: | Frontispiece, decorated outside back cover, and four full-page wood engravings |
| Note: | |
Images of all pages of this book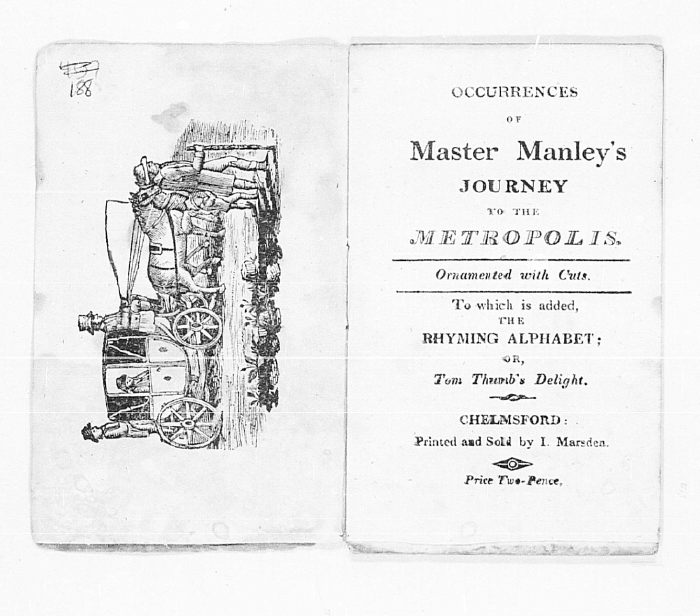 Introductory essay
As the title suggests, 'Master Manley's Journey to the Metropolis' is about the journey, and not about the metropolis. London features only in the final half dozen lines, and then only as a place of such noise and confusion that our hero wishes to return to the country as soon as he can. And the journey itself was indeed incident-packed. Master Manley is clearly the son of rich family, for he rides to London in a coach with at least one coachman and another footman. It is the former's misfortune to get his coat stuck in the carriage's wheel which precipitates the first accident of the journey. When Master Manley pokes his head out of the coach's window to see what the fuss is about, his hat blows off into the mud. When the footman endeavours to discover the cause of Master Manley's exclamations, he himself falls off. What attraction this account of a coaching accident would hold for a young reader is a moot point. However, from Newbery's time on, there is ample evidence from children's books that children were fixated by coaches and carriages. Boys and girls, like Owen in Maria Edgeworth's 'The Cherry Orchard' (0098: p.58), are often depicted as being fascinated by them. And authors were quick to use carriages - particularly the top-of-the-range coach-and-six - as emblems of affluence, elegance and all that the young hero or heroine, such as Giles Gingerbread, for instance, or Goody Two-Shoes, should aspire to. Equally, authors presented the carriage as a symbol of all that was wrong with worldly, material ambition, as in Edgeworth's 'Simple Susan' (0102: p.120).
The narrative continues with an extended anecdote on the subject of alms-giving. Master Manley and his father drive past a begging, one-legged soldier. They give him a sixpence. Seeing this, an old woman applies to them for money too, assuring them that the solder will spend his money on drink whilst she has genuine need. Master Manley's father is unimpressed by her attempts to slander the soldier, but gives her twopence anyway. Later she is seen drinking herself, and overheard tricking the honest soldier out of some of his money. She makes her escape when Master Manley's father accuses her of deception, and in any case, the episode is presented merely as an interesting anecdote, with no explicitly drawn moral. The work is drawn to a close by two more short episodes - Master Manley's encounter with a dog chasing a hare, and his discovery of several caged birds, which he frees. With his arrival in London this curious series of apparently unrelated events comes to an end. The 'Rhyming Alphabet' which follows is altogther more predictable, conducting the reader on the familiar path from Angler ('And he caught a fish') to Zany ('Altogether quite bad'). The alphabet is accompaned by a wood engraving, apparently of an older vintage than the book's other cuts, depicting a school-room (p.17).
From their appearance alone, a date of c.1820-25 seems not unlikely for the publications of I. Marsden of Chelmsford. Trade directories reveal that an Isaac Marsden owned a circulating library in Chelmsford in 1826 (The Library History Database: see https://www.r-alston.co.uk/circ3.htm), and those books which bear his imprint and which also bear a date were published in the years between 1822 and 1830. Several Marsden works are to be found in the Hockliffe Collection, all of which share the same general format: see The History of Abou Casem [with] Puss in Boots (0018), The Cottage Piper (0087), The History of the Basket Maker (0121) and Pretty Tales (0238).