Stories Before 1850. 0238: Eleanor Fenn, Pretty Tales, containing five Entertaining Stories
| | |
| --- | --- |
| Author: | Fenn, Eleanor, née Frere ('Timothy Teachwell') |
| Title: | Pretty Tales, containing five Entertaining Stories, For the amusement and instruction of Little Children. By Timothy Teachwell |
| Cat. Number: | 0238 |
| Date: | No date (but 1820-25?) |
| 1st Edition: | Unknown |
| Pub. Place: | Chelmsford |
| Publisher: | I. Marsden |
| Price: | 2d |
| Pages: | 1 vol., 23pp. |
| Size: | 12.5 x 7 cm |
| Illustrations: | Decorated outside front cover, frontispiece, five full-page cuts (one on outside back cover), and various printer's designs |
| Note: | |
Images of all pages of this book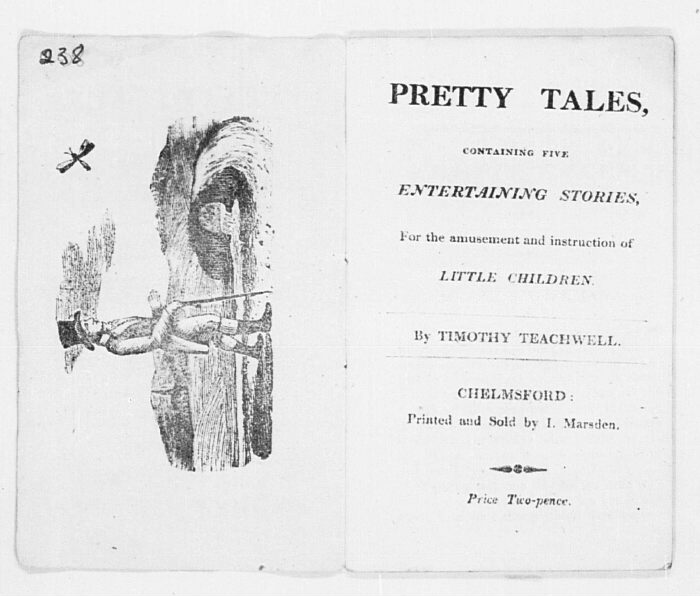 Introductory essay
'Timothy Teachwell' was one of the several pseudoymns used by Lady Eleanor Fenn (1743-1813). Fenn was most famous for Cobwebs to Catch Flies (probably 1783 - see 0545, 0546, 0547 and 0548), but was also the author of numerous other publications for children in the 1780s and '90s.
Despite the promise made on the title-page that this book will contain five stories, there are in fact six short pieces. Most take the form of cautionary tales, such as would be satirised in Struwwelpeter (translated into English in 1848) and Hilaire Belloc's Cautionary Tales for Children (1907). Cautionary tales had only been in print since the 1770s or '80s, but were becoming popular by the early nineteenth century, from when this volume probably dates. Accidents and Remarkable Events appeared in 1801, A Present for a Little Girl in 1805, and Tales Uniting Instruction with Amusement in c.1810, all of which attempted to teach good behaviour to children with tales of how a variety of youthful infractions had been severely punished by Providence with an amputated leg, say, or a lingering death. Two tales in the present collection, 'Nancy Wheatley' and 'The Cat and Fish' unite the cautionary tale and the fable, featuring animals as the wrong-doing protagonists punished by a salutary death.
First in the book comes 'Solomon Wiseman', an account of a boy who refrains from hurting any living thing, 'unless it was venomous or unfriendly to mankind' (p.4). When a gnat bites him, he thinks about retaliating, but then considers that many men commit far worse acts of violence against one another, so why should he be angry with the insect? Second comes 'Johnny Badboy'. He delights in killing butterflies, but one day, grabbing a butterfly on a rose too forcefully, a thorn penetrates his skin. He leaves it to fester and eventually the finger has to be amputated. Yet he still does not learn his lesson, and remains a wicked boy, at which point the tale abruptly cuts out. Next comes 'Billy Blossom', the story of a boy and his pet goose. While at play, a notorious fox catches and kills the goose, although the fox itself is caught and killed. Billy wishes he had secured the goose before going off to play, but his father promised him a new goose anyway. In 'The Cat and Fish' a cat's love of eating fish leads to it diving into a river to chase a fine carp. But the cat is caught on a water-wheel and torn to pieces. Children should beware water too, the narrator warns. In 'Nancy Wheatley', the eponymous heroine has two pets, a peacock and pigeon. Out of pride, the peacock starts to believe that the pigeon is Nancy's favourite, and so it kills the pigeon. Soon, the peacock dies too, apparently out of guilt. Nancy is very upset, having lost both her pets. The final piece ends just as unhappily. In 'The Sad Effects of Quarreling' [sic] two former friends begin to quarrel for reasons not supplied. They ignore the efforts of their friends to effect a reconciliation, and agree a date to duel. Before that day, though, one dies in a coaching altercation with the other, leaving his former enemy to a life of miserable guilt.
An interesting feature of the text is the author's sympathetic enquiry as to whether the reader is tired of reading:
I hope my little friends you are not tired with reading these little stories; if you are, lay down the book 'till you have had a little play, and then come and read another story. (p.17)
Many authors expended a great deal of effort trying to get children to take up their books in preference to play. It seems remarkably self-confident of this narrator to send his or her readers away and be sure that they will return to finish the volume.
Little is known about I. Marsden, publisher of Pretty Tales. Trade directories reveal that an Isaac Marsden owned a circulating library in Chelmsford in 1826 (see 'The Library History Database': https://www.r-alston.co.uk/circ3.htm), and those books which bear his imprint which are dated were published in the years between 1822 and 1830. A date of c.1820-25 seems to fit with the appearance of the book. For other, similarly formatted books in the Hockliffe Collection published by Marsden of Chelmsford, see The History of Abou Casem [with] Puss in Boots (0018), The Cottage Piper (0087), The History of the Basket Maker (0121) and Occurrences of Master Manley's Journey to the Metropolis (0188).