Stories Before 1850. 0191: Anne Elizabeth Oulton, Cottage Scenes
| | |
| --- | --- |
| Author: | Oulton, Anne Elizabeth |
| Title: | Cottage scenes: being a collection of pastoral tales, illustrative or rural manners: and collected for the improvement of juvenile readers. By Anne Elizabeth Oulton |
| Cat. Number: | 0191 |
| Date: | No date but c.1826 (inscription dated 1828) |
| 1st Edition: | |
| Pub. Place: | London |
| Publisher: | William Cole, 10, Newgate Street |
| Price: | 1s 6d (half-bound) |
| Pages: | 1 vol., 88pp. |
| Size: | 13.5 x 9.5 cm |
| Illustrations: | Frontispiece plus two further full-page engravings and several small vignettes in the text |
| Note: | Inscription on verse of front cover: 'Anna Hu[...] from Miss Haldane [?] 10 Ocr. 1828' |
Images of all pages of this book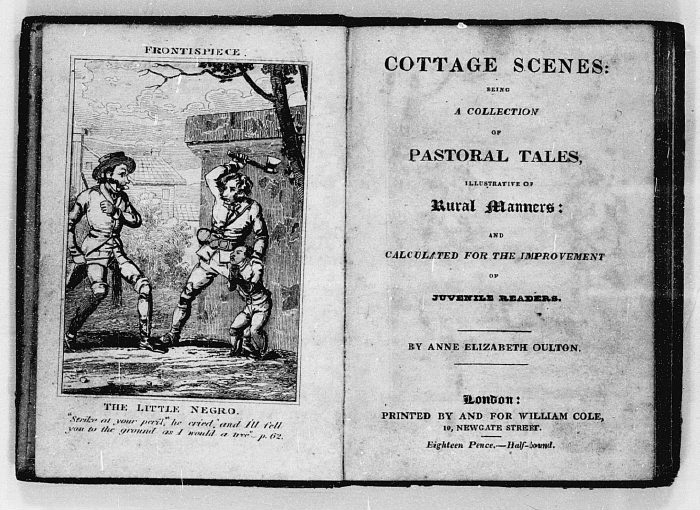 Introductory essay
Cottage Scenes contains eight short stories, each set amongst the farms and cottages of rural England and taking for protagonists a single extended family. The land the stories describe is far from utopian. There is much poverty. The roads are bad in 'The Rustic Stranger'. 'Banditti' terrorise the neighbourhood in 'Rustic Hospitality'. And the mortality rate of the characters is alarmingly high. Mothers and daughters are particularly prone to dying, either before the stories open or during their course. These deaths generally hurry along the plots, which often revolve around the decision of one family to take in and care for an orphan or fugitive.
Several of the stories end with a sudden revelation, showing Oulton to be more conscious than many of her contemporaries of the attractiveness to readers of strong, twisting narratives. In the first story, 'The Rural Feast' (begins p.5), the return of a long-lost son is described. He had been away serving as a soldier, and had been assumed dead. The pathos of his return is skilfully handled. Similarly, in 'The Rustic Stranger' (begins p.67), the mysterious stranger who has showered presents on his humble hosts is finally revealed to be the cottager's brother, Ralph, just returned from a prosperous spell in the navy. In 'The Good Maid of the Village' (begins p.47), the familial relationships are more complicated. Stella had been adopted by a poor farmer after her mother had died in disgrace. Her father, assumed dead, visits her in disguise and reveals himself to have grown rich. A custody battle appears about to develop between Stella's adoptive and natural fathers, but the latter settles the dispute by agreeing to come into partnership, and set up home, with the farmer. The final story, 'Country Education' (begins p.78), also seems in some respects a novel in miniature. First Teresa, who has been taken to London for a refined, urban education, is deprived of the inheritance she had expected when her aunt leaves no will. Suddenly a lawyer appears to reveal that a will has been found, and that Teresa can return to town and establish a school as planned. By then, she has learned the value of a simple, useful, unrefined rural life, and the school she establishes became successfully because it 'blended the advantages of a town and a country education' (p.88).
'Country Education' evidently has a strong didactic dimension, at one point distilled into the axiom that 'no girl should be educated above her sphere in life.' (p.84) But nowhere in the volume does the emphasis on entertainment become subordinate to this moral element. The most moral of the tales, 'Little Villagers' (begins p.16), concerns an avaricious, selfish boy who compulsively bets with his friends. His behaviour is strongly condemned, but the narrative is allowed to dominate. One of the boy's wagers results in his discovery of a cache of property stolen from Squire Willcox, which almost leads to his father's dismissal as the Squire's gardener. Only the intervention of one of the victims of the boy's wagers saves the day. Even more exciting is 'Rustic Hospitality' (begins p.39), in which a hospitable but poor cottager offers to take in an affluent stranger for the night for fear that robbers will assail him on the road. For a while, the stranger fears that the cottager will himself attack and rob him, but instead banditti attack the cottage during the night. Together the cottager and his guest fight off the attack and bring the thieves to justice.
Perhaps the most interesting of the tales is 'The Little Negro' (begins p.59). It begins when a humble wood-cutter, Clump, comes across a rich Englishman beating a defenseless black boy. When Clump tries to intervene the gentleman tells him that the boy is his slave, brought to Britain, apparently, from the East Indies. 'Your slave!' replies Clump, 'I deny it - the moment this little negro trod upon English ground he was as free as you or I. Mayhap you have kept him in ignorance, but I'll open his eyes; and if you dare to call him a slave again, I'll shut your honour's eyes.' (p.59) Whether slavery did or did not exist, under the law, in Britain was a moot point before slavery was eventually abolished throughout the British empire in 1833 (and full in 1838). The Somerset Case of 1772, which had ruled that a particular slave, in particular circumstances, ought to have been given his freedom once he came to Britain, was often taken as setting the precedent that slavery could not exist in Britain, which is probably from where Clump derives his authority. In any case, Clump takes in the boy, named (inevitably) 'Sambo', and he becomes a member of the family. Sambo, evidently used to much racism and cruelty, is initially incredulous - 'you don't dislike me because my complexion is black', he asks Clump's daughter. 'Dislike you because you are black?' she replies, 'Why should I? Do you dislike me because I am fair?' (p.61). But Clump's wife does distrust Sambo, her arguments displaying some of the foundations of early nineteenth century racism (see pp.62-63). Her scepticism of his character is only dispelled when he rescues her daughter from drowning.
William Cole, publisher of Cottage Scenes was the successor to William Hodgson who also operated from 10, Newgate Street (Brown 1982: 42). The transition seems to have occurred sometime in about 1824. Anne (or on some of her title-pages 'Ann') Oulton's publications span this date. Her Juvenile memoirs: being original tales of a moral tendency for young ladies and gentlemen bears the imprint of Hodgson and Co. and its engravings are dated 1823. Her Adventures of a parrot, named Poll Pry was published in 1826, bearing the imprint of W. Cole. Both these books share the same format as Cottage Scenes. All this suggests that Cottage Scenes, published by Cole, appeared sometime after 1824, and certainly not later than 1828 from when the MS. inscription on the inside front cover dates.
Oddly, there is an illustration of a factory on p.37.
Brown, Philip A. H., London Publishers and Printers, c.1800-1870, London: British Library, 1982