Stories Before 1850. 0192: Anon., Pastorals in Prose
| | |
| --- | --- |
| Author: | Anon. |
| Title: | Pastorals in Prose. Or, Moral Tales, for the Amusement of Youth |
| Cat. Number: | 0192 |
| Date: | No date (but c.1796?) |
| 1st Edition: | |
| Pub. Place: | London |
| Publisher: | John Marshall, No.4, Aldermary Church-Yard, Bow-Lane, and No.17, Queen Street, Cheapside |
| Price: | Unknown |
| Pages: | 1 vol., 67pp. |
| Size: | 15 x 9 cm |
| Illustrations: | Engraved frontispiece |
| Note: | Watermark in paper is dated 1796, as is also the case with the British Library copy |
Images of all pages of this book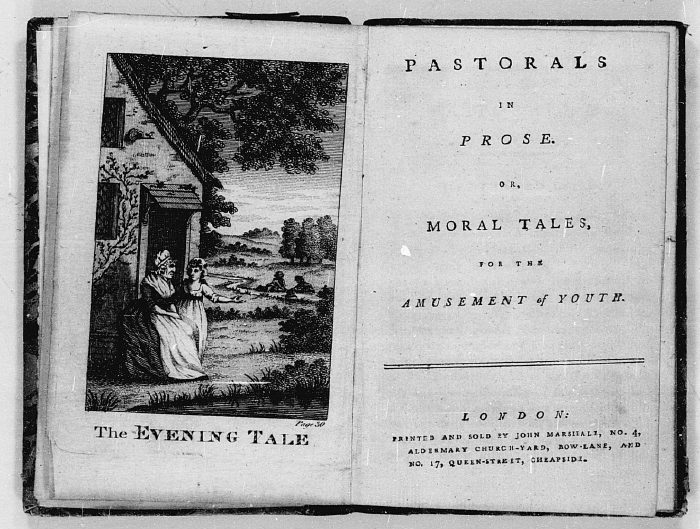 Introductory essay
'The Strayed Lamb', the first of the Prose Pastorals begins 'In the days of pastoral innocence ...'. From hereon in, the reader is transported into a realm of shepherds and nymphs, where the characters bear traditional names such as Amyntas or Aristus, Lycidas or Daphne. Pretty lambs, faithful dogs and charming song-birds play as prominent a role as the human protagonists. Each tale teaches a simple moral lesson - be just, be kind, be friendly, be loyal - through an equally simple story. But the tales seem designed primarily to appeal to the reader on the basis of their Arcadian charms, rather than their narrative drive or moral probity.
In 'The Strayed Lamb', Silvia and Polecrite are shepherdesses. Both are beautiful, and are admired by every beholder, but only Silvia is respected and loved, for Polecrite has a malicious streak, and refuses to share with anyone else the admiration she feels is due to her alone. She had attempted to calumniate Silvia, and has even taken to tormenting Silvia's blind old grandfather out of spite. All this Silvia bears patiently. One day, Silvia finds Polecrite's favourite lamb which has strayed from the flock. Rather than leave it there to starve, as another friend suggests would be a fitting punishment for Polecrite, Silvia takes the lamb home with her so that she can return it to its owner. When Polecrite finds that her lamb is not, after all, lost forever, she rejoices. Though she cannot initially express her gratitude to its rescuer, Silvia's kind attempts to put her at her ease encourage her to offer her thanks, and ultimately, to apologise for all her past faults. They will ever after be the best of friends.
'Dorillas' tells of two farmers who lived as neighbours. When one died, he left his son, Corin, to the care of the other. This farmer's avarice got the better of him though, and he appropriated his neighbour's property and sold Corin to some wandering shepherds. Fate frowned upon him after this, blighting his crops and killing his livestock. He died soon after, and his son, Dorillas, who had always despised his father's action in dispossessing Corin, set out in search of his young friend. At last, he found him, having discovered a hoard of gold coins along the way. The two boys returned to their fathers' homes, and with the money Dorillas had found, their fathers' farms were bought back, with the rest of the money being distributed amongst the poor. If Dorillas had not been just, the narrator points out, he would not have sought Corin. And had he not sought Corin, he would not have found the gold and been able to reestablish his own estate.
In 'The Shepherd of the Vale' Thyrsis is a humble shepherd beloved by all his community. He is always kind and friendly to everyone he meets, and so his elders love him as a son, and his peers as a brother. When his land, cottage and flock is destroyed by a flood, Thyrsis is close to despair. But each of his friends brings him one sheep from their own flocks, and his loss is more than made up. Such is the reward of having merited universal esteem.
Three further tales - 'The Evening Tale', 'The Death of the Fawn' and 'The Old Starling' - complete the volume.
It seems likely that Prose Pastorals was published in about 1796. This is the date of a watermark which appears in the title-page of the book, and it is fairly certain that John Marshall and Co., the publisher, operated from 17 Queen Street, Cheapside (as well as the longer-established address at 4, Aldermary Church Yard) only from 1787 to 1798 (although it is possible that he was there longer: Maxted, London Book Trades, p.148).