Stories Before 1850. 0197: Mary Pilkington, Marvellous Adventures; or, the Vicissitudes of a Cat
| | |
| --- | --- |
| Author: | Pilkington, Mary |
| Title: | Marvellous Adventures; or, the Vicissitudes of a Cat. In which are Sketches of the Characters of the Different Young Ladies and Gentlemen into whose hands Grimalkin Came |
| Cat. Number: | 0197 |
| Date: | 1802 |
| 1st Edition: | 1802 |
| Pub. Place: | London |
| Publisher: | Vernor and Hood, Poultry; and J. Harris, (Successor to E. Newbery,) St. Paul's Church Yard |
| Price: | Unknown |
| Pages: | 1 vol., x + 203pp. |
| Size: | 11.5 x 8.5 cm |
| Illustrations: | Engraved frontispiece |
| Note: | |
Images of all pages of this book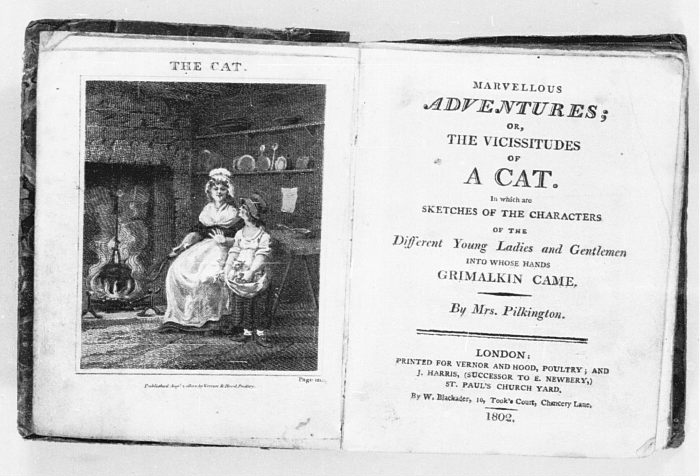 Introductory essay
Mary Pilkington (né Hopkins) was born in Cambridge in 1766. The death of her father, when she was fifteen years old, left her destitute. Pilkington was taken in by her grandfather, and in 1786 married the man who had succeeded to the surgeon's post which her father had occupied. Sometime after that she worked as a governess, presumably after her husband took up an appointment as a naval surgeon. And it was apparently in 1790 that she produced her first literary work, the anonymous Delia, a pathetic and interesting tale, a novel in four volumes published at the Minerva Press. Another novel, Rosina, followed in 1793, then a volume of Miscellaneous Poems, published by Cadell and Davies in 1796 (though the title-page attributes the work to 'Mrs. J. Pilkington', the dedication is signed 'M. Pilkington'). In 1797, Pilkington produced two, and possible three, works for Elizabeth Newbery. Two were novels, Edward Barnard; or, merit exalted and The Force of Example: or, the history of Henry and Caroline, a the third was her first book aimed at children, Obedience Rewarded, and Prejudice Conquered ... Written for the instruction and amusement of young people, the story of a young boy's career at sea. Over the next twenty eight years, Pilkington produced an enormous number of books, mostly books for children but with interspersed with novels aimed at an adult audience. The Dictionary of National Biography lists 42 books published between 1797 and 1825, but this may well be an underestimation. Many of Pilkington's publications, such as Marvellous Adventures - were original, but much of her huge output was adapted from previous publications - by Marmontel, Goldsmith, Berquin, Madame de Genlis, John Moore, and others.
Marvellous Adventures; or, the Vicissitudes of a Cat emanates from a tradition well established in children's literature by 1802 - the animal tale. The Hockliffe Collection contains several other examples - such as Dorothy Kilner's The Life and Perambulation of a Mouse (1784: 0159), Elizabeth Sandham's The Adventures of Poor Puss (1809: 0204), E. Smyth's History of Tabby, a favourite cat (1809: 0218), Eliza Fenwick's The Life of the Famous Dog Carlo (1809: 0162), and the anonymous Memoirs of Dick the Poney (1800: 0178-0179A) and Cato, or Interesting Adventures of A Dog of Sentiment (1816: 0082). As with these, Pilkington attempted to integrate simple moral lessons into an engaging narrative. Her hope was that the narrative would attract and keep a child's attention by virtue of the adventures it contained, and the natural interest which the reader might feel for a charismatic pet like Grimalkin. The lessons taught are rather bland. As with so many children's authors, most notably Thomas Day, whose Sandford and Merton is dominated by this theme, cruelty to animals comes to stand as a synecdoche of all vice. Pilkington is careful, though, to teach her readers that too great an affection for animals can also be very wrong. Lady Drusilla, one of Grimalkin's owners, pampers her pet cats. This makes her insensitive to the much more pressing needs of the poor people who live near her. Even though he is the beneficiary, Grimalkin knows that it is wrong to serve delicate and expensive food to pets when the poor are starving and their hardship is going unrelieved (see pp.81-82).
An MS. note in the Victoria and Albert Museum (Renier) collection copy of Marvellous Adventures attributes the frontispiece to William Blake (see Moon 1987: 92-93), but there is no corroborating evidence, and the engraving is not in his style. The British Library copy shows signs of a rather fastidious reader. The description of a half-drowned girl vomiting out the water she has swallowed is thoroughly crossed through (pp.153-154). A unusually vivid vomiting scene is used in Mary Ann Kilner's Jemima Placid (0159: p.29).
Lee, Stephen (ed.), Dictionary of National Biography, London: Smith, Elder, and Co., 1892 and after
Moon, Marjorie, John Harris's books for youth, 1801-1843, revised edition, Winchester, 1987