Stories Before 1850. 0218: E. Smyth, The History of Tabby a Favourite Cat
| | |
| --- | --- |
| Author: | Smyth, E. |
| Title: | The history of Tabby a favourite cat. As related by herself to her kitten. By E. Smyth |
| Cat. Number: | 0218 |
| Date: | 1811 |
| 1st Edition: | 1809? |
| Pub. Place: | London |
| Publisher: | Didier and Tebbutt, At the Juvenile Library fo English, French, and Italian Books, and Repositor of Instructive Games, No.75, St. James's-Street, Pall-Mall |
| Price: | 1s |
| Pages: | 1 vol., 66pp. + 2 page book-list |
| Size: | 13 x 8.5 cm |
| Illustrations: | Frontispiece plus two further full-page engravings |
| Note: | Inscription on fly-leaf: 'W. A. Cotton / the gift of Miss Cowley [?]' |
Images of all pages of this book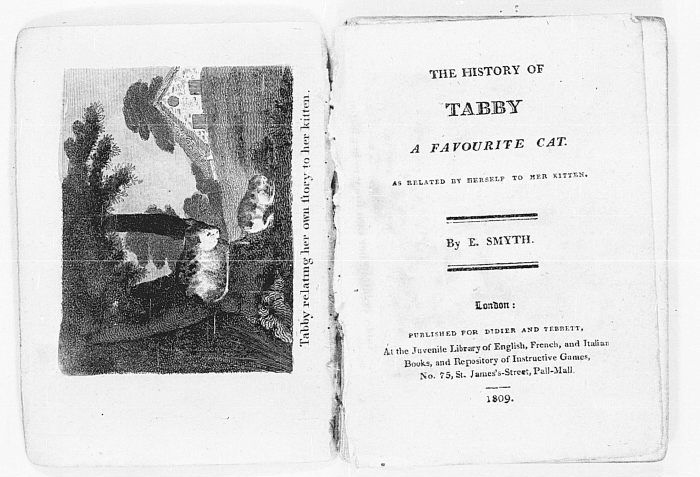 Introductory essay
Although the title-page gives the date of publication as 1809, the outside front cover has 1811. The same sort of discrepacy occurs on the British Library copy of the book, the title-page of which reads 1809, though the front cover has 1810. The explanation for these anomalies was presumably that Didier and Tebbett printed one run of their text in 1809, but added new covers periodically in order to keep their book looking contemporary.
The text is typical of early nineteenth century animal stories. A old cat, Tabby, relates the story of her life to her daughter, a kitten. There are one or two adventures, although unlike several other comparable animal stories, Tabby does not find herself exiled from her first owners, nor is she forced to endure the trials and tribulations of a cruel fortune. Rather, she becomes a vehicle for simple moral lessons. These take two forms. Either the reader is encouraged to behave well by Tabby's desciptions of the virtues and vices of the humans she encounters. Or Tabby herself is taught moral lessons, which, she makes plain, are suitable to humans too.
The history of Tabby emanates from a tradition well established in children's literature by 1809 - the animal tale. The Hockliffe Collection contains several other examples - such as Dorothy Kilner's The Life and Perambulation of a Mouse (1784: 0159), Elizabeth Sandham's The Adventures of Poor Puss (1809: 0204), Mrs. Pilkington's Marvellous Adventures; or, the Vicissitudes of a Cat (1802: 0197) and the anonymous Memoirs of Dick the Poney (1800: 0178-0179A) and Cato, or Interesting Adventures of A Dog of Sentiment (1816: 0082).