Stories Before 1850. 0221: Anon., Sophia and Mary; or, The Sisters
| | |
| --- | --- |
| Author: | Anon. |
| Title: | Sophia and Mary; or, the sisters. An interesting and instructive tale |
| Cat. Number: | 0221 |
| Date: | 1820 |
| 1st Edition: | 1818? |
| Pub. Place: | London |
| Publisher: | E. Wallis, 42 Skinner Street |
| Price: | Unknown |
| Pages: | 1 vol., 80pp. |
| Size: | 13.5 x 8 cm |
| Illustrations: | Fronsispiece plus five further full-page engravings |
| Note: | |
Images of all pages of this book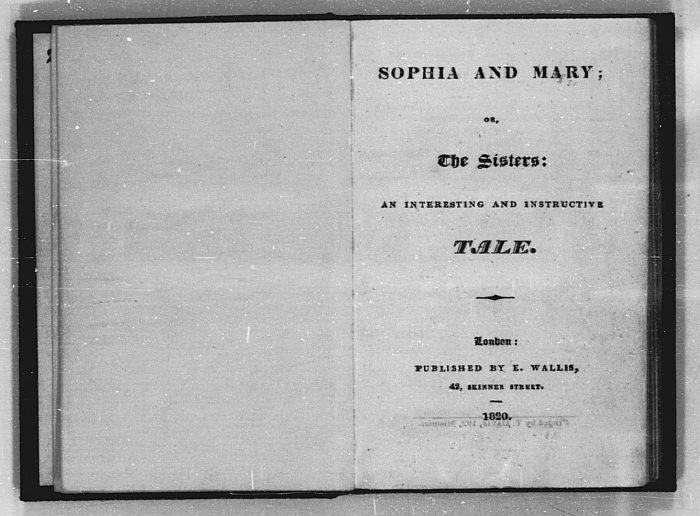 Introductory essay
When Sophia and Mary opens, the twin, eponymous protagonists are being cared for by their father, Mr. Jennings, and a governess, Mrs. Hartop, for their mother has recently died. The first half of the book establishes their differnt characters. Mary is quick-witted and clever, but rather vain and frivolous. Sophia is a little duller, but makes up for it with her diligence and kindness. Mary will always learn her lessons quicker than her sister, for instance, but Sophia, having taken more pains to memorise the lesson, will remember it longer.
Little actually happens until p.63 when, quite suddenly, Mr. Jennings falls ill, and quickly dies. His estate having been almost wholly expended in fighting a losing law suit, Mrs. Hartop takes Sophia and Mary to live with her in a retired cottage. Soon after, a rich and eccentric widon, Mrs. Townley hears of the girls, and determines to take one of them as a companion. Mary rashly criticises Mrs. Townley, so Sophia is selected to accompany her. When Mrs. Townely dies, she leaves £10,000 to Sophia, and although Sophia promises to split this money equally with her sister, Mrs. Hartop still proclaims the book's primary moral against forming rash judgements.
Beforehand, the book had mixed pedagogial catechisms on history (e.g. p.15ff.) and natural history (e.g p.59ff.) with small-scale anecdotes with low-key morals. Mary is guilty of 'tantalising' her pet cat, for example, and she has several adventures with her mischievous parrot (p.29ff.). But these animals offer her only a fraction of the satisfaction Sophia draws from her pet dog, with whom she has a much more sensible and affectionate relationship. Elsewhere, the book contains various bits of advice to young girls, such as that 'late hours at night, and indulging in bed of a morning, are both improprieties' (p.39).
Sophia and Mary is very similar in style and format to another work in the Hockliffe Collection: Sketches of Juvenile Characters (0095D and 0216).