Stories Before 1850. 0226: W. F. Sullivan, Portraits from Life
| | |
| --- | --- |
| Author: | Sullivan, William Francis |
| Title: | Portraits from life, or, the history of Charles and Charlotte. An instructive and entertaining tale, founded on truth. By W. F. Sullivan, A.M. Teacher of elocution and belles-letters |
| Cat. Number: | 0226 |
| Date: | 1817 |
| 1st Edition: | |
| Pub. Place: | London |
| Publisher: | Dean and Munday, Threadneedle-Street |
| Price: | 1s |
| Pages: | 1 vol., 53pp. |
| Size: | 17 x 10 cm |
| Illustrations: | Fold-out frontispiece and two further engravings |
| Note: | Inscription on fly-sheet: 'George Boys / 8129 [1829?] / Thomas Boys / Given him by Amelia Moore / May 3d 1817' |
Images of all pages of this book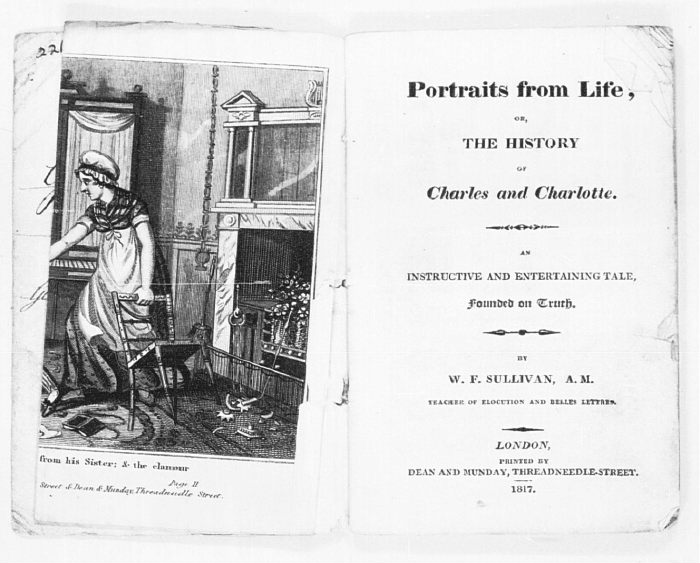 Introductory essay
The book opens with Mr. G--w--d putting two young orphans of whom he has charge, Charles and Charlotte, into the care Mr. S., his own old tutor. Charles and Charlotte, as quickly becomes plain, have already picked up many bad habits. They are lazy, quarrelsome and haughty. The attempt, for instance, to trap a bird, and then fight about who should have possession of it (pictured in the frontispiece). The rest of the book describes how Mr. S. and his wife cure the children of their faults.
Mr. S. employs several techniques for reforming his charges. First he separates the children, placing Charles in a garret which Mr. S. refers to as a 'prison'. But in general, Mr. S. prefers carrot to stick. He talks to Charlotte of 'good Charlotte' and 'naughty Charlotte', telling her that though he is always pleased to see the former, he hates the latter, an impostor who is sometimes let into the house but must be thrown out as quickly as possible. Most effectively, Mr. S. tells the children that he and his wife have wagered on which child will best be able to learn by heart a passage from the Bible. There will be a prize of plum-cake and oranges for the child who wins, and the competitive element encourages both Charles and Charlotte to unprecedented diligence. In the end, both children prove that they are just as good as one another at this exercise in rote learning. This pedagogical experiment successful, Mr. S. produces three copies of Mrs. Trimmer's 'Selections from the Old and New Testament' (i.e. her Sacred History selected from the Scriptures, 1782-85), two 'in the ordinary binding and edition' and one 'a most splendid edition ... admirably printed upon extra fine wove paper, hot-pressed, and more superbly bound and gilt' (p.41). The ordinary editions are for Charles and Charlotte to learn from. The superior edition will be the prize for whoever will be able describe and explain the book's contents.
There are other indications of a debt to Sarah Trimmer in Portraits from Life. Charles and Charlotte's cruel entrapment of a robin, against the advice of a servant who tells them that if they treat it well, the robin will become their faithful pensioner, is surely meant to reference Trimmer's Fabulous Histories, or the History of the Robins (0241-0245 in the Hockliffe Collection). But unlike Fabulous Histories, a large part of the text is taken up with a number of inset narratives which Mr. S. tells to enforce his lessons. The story of the tyrannical Roman Emperor Domition is used to cure Charles of his cruelty to animals. And to give the children a regard for all social ranks, Mr. S. tells a long parable about a nation in which the rich and titled disdained their social inferiors so that the country became an easy prey for an invading power because no army could be mustered. Under the new regime, the rich were soon deposed and found that they lacked the skills and disposition to survive. One former aristocrat kills himself; his son is forced to beg and steal, and eventually becomes a chimney sweep. The revolution in his fortunes is thrown into relief by a conversation the boy has with a black servant he used to chastise (pictured opposite p.35):
"Aha! young massa, you call sooty, sooty; and get poor negro boy whip; now me call you, sooty, sooty, sweep ho! you no give me cake, that too good for blacky, but me give you a bit of bread, for all dat, for you look hungry."
The moral the children's tutor draws is that all children should be educated as if they will have to make their own way in the world, irrespective of their actual rank. That way they will 'in time, become ornaments to the sphere of life in which they are to move' (p.53).
William Francis Sullivan (1756-1830) was the son of an eminent Irish jurist. He was educated at Trinity College, Dublin for a career in the Church. However, when his father died William joined the navy. He fought in the American War of Independence before taking up permanent residence in England in 1783 (Dictionary of National Biography). He wrote a variety of books over the following forty years. Flights of Fancy, a miscellany of prose and verse, appeared in 1792. An anti-Revolutionary play, 'The Rights of Man', which was probably never acted, appeared in the early 1790s, and a vigorously patriotic poem, The Test of Union and Loyalty, or the Long-Threatened French Invasion followed in 1803 (with a fourth edition within the year). Sullivan's many books for children came later. He published at least eleven moral tales between 1816 and 1821. Judging by the title-page to his books, he was by this time also a 'Teacher of Elocution and Belles Lettres'.
Other works by W. F. Sullivan in the Hockliffe Collection (0223-0228), also published by either A. K. Newman or his associates, Dean and Munday, all appeared before 1820, save The Orphans (0225) which probably dates from between 1823 and 1831. All share the same format, and the same high quality engravings most of which appear to have been by Isaac Cruikshank.
Lee, Stephen (ed.), Dictionary of National Biography, London: Smith, Elder, and Co., 1892 and after