Stories Before 1850. 0225: William Francis Sullivan, The Orphans; or the Triumph of Integrity
| | |
| --- | --- |
| Author: | Sullivan, William Francis |
| Title: | The Orphans; or the Triumph of Integrity: An Interesting, Amusing, and Instructive Tale, For All Young Persons |
| Cat. Number: | 0225 |
| Date: | No date but c.1825 |
| 1st Edition: | Unknown |
| Pub. Place: | London |
| Publisher: | Dean and Munday, Threadneedle-Street |
| Price: | 1s |
| Pages: | 1 vol., 54pp. |
| Size: | 18 x 10.5 cm |
| Illustrations: | Frontispiece and two further engravings and cut on front cover |
| Note: | |
Images of all pages of this book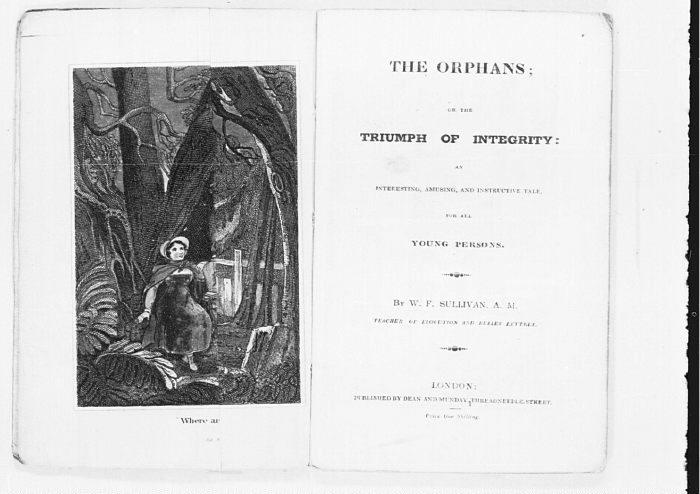 Introductory essay
The inscription on the fly-leaf of this book gives the date 1831, indicating that it cannot have been published after that date. The advertisement on the outside back cover attests to the fact that the book cannot have been published before 1823, for that is when Dame Wiggins of Lee, fourth in the series, made her first appearance in print. This gives an eight year range when this edition of The Orphans can have been published. The other works by W. F. Sullivan in the Hockliffe Collection (0223-0228), also published by either A. K. Newman or his associates, Dean and Munday, all appeared somewhat earlier, before 1820, but they share the same format, and the same high quality engravings.
William Francis Sullivan (1756-1830) was the son of an eminent Irish jurist. He was educated at Trinity College, Dublin for a career in the Church. However, when his father died William joined the navy. He fought in the American War of Independence before taking up permanent residence in England in 1783 (Dictionary of National Biography). He wrote a variety of books over the following forty years. Flights of Fancy, a miscellany of prose and verse, appeared in 1792. An anti-Revolutionary play, 'The Rights of Man', which was probably never acted, appeared in the early 1790s, and a vigorously patriotic poem, The Test of Union and Loyalty, or the Long-Threatened French Invasion followed in 1803 (with a fourth edition within the year). Sullivan's many books for children came later. He published at least eleven moral tales between 1816 and 1821. Judging by the title-page to his books, he was by this time also a 'Teacher of Elocution and Belles Lettres'.
The inscription reveals that the book belonged to Elizabeth Frances Charlotte Powell who lived at Ripley, Yorkshire, 'Angleterre'. Ripley is indeed 'near Harrogate', as the inscription helpfully continues, lying about five miles north of Harrogate on the road to Ripon. The inscription is dated 29 June 1831. Just over three months later, on 1 October 1831, the book passed into the possession of Frances Elizabeth Powell, cousin of the first owner, who lived at Ashby Rectory. There are several settlements named Ashby in Britain, but a Frances Elizabeth Powell was still living in Ashby, near Scunthorpe, in 1881 when the first indexed census was carried out. She was 59 years old in 1881, meaning that she was nine years old in 1831, when she was given the book. This provides us an indication of what age-group this kind of book was directed at. It is perhaps not stretching the data provided by the inscription too far to suggest that Elizabeth Frances Charlotte Powell gave the book as a present to her cousin because she knew that Frances Elizabeth would relish it.
The narrative starts with Dick and Bess Smallstock walking through a wood by the light of the moon. They have been visiting their old nurse, and are now returning home. Once, their home was a cheerful place, but since the death of their father, a year ago, their mother has struggled to make ends meet. Their conversation reveals that they cannot always be sure of a meal at the end of the day. A passing clergyman, the Reverend Shepherd, overhears their talk, and inquires further into their circumstances (pictured in the lovely frontispiece). He escorts them home, and presses two half crowns on them. They refuse his proffered gift, explaining that their mother has taught them that they should only take money if their have earned it, and only beggars take money from strangers (p.8). More interested in the children than ever, Reverend Shepherd asks to meet their mother. She is clearly ill, but receives him courteously. The Reverend promises to return to the cottage whenever he next passes that way.
The next time he visits, though, he finds that Mrs. Smallstock has died, and the children have been taken in by the aged Goody Foster. She explains the history of the family. Mrs. Smallstock was the daughter of a well-to-do minister of the church. While her sisters all made favourable marriages, Mrs. Smallstock was deemed to have married below her. Mr. Smallstock, her husband, was only a tenant farmer. He was slowly becoming more prosperous when his farm was sold over his head, and he was forced to find new land to lease. This new farm proved unprofitable, and his fortunes rapidly declined. Once his oldest son had been taken into the army, Mr. Smallstock seemed to lose his will to live, and he quickly died - a year before the story opens. Mrs. Smallstock was left to look after Dick and Bess, and another infant child. She set up a small school in an attempt to make a living, but this did not succeed. Her death has left Dick and Bess dependent on Goody Foster, be she fears they will be taken to live in the poorhouse.
The Reverend Shepherd determines to take up their cause. First, he writes to Mrs. Smallstock's two sisters, both of whom live in affluence. They refuse to take in their nephew and niece. Then he approaches two local dignitaries, asking if they will agree to become patrons to the orphans. They do. Miss Tythe, the daughter of the local rector (whose multiple livings and dissolute habits are much criticised), takes in Bess. Captain Crump, an eccentric ex-sailor, agrees to bring up Dick. He also very speedily contracts a marriage to the Reverend Shepherd's eldest daughter, she, apparently, being content to settle for a husband twice her age, with many 'foibles and eccentricities', because of his 'excellent heart' and his 'thirty thousand pounds' (pp. 29-30).
The rest of the book recounts two adventures, one for each of the orphans, in which they prove their virtue and gain the lasting favour of their guardians. Bess is falsely accused of stealing from her mistress by another girl, Miss Sophy Ranklin, who lives with them too. It is Miss Sophy who has been pillaging her mistress's clothes and jewellery, and by secreting the items in Bess's trunk, she has managed to pin the blame on her. But the reader does not have to wait long before the real culprit is discovered. Several circumstances exonerate Bess. Other jewels are found in the possession of Miss Sophy, a maid has noticed her longing for the missing articles, and lastly, the 'toyman' to whom she has attempted to sell the stolen articles identifies her. Bess's innocence is proved and she goes on to live happily with her mistress.
Dick, meanwhile, overhears a plot by one of Captain Crump's servants to rob the house (pictured opposite p.44). He arms himself, scares off the robbers by shooting them, injuring one, and then continues to patrol the house all night. He is rewarded by the lasting favour of the Captain, who makes him his heir. The robbers are punished by transportation. Though the book thus ends happily, there is no indication that the siblings ever meet again.
Lee, Stephen (ed.), Dictionary of National Biography, London: Smith, Elder, and Co., 1892 and after