Stories Before 1850. 0229: Anon., Take Your Choice
| | |
| --- | --- |
| Author: | Anon. |
| Title: | Take your choice: or, the difference between virtue and vice, shown in opposite characters |
| Cat. Number: | 0229 |
| Date: | 1805 |
| 1st Edition: | 1802 |
| Pub. Place: | London |
| Publisher: | J. Harris, successor to E. Newbery, Corner of St. Paul's Churchyard |
| Price: | 1s |
| Pages: | 1 vol., 101pp. plus a 5-page booklist |
| Size: | 14 x 8.5 cm |
| Illustrations: | Frontispiece plus 16 further wood-cuts |
| Note: | |
Images of all pages of this book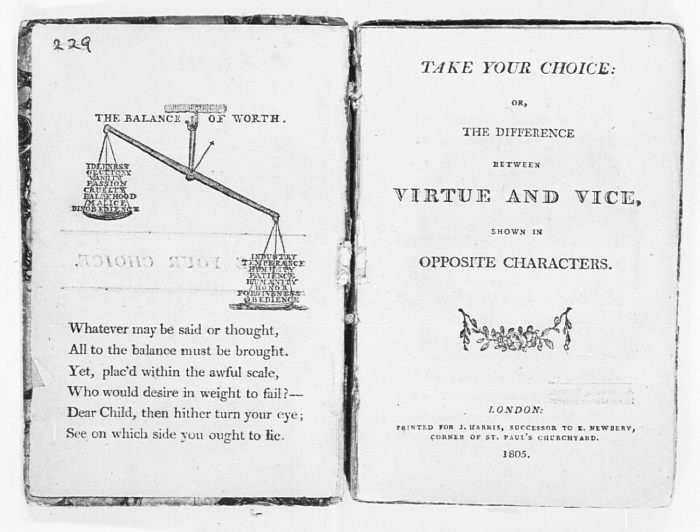 Introductory essay
The Theatre of Youth is a collection of three short plays. None of them are meant to be acted, as stage directions like 'Saunters about, yawning and listless, for nearly a quarter of an hour' make clear ( p.10). Rather these are moral tales squeezed into the form of drama. But they work rather well, including some surprisingly charming scenes in which the protagonists realise the error of their ways and vow to reform.
In the first, 'Vanity Punished', we are introduced to Mr. and Mrs. Waller and their son Valentine. When we first encounter Valentine, he has his head in a book, for which, most unusually, his father criticises him (pictured p.3). As Mr. Waller has correctly realised, Valentine's reading 'is but ostentation' (p.13). He has merely affected his interest in books because he thinks such scholarly behaviour will win him the praise of adults. The conversation between Mr. and Mrs. Waller which opens the drama is important, then, because it offers a rare challenge to the fundamental presumption which underlies children's literature and provides its principal raison d'etre - that books improve their readers:
Mr. W. Yonder is our Valentine walking in the garden with a book in his hand. I am very much afraid that it is rather through vanity than from a real desire of improving himself, that he always appears to by busy reading.
Mrs. W. What makes you think so, my dear?
Mr. W. Do you not remark how he casts a side-look now and then, to see if any body takes notice of him?
Mrs. W. And yet his maters give a very flattering account of his diligence, and all agree that he is very far advanced for his age.
Mr. W. That is true. But if my suspicions are right, and if the little that he can know has made him vain, I would rather a hundred times that he knew nothing, and were modest.
Mrs. W. That he knows nothing?
Mr. W. Yes, my dear. A man without any great extent of knowledge, but upright, modest, and industrious, is a much more estimable member of society than a learned man whose studies have turned his head, and puffed up his heart. (pp.3-4)
The simplistic Newbery-model - which assumed that children's education and reading would lead to worldly success and spiritual and moral progress - comes under challenge here. But we are also made aware that adults and children could have different understandings of reading's purpose. For Mr. and Mrs. Waller, books were to be valued purely for their textual content and for what they could teach their son; but Valentine clearly regarded his books as able to confer status and maturity irrespective of their content, even if his attempts to appear bookish were too clumsy to succeed.
Mr. Waller's theme of what constitutes maturity and of what makes a boy into an 'estimable member of society' is developed by the introduction of another boy, Michael, the son of Mr. Waller's foster-brother. Michael is from a much humbler background, and the only book he is familiar with is the Catechism. Valentine spurns him, thinking him ignorant and therefore despicable. Mr. Waller regrets this, telling his son that Michael knows many things which Valentine does not, principally about nature, farming and the countryside. By contrast, Valentine is wholly out of touch with his environment. He refuses to accompany his parents and their friends to view the setting sun, preferring, he says, to read his book ('I must put on a studious air': p.9) - a glaring transgression against a code of sensibility, and a symbol of his refusal to appreciate what is truly of value.
His parents having 'failed' to appreciate his scholarly behaviour, Valentine wanders into a wood, affecting to have lost all track of time and space. He expects that he will be missed, and sought for, and then commended for his dedication to his book. In fact, Mr. Waller refuses to be worried, and he criticises his wife for her 'injudicious fondness' in wanting to search for her son (p.13). Valentine quickly becomes frightened, ironically given his heroic name, and the book he boasts of reading - 'Telemarque', presumably Fenelon's Telemachus (1699). Mr. Waller sends Michael into the wood, and the boys spend the night together. Michael teaches Valentine how to survive there, leading Valentine to value the alternative knowledge of his new friend, and to realise the folly of his former vanity and affectation.
The second drama in the collection is 'The Little Gleaner' (begins p.23. Gleaning is the gathering of ears of corn from fields after the harvest, a privilege often permitted to the poor. It was a familiar subject of late eighteenth and early nineteenth century children's books, largely because it operated as a useful symbol of the duty of the rich to support the poor. Here, for instance, the landowner, Lord Bevil, is content for the neighbourhood poor to glean on his fields, but his bailiff, Hardy, takes exception to it, and is criticised for his hard-heartedness. He inveighs against the parish's hospitality to poor from other places, and the fact that this will lead to a rise in the poor rates. But he particularly suspects little Emily, the story's heroine, to have stolen ears of corn from the sheaves which have already been bound together ready to be threshed, an infringement of the etiquette of gleaning. Hardy confiscates Emily's basket and threatens to send her to the House of Correction. Emily is greatly distressed. Luckily Lord Bevel's children, Marcellus and Harriet, come across her in the field, and make friends with her. They promise to return her basket and the gleaned corn.
Marcellus fetches his father, and they interview Hardy, who admits he has no evidence that Emily stole her corn. Lord Bevil finds that Emily's neat appearance and polite manners proclaim her innocence, and further, he seems to recognise her from somewhere. This is explained when her mother, Mrs. Jennings, arrives on the scene. She tells her life-story. She has been born into a respectable family, and educated well, but her husband has died leaving Emily and herself in poverty. Yet it soon becomes clear that her husband, Lieutenant-Colonel Jennings, had been the very man to save Lord Bevil from certain death in the last war. Out of gratitude to the man who saved his life, Lord Bevil offers to take into his household Emily and Mrs. Jennings. Emily will be a new sister, and Mrs. Jennings will be a new mother, for Marcellus and Harriet, their own mother, Lady Bevil, having recently died.
Third comes 'Alfred' (p.53), a shorter drama dealing with the arrival of King Alfred, incognito, at the cottage of two peasants, Gubba and Gandelin. Finding him unfit for any other work, they set him to watch the cakes on the fire, but while thinking of England's plight, he lets them burn. They scold him, but just then in burst soldiers who recognise Alfred. They bring him news of an English victory over the Danes, and Alfred rides out to take command of the army once again.
The final page of the book, rather incongruously, bears a poem describing 'Animals, and their Countries' (p.63).
The Theatre of Youth survives in no other major collection of children's books. The firm which published it, Brook and Lancashire of Huddersfield were active at the turn of the nineteenth century. The British Library catalogue and English Short Title Catalogue list works published with their imprint from 1798 to 1802, so it seems safe to assume a date in this range for Theatre of Youth. The model for the work might well have been Madame de Genlis's Theatre of Education, first published in 1781. This was also a collection of moral tales cast into the form of short one-act dramas. However, none of the dramas which appear in The Theatre of Youth were to be found in Theatre of Education.