Stories Before 1850. 0228: W. F. Sullivan, Young Wilfred
| | |
| --- | --- |
| Author: | Sullivan, William Francis |
| Title: | Young Wilfred; or, the punishment of falsehood: a tale of truth and caution, for the benefit of the rising generation. By W. F. Sullivan, A.M. Teacher of elocution and belles-lettres. A new edition |
| Cat. Number: | 0228 |
| Date: | 1821 |
| 1st Edition: | 1817 |
| Pub. Place: | London |
| Publisher: | Dean and Munday, Threadneedle-Street |
| Price: | 1s |
| Pages: | 1 vol., 58pp. |
| Size: | 16 x 10.5 cm |
| Illustrations: | Fold-out frontispiece plus two other full-page engravings |
| Note: | A re-edition of 0227 |
Images of all pages of this book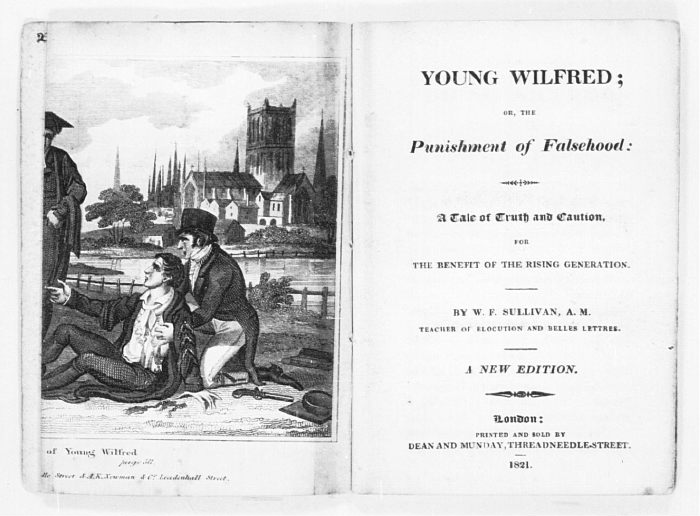 Introductory essay
Young Wilfred, or, the punishment of falsehood (1821) is in fact a re-titled re-issue of Sullivan's The Young Liar!!, published in 1817 by A. K. Newman (and 0227 in the Hockliffe Collection). Both text and illustrations are identical, although there has been some repagination.
The Young Liar opens with the birth of a longed-for son, Wilfred Storey, to a prosperous Leicestershire farming family. From his birth, however, the young boy is accustomed to what Sullivan calls 'the marvellous', that is to say, to fiction. His nurse, Nurse Fibwell, gossips to him and tells him fairy tales and stories of her own devising. His father tels him 'the history of the Seven Champions of Christendom, Guy, Early of Warwick, and the Dun Cow, and the Wonderful Adventures of Baron Munchausen' (p.7). After all, Sullivan tells us, in the days of Wilfred's youth, 'the mode of instruction for youth was by no means so much improved as it has been for some years past, nor were there so many useful little tracts, written by respectable persons of sound judgment'. The 'children's library', Sullivan goes on, consisted mostly of 'the Fairy Tales of the Countess D'Anois, Persian Tales, Valentine and Orson, Arabian Nights, and Gulliver's Travels,', and perhaps also Robinson Crusoe. But all, save the last, were 'either too frivolous, improper, or incomprehensible, for children.' (p.8) Sullivan's history of children's literature is rather sketchy. The titles which he cites were read by children from the early seventeenth century onwards, but from the 1740s onwards they had been joined by many other works omitted from the list - those published the house of Newbery and, later, by John Marshall, for example. But his identification of a new children's literature which emerged from the later eighteenth century onwards, a literature which was much more dominated by Evanglical concerns than anything published by Newbery and the others, was not unusual. And the sheer number of different titles for children which were published in the decade of two after 1800 in itself sets Sullivan's age apart from any previous era in terms of the provision of reading for children.
The Young Liar is the most Evanglically-inclined of Sullivan's works in the Hockliffe Collection. It focuses on one specific vice: lying. This is implanted in young Wilfred by the stories told to him early in his life, and is then fostered by his fashionable parents, who rebut unwanted visitors, for example, by telling ordering servants to tell them that they are 'not at home'. By the time he starts his boarding-school, then, Wilfred has become addicted to falsehood. At Dr. Birchall's Academy near Melton Mowbray, to which Wilfred is sent at the age of nine, Wilfred lies to secure the esteem of his class-mates and, then, to inveigle more pocket-money out of his parents. He writes tells them, for instance, that a play is to be put on at the school, and that he must purchase his own costume (his scheming pictured opposite p.23, with other boys playing cricket, and with kites, in the backgound). No play is going to be staged though, for Dr. Birchall detests the theatre, and will not even have copies of Shakespeare's dramas in his school. Wilfred's plot is uncovered when his father sends the manager of the Leicester Players to give lessons to the boys. Although he manages to deflect the blame for this particular lie onto other boys, Wilfred is soon caught trying to send a letter home which slanders Dr. Birchall and the school. He is severely whipped (the flogging described on pp.44-45, and see the picture of the school-room opposite p.38) and expelled from the school.
After a period under the care of a venial tutor, Wilfred is sent to Cambridge University. When he finds that some of his school-mates are at the University too, he tries to have them send down before they have a chance to expose his previous conduct. This plan backfires too, and one of the boys challenges Wilfred to a duel (depicted in the frontispiece). Wilfred dies, but not before he repends his former behaviour.
William Francis Sullivan (1756-1830) was the son of an eminent Irish jurist. He was educated at Trinity College, Dublin for a career in the Church. However, when his father died William joined the navy. He fought in the American War of Independence before taking up permanent residence in England in 1783 (Dictionary of National Biography). He wrote a variety of books over the following forty years. Flights of Fancy, a miscellany of prose and verse, appeared in 1792. An anti-Revolutionary play, 'The Rights of Man', which was probably never acted, appeared in the early 1790s, and a vigorously patriotic poem, The Test of Union and Loyalty, or the Long-Threatened French Invasion followed in 1803 (with a fourth edition within the year). Sullivan's many books for children came later. He published at least eleven moral tales between 1816 and 1821. Judging by the title-page to his books, he was by this time also a 'Teacher of Elocution and Belles Lettres'.
Other works by W. F. Sullivan in the Hockliffe Collection (0223-0228), also published by either A. K. Newman or his associates, Dean and Munday, all appeared before 1820, save The Orphans (0225) which probably dates from between 1823 and 1831. All share the same format, and the same high quality engravings most of which appear to have been by Isaac Cruikshank.
Lee, Stephen (ed.), Dictionary of National Biography, London: Smith, Elder, and Co., 1892 and after