Stories Before 1850. 0239: Anon., Tom Thumb's Exhibition
| | |
| --- | --- |
| Author: | Anon. |
| Title: | Tom Thumb's exhibition, being an account of many valuable and surprising curiosities which he has collected in the course of his travels; for the instruction and amusement of the British Youth |
| Cat. Number: | 0239 |
| Date: | 1815 |
| 1st Edition: | 1775 |
| Pub. Place: | London |
| Publisher: | J. Harris, at the Corner of St. Paul's |
| Price: | 3d |
| Pages: | 1 vol., 62pp. |
| Size: | 10 x 6 cm |
| Illustrations: | 19 wood-cuts |
| Note: | |
Images of all pages of this book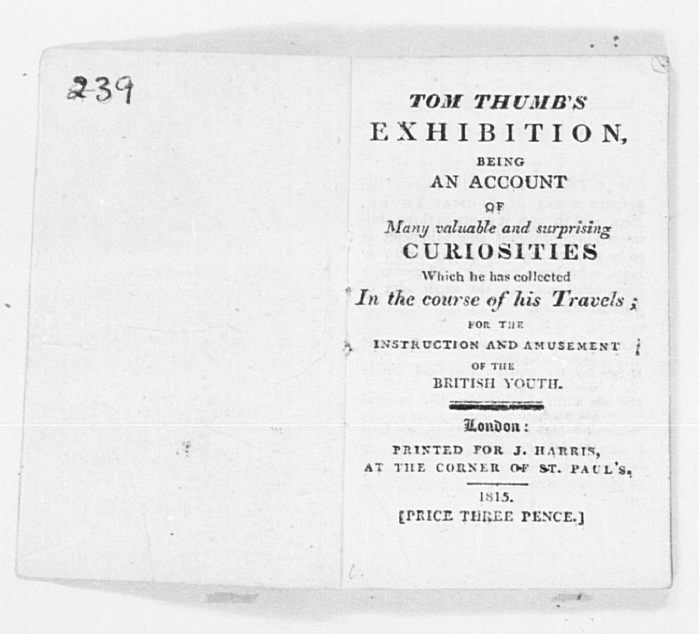 Introductory essay
Tom Thumb's Exhibition was first listed as being available from John Newbery's publishing firm in 1775. John Harris, successor to Elizabeth Newbery, republished the title in 1805, almost as soon as he took over the firm, and further Harris editions appeared in 1807 and 1815. The Hockliffe Collection edition shown here is from this last edition.
Why the prefatorial material on the verso of the title-page announces that 'This is the second volume of the genuine works of THOMAS THUMB, Esq.' is unclear. Perhaps this claim was intended to distinguish this work from the traditional fairy-tale of Tom Thumb (see 0044 or 0045), with which, excepting its principal protagonist, it has little in common. Indeed, even if the preface goes on to boast that the book 'contains three shillings worth of useful entertainment, ... to be sold to any young gentleman or lady, who loves reading and merits a good character, for the small sum of THREE-PENCE' (emphasis added), it also admits that the work has a primarily didactic intent:
Young gentlemen and ladies, walk in a please your fancy;
Here's fun for honest Billy, and lovely modest Nancy:
No idle mirth we bring you, like many of the kind,
But such as both may please you, and form the growing mind. (p.4)
This is, then, a book which perfectly fulfils the Newbery mission statement of providing children with 'instruction and delight', the one feeding off the other.
The premise of the book is that Tom Thumb has established an exhibition of artifacts which will be both entertaining and educational for children, and that this book is the catalogue. The exhibition is to be found at Mrs. Lovegood's, in Wiseman Buildings, at the end of Education Road. But Mr Lovegood will not let anyone in unless they bow to him respectfully, hold a copy of the catalogue, are attended by respectable adults who can swear to the child's good behaviour, and can read any part of this book fluently and exactly. Once in, though, all children will be allowed to roam at will, and will be given sweetmeats and oranges, though not so many that their health will be damaged. If they eat too much, Mr. Lovegood will chase the children out of his museum.
So what is on display? First, we are introduced to an advice bird. It sings and shows its plumage to good children, but turns into a vulture to savage the bad. Second, we have the intellectual Perspective Glass. It shows what things are really like, so that alcoholic drinks, for example, appear as snakes and reptiles in the glass. Third, the reader is shown several pictures, which when viewed through the Perspective Glass show very different images to those which first appear. A thief and his accomplice, when viewed through the glass, are shown in the process of being executed; a profligate man surrounded by acquaintances at a pleasure garden is revealed by the glass to be alone and friendless; Miss Sally Pretty-Face, a virtuous young girl, is transformed into a virtuous woman who is marrying a nobleman's son; ad a boy who will not learn is transformed into a shabby man trudging through the streets. Many further artifacts teach many further moral lessons, and after 62 pages, the book ends with a song sung by one of the exhibition's curiosities.
The 'exhibition' format of this work was doubtlessly designed to cash in on the increasing populaity of collecting and museums in the late eighteenth century. Likewise, Tom Thumb himself was pressed into service to endow this basically didactic, not to say hectoring, book with a degree of charisma which it would otherwise lack. Having said that, there is much in the text which is genuinely amusing, and for three-pence, the book was surely something of a bargain. There was, then, perhaps no need for the author to so ardently assert the value of his or her book, as when the 'mahogany conjuring box' is found to transform 'one of Mrs. Newbery's little books' in to 'a swinging folio, very magnificently gilt and lettered', and obviously worth not less than three guineas (p.51).