Stories Before 1850. 0248: Frances Bowyer Vaux, Henry: a story
| | |
| --- | --- |
| Author: | Vaux, Frances Bowyer |
| Title: | Henry: a story, intended for little boys and girls from five to seven years old. By Frances Bowyer Vaux. Part the Second |
| Cat. Number: | 0248 |
| Date: | 1816 |
| 1st Edition: | 1816 |
| Pub. Place: | London |
| Publisher: | W. Darton, Jun. |
| Price: | 1s |
| Pages: | 1 vol., 63pp. plus book-list |
| Size: | 16 x 10 cm |
| Illustrations: | Engraved fold-out frontispiece and two further full-page engravings |
| Note: | Book-plate for Unitarian Sunday-school, Sheffield |
Images of all pages of this book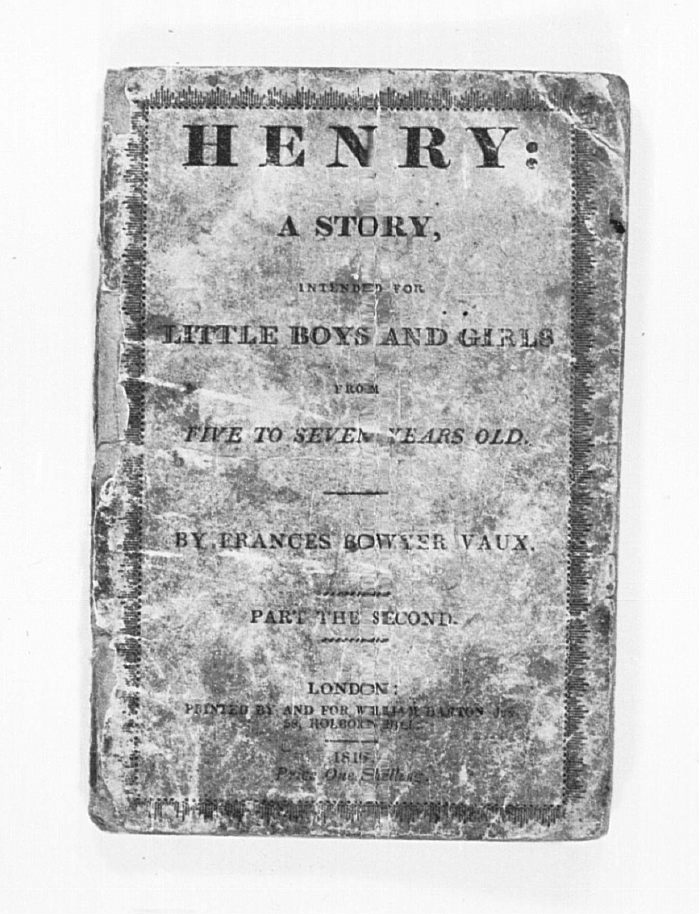 Introductory essay
The Hockliffe Collection has only the second part of Henry: a story. The first part had been published a year earlier in 1815, also by W. Darton. Save for a few strands of narrative which are woven into both parts, part two does stand on its own. It begins where part one left off, with the five-year old Henry already at the seaside, to which he had been driven as a treat. His first encounter with the sea had been vividly dramatised in both the text and the frontispiece of part one (p.57).
The preface to the first part, signed and dated Frances Bowyer Vaux, Ipswich, January 1815, makes the standard claim that the book was written for the benefit of a near relative of the author (here, a nephew), and not with a view to publication. The reason given for Vaux's decision to write the book is that there were no other works available to children which were similar to Early Lessons by Maria Edgeworth. The reason given for Vaux's decision to publish is that her friend, Mrs. Priscilla Wakefield, commended the book and recommended its publication (pt.1, pp.v-vi).
What follows is indeed similar to Edgeworth's Early Lessons (1801), and to Wakefield's work, in that it attempts to embed a series of lectures on various topics into a continuous narrative. The lessons taught by Vaux, Edgeworth and Wakefield are all most often about some aspect of natural history, geography, manufacturing, science or the ways in which people contrive to make a living. In Henry, for instance, the whole didactic scheme stems from Henry saying 'Mother, I am just thinking that I wish I knew where all the things in the world come from and what is the use of them' (pt.1, p.10). Within a few pages he has learned about the calendar, about the origin of the pearls his mother wears, and about how bread is made. In part two, Henry is told about salt-mining in Poland (the account of which is 'as wonderful as any fairy tale you ever heard', pt.2, p.8) and about many aspects of life at the seaside: tides, fossils, shell-fish, the life of a shrimp-catcher, and so on. All this information is imparted by Henry's father. It had been his mother who had been his guide throughout part one, but the lessons taught be each parent do not seem particularly different in character. Henry and his parents befriend the shrimp-catcher (though 'he talks very bad grammar', pt.2, p.21) and he takes them back to his humble hut on the beach (depicted in the frontispiece). The family teaches Henry more lessons - about slate mining, for example - but this episode, like a similar encounter with a poor cottager in part one, also includes a description of the death of one of the family. Henry is actually absent when the story of the accidental death of the shrimp-fisherman's brother in a mine is told(pt.2, pp.38-39), just as he had been when the cottager told of the death of her beloved granddaughter in part one (pt.1, pp.36). It is not immediately clear, then, how these short interpolated stories of suffering and grief fit into Vaux's scheme. It seems most likely that Vaux was attempting to teach her readers to accept the travails of life as well as its pleasures. As she writes: 'Henry's pity for the poor miners did not disturb his present enjoyment.' (pt.2, p.44) Vaux's world, despite the occasional grief suffered by the poor, is certainly a happy one. Even the gleaners, the traditional symbol of rural poverty, have 'cheerful countenances ... as they filled their aprons with the scattered ears' of corn, and Henry helps one infirm gleaner, emphasising how rich and poor get along in Vaux's vision of the countryside.
After Henry and his parents return from the seaside there are more lessons - notably about the order of precedent of the continents (Europe comes first, then Asia, Africa and America because the people who live in these last three are not civilised but 'are almost as wild and untaught as the beasts of the forest', pt.2, p.56). Then we have the conclusion of a narrative thread which had begun in part one. Henry goes to a nearby cottage where mother had earlier been lamenting that her young daughter, Mary, could not afford to attend school. She has been gleaning from the field, and has earned enough for half a year's schooling, but Henry is pleased to tell her that his mother has agreed to pay the entire cost of her education, so long as she attends the school run by another local woman who has opened a school so as to get over the death of her granddaughter. The school is briefly depicted (pt.2, pp.61-63).
Vaux produced several other 'Edgeworthian' pedagogical narratives. Her Domestic Pleasures; or, The happy fire-side, 0247 in the Hockliffe Collection, was also published in 1816. So too was The dew-drop; or, the summer morning's walk (with a second edition in 1818). The promised visit, including an account of the various methods of manufacturing paper in different countries appeared in 1818. A second edition of Henry: a story was brought out in 1825. Nothing else is known of Vaux's life or career.