Stories Before 1850. 0249: Anon., Virtue and Vice
| | |
| --- | --- |
| Author: | Anon. |
| Title: | Virtue and vice: or, the history of Charles Careful, and Harry Heedless. Shewing the good effects of caution and prudence, and the many inconveniences that Harry Heedless experienced from his rashness and disobedience, while Master Careful became a great man, only by his Merit |
| Cat. Number: | 0249 |
| Date: | 1815 |
| 1st Edition: | 1780? |
| Pub. Place: | London |
| Publisher: | J. Harris, at the corner of St. Paul's |
| Price: | 3d |
| Pages: | 1 vol., 64pp. |
| Size: | 9.5 x 6 cm |
| Illustrations: | Frontispiece plus 17 further wood-cuts |
| Note: | |
Images of all pages of this book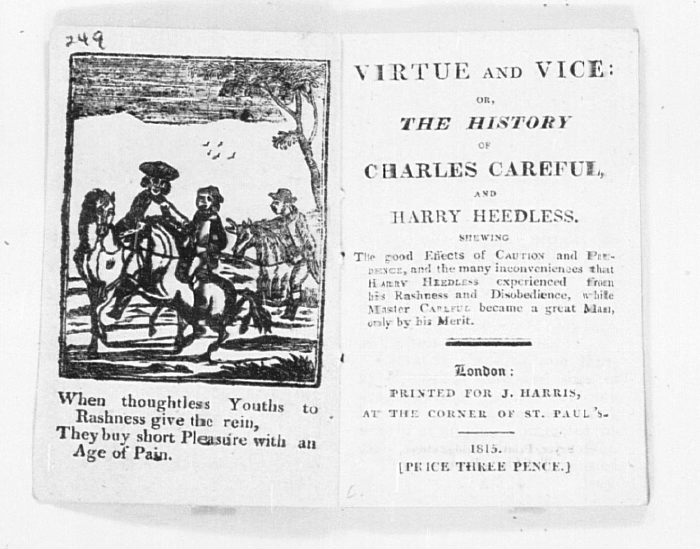 Introductory essay
Harry Heedless and Charles Careful are two boys who grow up together. Respectively, they personify the vice and virtue spoken of in the book's title. The description of their behaviour can therefore be taken to establish of what, in the author's opinion, vice and virtue were constructed.
Harry's principal failing is that he will not take advice and cannot abide contradiction. He becomes petulant whenever he is crossed, and refuses to acknowledge any mistake he might have made. More specifically his vices are detailed in a number of anecdotes and set-piece incidents. We learn first that he is an indiscriminate reader, as opposed to Harry's more select scholarship: 'Besides what he learned in school,' we are told, Charles 'read many books, but he never did so, till he had first consulted his parents what were fit for him to read, by which means he avoided losing his labour, and filling his head with nonsense: but whenever Harry Heedless thought fit to read, he took the first book that came to hand, and the more nonsensical it was, the better it pleased him' (p.10). Second, we learn that Harry is a spendthrift, as contrasted with Charles' careful consumerism. Harry spends his ample pocket money 'in the idlest manner, buying childish things one day, and selling them the next, and always coming off with the loss.' (p.11) Had he come off with a profit, one imagines, he would have been praised. Charles, on the other hand, had less pocket money but 'spent none of it, but on books or something useful, except what he now and then gave away to the poor, which he well knew ought not to be considered as thrown away.' (p.11) When they visit a fair - the traditional crucible to test consumerism - the lesson is forced home as Harry loses his money 'buying every idle toy that he fancied' and is forced to borrow from the more prudent Charles to see the 'curious beasts' and buy food (p.12f).
Harry's other failings and Charles' other virtues are more general. Several pages are devoted to Charles' great charity and to Harry's willfulness. He proudly tries to gallop his horse, and almost suffers a fatal accident. Later he is found in a ditch because he foolishly began to play with wicked boys who tricked him into his misfortune. Overall, Harry's vice is not constructed as wickedness, but rather as a lack of prudence and good sense. Thus he is clever at school and likes to learn, but he lacks the determination to remember what he has been taught and so is frequently forced to wear the dunce's cap. Thus he reads books, but does not try to discover which would be the best books for him to read.
As for Charles, his prudent behaviour elevates him from, or perhaps denies him, his childhood. Sir Robert, a relative who has all but adopted him on account of the boy's virtuous behaviour, treats him 'rather like a little man, than a child' (p.24). This relationship between children and adults is something of a theme in the book. Some children, the narrator pronounces 'learn early to act like men and women, while there are other people, who may be said to be boys and girls for the whole course of their lives.' (pp.28-29) The former are the virtuous, the latter are the vicious. To succeed, in the terms used in the book, it is necessary to renounce one's childhood then, for a 'virtuous child' is, in Virtue and Vice, a contradiction in terms. Far from childhood being a time of innocence and purity, then, here, even in a book which is not in the least Evangelical, it is a time naturally dominated by vice which the child must learn to repudiate.
The narrative proper of Virtue and Vice begins only on p.33 when Harry's parents decide to send him away to the house of Mr. Welldon whose discipline, they hope, will reform the boy. It does not. Harry meets another boy, Willy Willful, and they decide to run away to London together. They are soon lost and, having had a run-in with 'gypsies' (p.39f.), Harry is separated from his companion and loses all his money. He wanders desperately, forced to eat berries for his survival, until he is taken in by a kind woman who turns out to be a former servant of Harry's parents. She sends him back to Mr. Welldon who in turn sends him back to his parents in London. When Harry eventually gets there, he finds that his mother has died and his father has re-married, and is denied access to his old home. He wanders the streets as a pauper until, by chance, he meets Charles. While this has been happening to Harry, Charles has somehow finished his education, both at school and university, and has been appointed as steward to his patron, Sir Robert. In this role, Charles has shown his habitual prudence and generosity, and has made Sir Robert's farms profitable while looking after the interests of the tenants. On the death of Sir Robert, Charles inherits a huge fortune, sufficient to own a coach and horses and to retire peacefully to the country (p.56). When he meets Harry, Charles takes pity on him and sets him up as an assistant to a London merchant. In this situation Harry at last reforms, and the narrative ends with an injunction to the reader to be good by obeying parents and friends, being cautious, and never acting without first consulting one's elders.
Marjorie Moon records that Virtue and Vice was first published by John Harris in c.1804 (Mon 1987: 132). It had previously been published by Elizabeth Newbery, from whom Harris took over the business in 1801, the earliest known record of it being an advertisement from as early as 1780 (Roscoe 1973: 268). Indeed, there are still references to Newbery's shop in Harris' edition - Charles Careful buys books from there to give out among the tenant farmer's children on p.55. The earliest extant British edition recorded in the English Short Title Catalogue was published by Elizabeth Newbery around 1800 (judging from a manuscript inscription). Several earlier American editions exist, however, the earliest of which was published in Worcester, Massachusetts in 1787. A second Harris edition seems to have appeared shortly after his first, and this was followed by a third edition in 1815, from which this Hockliffe copy comes.
Moon, Marjorie, John Harris's books for youth, 1801-1843, revised edition, Winchester, 1987
Roscoe, Sydney, John Newbery and his Successors, 1740-1814: A Bibliography, Wormsley, Herts., 1973