Periodicals and Annuals. 0378: Rev. R. Simpson, The Poor Child's Friend; or the Sunday School Visitor, for the year 1825
| | |
| --- | --- |
| Author: | Simpson, Rev. R. |
| Title: | The poor child's friend; or, the Sunday school visitor, for the year 1825. By the Rev. R. Simpson, M.A., F.R.S.L., F.S.A. etc. |
| Cat. Number: | 0378 |
| Date: | 1825 |
| 1st Edition: | 1825 |
| Pub. Place: | Derby |
| Publisher: | Henry Mozley; and sold by Francis Westley, No.10, Stationer's Court, Ludgate-Street, London |
| Price: | 1d per monthly part |
| Pages: | 1 vol., 148pp. |
| Size: | 13.5 x 8 cm |
| Illustrations: | 8 wood-cuts |
| Note: | Inscription on leaf inserted before title-page reads: 'Mrs. Wilson / Sandiacre [?] / The gift of Miss Bell' |
Images of all pages of this book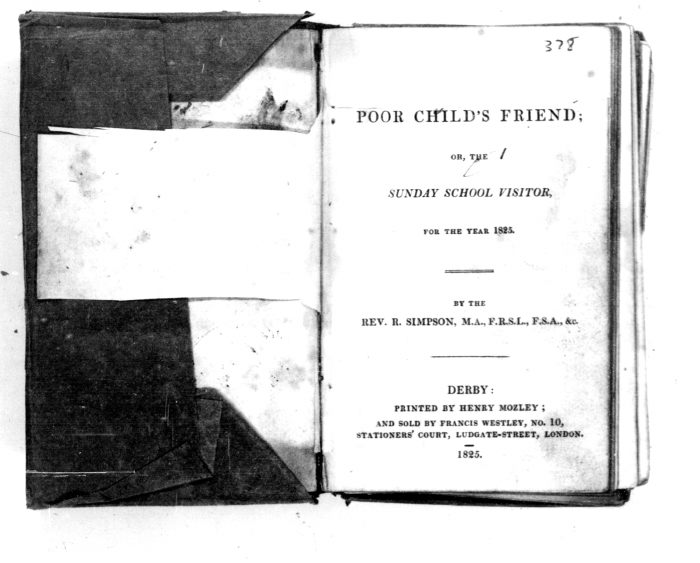 Introductory essay
The Poor Child's Friend; or the Sunday School Visitor is a monthly periodical (not to be confused with another Evangelical collection of tales entitled The Poor Child's Friend: conisting of narratives founded on facts, published by Harvey and Darton in the same year). The Hockliffe Collection has twelve numbers, forming one volume, from January to December 1825. Whether more were ever issued must remain open to question.
The Rev. R. Simpson, though listed on the title-page as the book's author, was really more of an anthologist who contributed a few, editorial articles. The work was designed for use in Sunday schools (which are highly praised in the 'Extract of the Education Report': p.iii.f.), and it consists mainly of extracts, poems and short tales which might be used to teach Christian beliefs and duties. There are extracts from Isaac Watts and William Cowper, but most are from the Bible. The tales or anecdotes are very brief and pious, though not entirely without narrative interest. At the end of each monthly number, suitable reading from the Bible for the Sabbath afternoon is listed.
The first British magazine for children is generally supposed to have been John Newbery's Lilliputian Magazine, first published, in monthly instalments, in 1751-52. The Hockliffe Collection has a copy of another early essay in the form, also called The Lilliputian Magazine from c.1773-74 (0237), and one of John Marshall's attempts at the form, The Children's Magazine (0363). All of these were rather cumbersome, and scarcely distinguishable from collections and anthologies which were not issued as periodicals. It was for the Evangelicals of the early and mid-nineteenth century to breathe new life into the children's periodical form. Several appeared in the early nineteenth century, including The Youth's Magazine; or, Evangelical Miscellany in 1815, The poor child's friend; or, the Sunday school visitor in 1825 (0378 in the Hockliffe Collection), The Children's Friend in 1824 (0382), and the Child's Companion; or, Sunday Scholar's Reward in 1824. This last, edited by George Stokes, was issued by the Religious Tract Society (R.T.S.) and lasted, under several titles, until 1932. Within a few years of its launch, it had attracted a readership of 20,000. This success may have been because the Child's Companion, unlike The poor child's friend and The Children's Friend, mixed secular instruction and substantial narratives with its religious content (see Butts 1995: 81).
Butts, Denis, 'The Beginnings of Victorianism, c.1820-1850', pp.77-101 in Peter Hunt (ed.), Children's Literature: An Illustrated History, Oxford: Oxford University Press, 1995