Books of Instruction. 0504: Anon., The Book of Trades. Part 1.
| | |
| --- | --- |
| Author: | Anon. |
| Title: | The book of trades, or library of the useful arts. Part 1. Illustrated with twenty-three copper-plates. The third edition |
| Cat. Number: | 0504 |
| Date: | 1806 |
| 1st Edition: | 1804-1805 |
| Pub. Place: | London |
| Publisher: | Tabart and Co., no.157, New Bond-Street |
| Price: | 3s for each of the three parts plain (or 4s 6d 'for each Part with Plates beautifully coloured' |
| Pages: | 1 vol., 152pp. |
| Size: | 13 x 8.5 cm |
| Illustrations: | 23 full-page engravings |
| Note: | Only partially digitised |
Images of all pages of this book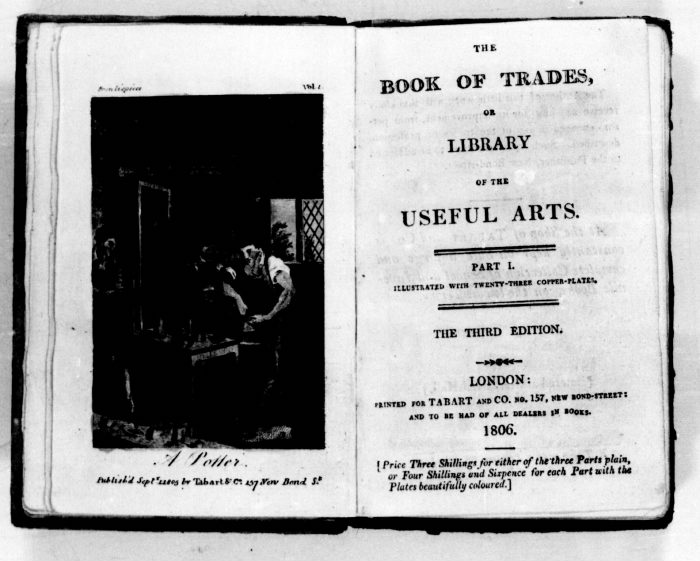 Introductory essay
The Book of Trades was first published by Benjamin Tabart, in three volumes, in 1804-1805. Sarah Trimmer called it 'a very amusing and instructive work' and recommended the book 'as a valuable acquisition to the Juvenile Library' (Guardian of Education, 4:304). Although she did not explain why she thought the book so welcome (save only to say that 'The Plates are uncommonly good'), we may perhaps presume that Trimmer was pleased with the book's evident purpose, to give boys and girls an idea of what options awaited them in their adult life. After all, The Book of Trades was on one level no more than a careers guidance manual. Trimmer, the social conservative, probably also approved because Tabart's book differentiated between the trades suitable for different ranks of people.
On the other hand, The Book of Trades also functioned in other ways, providing a more traditional, factual education for its readers. The reader not only learned what a jeweler did for a living, for instance, but was told a great deal about the nature of diamonds and pearls, their provenance, methods for extracting them, and so on (p.34ff.). A similar combination of education, entertainment and career guidance can be found in A Visit to the Bazaar (0250-0251).