Stories Before 1850. 0251: Anon., A Visit to the Bazaar
| | |
| --- | --- |
| Author: | Anon. |
| Title: | A Visit to the Bazaar: by the author of Juliet, or the Reward of Filial Affection; and The Port Folio of a School Girl. The third edition |
| Cat. Number: | 0251 |
| Date: | 1820 |
| 1st Edition: | 1818 |
| Pub. Place: | London |
| Publisher: | Harris & Son, Corner of St. Paul's Church Yard; and may also be had a several shops in the Bazaar, Soho Square |
| Price: | Unknown |
| Pages: | 1 vol., 92pp. |
| Size: | 13 x 10 cm |
| Illustrations: | Frontispiece plus 30 full-page engravings |
| Note: | Another edition of 0250 |
Images of all pages of this book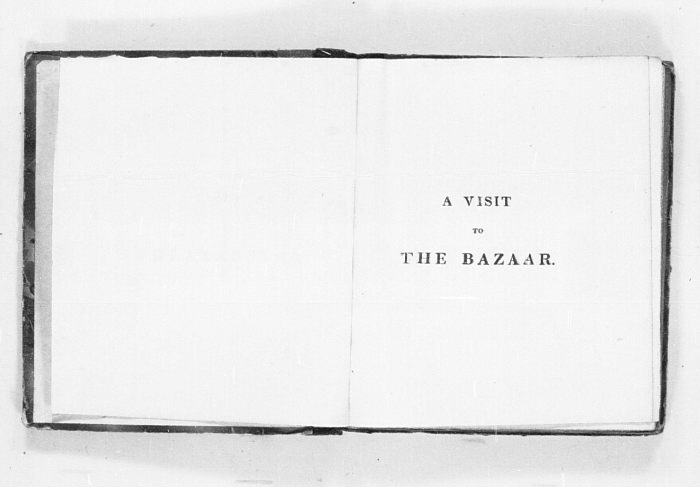 Introductory essay
John Trotter, an army contractor, became rich during the Napoleonic Wars. After the wars' end he turned his warehouse in Soho Square, London, into a bazaar, opened in 1816. He intended the bazaar to provide a space in which wives and daughters of army officers could sell their handiwork. The bazaar was entirely enclosed, and stalls were for hire at 3d per foot. The goods on sale there consisted primarily of millinery, gloves, jewellery, lace and potted plants. The bazaar remained in existence until 1885, and even in the 1840s it was still a fashionable establishment despite the existence of several rival enterprises (Weinreb and Hibbert 1994: 816).
A Visit to the Bazaar, first published two years after the opening of Trotter's establishment, seems to be one long advertisement for the place. It is 'a most respectable institution', we read on page one, and there follows a detailed description of the management of the enterprise, its genuine usefulness to society, and passing references to several needy individuals it has helped (pp.1-7). The detailed description of the dimensions and lay-out of the bazaar continues as Mr. and Mrs. Durnford and their children wander through it. At each stall they stop and discuss its wares. Mr. and Mrs. Durnford quiz their children on what they see - the origin of pearls or Cambric, say, the plumage of the humming bird or the origins of metals - and the children are promised gifts if they can answer questions about the stock (e.g. p.26f.). Other stalls provide lessons on decorum - do not stuff your mouth full of cakes, for example, and always share with your siblings (p.24ff).
Why Harris should have published this extended puff for Trotter's bazaar is a mystery. It is possible that he had some commercial connection with the establishment. The book-stall there is supplied from Harris' shop, its owner reveals (p.76), but this seems insufficient grounds for a whole book to be devoted to the bazaar. In fact, A Visit to the Bazaar might be less about Trotter's bazaar specifically than at first appears, and more about the practice of consumerism in general. The stalls which feature in the book are surely too numerous and varied to depict accurately Trotter's establishment. That the stall-holders are not all women and the wares on sale are not all home-produced also suggests that Harris' book sought to represent consumerism in general. As such, the book falls into the tradition of books about visits to the fair, a reasonably extensive genre in late eighteenth-century children's books (see for instance 0040, 0115, 0143, 0249 and 0076). These aimed to teach simple moral lessons alongside the virtues of responsible consumerism, and they sought to delight the reader with the thrill purchase and the antics of members of the fair-going public and stall-holders. In a slightly more refined form, this is what we see in A Visit to the Bazaar too.
The stalls the Durnford family visit are, in order: a jeweller, a linen draper, a toy shop, a pastry cook, a seller of musical instruments, a seller of sheet music, a hatter, a lace-man, an optician's, an umbrella seller, a seller of work baskets, a work-trunk maker, a maker of artificial flowers, a seller of singing birds, a seller of English china, a wig merchant, a shoe maker, a gun-smith, a hot-house plant seller, a milliner, a chemist and druggist, a print-seller, a seller of fancy works, a grocer, a furrier, a dress-maker, a brush-maker, the book-seller (though characteristically Harris cannot refrain from noting that Mr. Durnford ordinarily makes a point of buying all his books from the corner of St. Paul's church yard - i.e. Harris' shop - p.76), a watch-maker, a fruiterer, a hosier and a sculptor.
The Durnfords buy some article or other at almost every stall. This even includes a gold watch, purchased on a whim by Mr. Durnford as a present for his son. This is partly to reward him for knowing the places where gold is mined, but also because the watch-maker looks wretched because he had not sold anything that morning. This is conspicuous consumption indeed, but appearing in the guise of both charity and a reward for scholarship. This latter motif places A Trip to the Bazaar in the tradition of Giles Gingerbread (0240) or Goody Two-Shoes (0123), where material rewards are held out to children who learn their lessons well.
The books which the Durnford children are bought from the book-seller's stall are: 'Mrs. Chapone's Letters', 'European Scenes, for Tarry at Home Travellers' (by Isaac Taylor - 1055 in the Hockliffe Collection), 'Keeper's Travels in Search of his Master' (by Edward Augustus Kendall: 0152-0153) and 'Sandford and Merton' (by Thomas Day: 0091-0092).
Weinreb, Ben and Hibbert, Christopher (eds.), The London Encyclopaedia, Basingstoke: Macmillan, 1993