Movable and Toy Books; Myths and Heroes. 0719: Anon. (from Richard Johnson?), The Seven Champions of Christendom
| | |
| --- | --- |
| Author: | Anon. (from Johnson, Richard?) |
| Title: | The Seven Champions of Christendom |
| Cat. Number: | 0719 |
| Date: | No date but c.1822-32? |
| 1st Edition: | 1596-1597 |
| Pub. Place: | |
| Publisher: | |
| Price: | 6d coloured |
| Pages: | 1 vol., 16pp. |
| Size: | 16 x 10 cm |
| Illustrations: | Title-page vignette plus eight further coloured wood-cuts |
| Note: | Part of the 'Juvenile Books' series advertised on the outside back cover |
Images of all pages of this book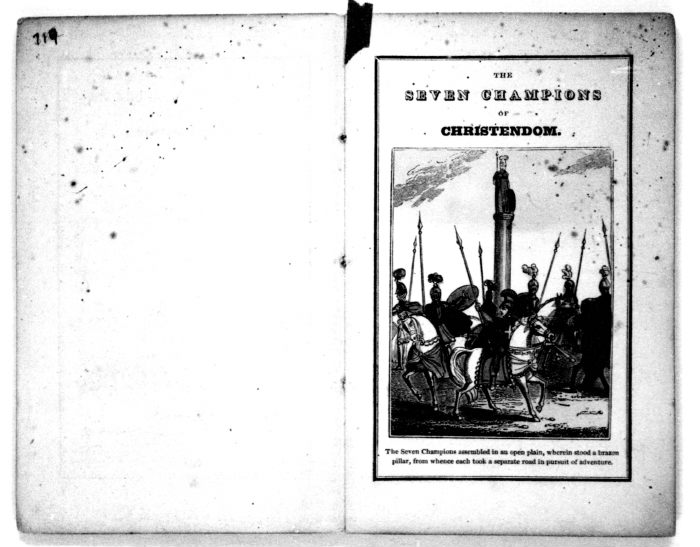 Introductory essay
Little else is known about Richard Johnson (?1573-?1659), who first complied The Seven Champions of Christendom, save that he was the author of several ballads, jest-books and romances. The Seven Champions was undoubtedly his most successful work. It has frequently been republished, in various forms, often abridged, sometimes as a drama or in verse, ever since its first appearance. Johnson's original version appeared in two parts, the first in 1596, the second in 1597. A third part, not by Johnson, was later added. The original two parts alone covered almost 400 pages of closely-printed black letter type in their early editions, but by the early eighteenth century the full version was no longer published. The narrative, and especially that part of it which covers the career of St. George, seems to have been compiled from a number of medieval legends. Apparently Johnson supplemented these traditional tales with material which he had made up himself.
Johnson's version begins with the birth of St. George in Coventry. His first great deed is to rescue the other six champions - St. Anthony of Italy, St. Andrew of Scotland, St. David of Wales, St. Patrick of Ireland, St. Denis of France and St. James of Spain - from the sorceress Kalyb. The knights set out together in search of adventures, and when they reach a cross-roads from which leave seven paths, they separate. Each knight's adventures are described, before they meet up again at a tournament hosted by the King of Greece. Together the knights fight against the heathen, and convert the people of Persia, Egypt and Morocco to Christianity. St. George is rewarded for the slaying of an Egyptian dragon by the hand in marriage of Princess Sabra, although he has to overcome the snares of a rival. Later St. George has to rescue Sabra, who is about to be burned as a witch in England. In part two, Sabra dies, and St. George and his three sons go on to perform many more daring deeds. George himself dies killing the dragon of Dunsmore Heath, and the deaths of the other six champions are also described.
Most of the main episoes from Johnson's part one may be read, albeit in a highly abridged form, and with a rather different opening to the narrative, in the Hockliffe Collection's other edition of Seven Champions: Tabart's 1804 edition (0718). Much shorter that even Tabart's version is this other Hockliffe edition. It begins with the parting of the seven knights at the crossroads (depicted in the frontispiece). The adventures of each champion are then described in a single paragraph, each being accompanied by a solitary illustrations. Both text and image concentrate on the martial and chivalrous feats of each knight. St. George kills his dragon, St. James kills a wild boar in Jerusalem, and St. Anthony kills a giant (and is 'received with rapturous applause', p.5). St. David and St. Denis are less fortunate, falling victim to curses which put them to sleep for seven years. The former has to be rescued by St. George, as was the case in Johnson's original.
No date or publisher is anywhere indicated on this edition of The Seven Champions. The illustrations, however, are very similar in design to those which featured in John Harris's edition of 1822 (though the text is not). This might be taken to suggest that this edition was published in imitation of Harris's, perhaps sometime in the 1820s or '30s.