Movable and Toy Books; Myths and Heroes. 0718: Anon. (from Richard Johnson?), The Seven Champions of Christendom
| | |
| --- | --- |
| Author: | Anon. (from Johnson, Richard?) |
| Title: | The seven champions of Christendom: A tale for the nursery. With three copperplates. A new edition |
| Cat. Number: | 0718 |
| Date: | 1804 |
| 1st Edition: | 1596-1597 |
| Pub. Place: | London |
| Publisher: | Tabart and Co. at the Juvenile and School Library, No.157, New Bond-Street |
| Price: | 6d |
| Pages: | 1 vol., 44pp. |
| Size: | 13 x 8 cm |
| Illustrations: | Frontispiece plus two further full-page copperplate engravings by Craig |
| Note: | Inscription on title-page: 'Maria Adams' |
Images of all pages of this book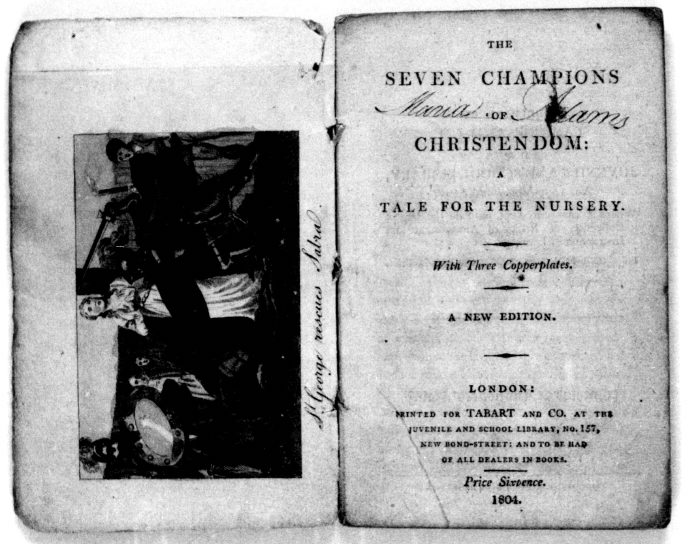 Introductory essay
Benjamin Tabart's Popular Stories were issued individually and in compendiums from 1804 until 1809. The series was composed of revised versions of traditional stories, either fairy tales, oriental tales, chapbook stories, or medieval romances. The Seven Champions of Christendom roughly fits into the last group, although its origins were actually late sixteenth century. Published in 1804, The Seven Champions was actually one of the first titles to appear in Tabart's series. It was rather longer than most later contributions to the series, which were generally only 34 pages long, but its price, and its three new copper-plate engravings, one of the series' selling points, were standard. Its heavily revised and abridged text, which successfully preserved much of the action of a much longer original, was also typical of the series. It is possible that either William Godwin, or, more likely, his wife Mary Jane Godwin, abridged or at least edited the text. For more on the origins, development and authorship of Tabart's Popular Stories see the essay which accompanies 0043.
Little else is known about Richard Johnson (?1573-?1659), who first complied The Seven Champions of Christendom, save that he was the author of several ballads, jest-books and romances. The Seven Champions was undoubtedly his most successful work. It has frequently been republished, in various forms, often abridged, sometimes as a drama or in verse, ever since its first appearance. Johnson's original version appeared in two parts, the first in 1596, the second in 1597. A third part, not by Johnson, was later added. The original two parts alone covered almost 400 pages of closely-printed black letter type in their early editions, but by the early eighteenth century the full version was no longer published. The narrative, and especially that part of it which covers the career of St. George, seems to have been compiled from a number of medieval legends. Apparently Johnson supplemented these traditional tales with material which he had made up himself.
Johnson's version begins with the birth of St. George in Coventry sometime shortly after the founding of England by Brutus, a refugee from Troy. He was the son of the Lord High Steward of England, and the King's own daughter, and was thus directly descended through his mother from Aeneas. An enemy to all that was good and noble, the infant George was abducted by Kalyb, a sorceress, and ensnared in her cave. As he grows older, Kalyb falls in love with George, and is so smitten that she hands over gold and jewels, the horse Buccephalus, then weapons, and finally her magic wand. With this George can overthrow the enchantress and liberate her other captives. This are the other six eponymous champions: St. Anthony of Italy, St. Andrew of Scotland, St. David of Wales, St. Patrick of Ireland, St. Denis of France and St. James of Spain. The knights set out together in search of adventures, and when they reach a cross-roads from which leave seven paths, they separate. Each knight's adventures are described, before they meet up again at a tournament hosted by the King of Greece. Together the knights fight against the heathen, and convert the people of Persia, Egypt and Morocco to Christianity. St. George is rewarded for the slaying of an Egyptian dragon by the hand in marriage of Princess Sabra, although he has to overcome the snares of a rival. Later St. George has to rescue Sabra, who is about to be burned as a witch in England. In part two, Sabra dies, and St. George and his three sons go on to perform many more daring deeds. George himself dies killing the dragon of Dunsmore Heath, and the deaths of the other six champions are also described.
The Tabart version of the tale covers almost all the major incidents of part one, but it excludes almost everything that Johnson had included in part two. There are many minor changes (Kalyb becomes Calyba, for example), and many of the adventures are greatly abbreviated. Astonishingly, though, most of the champions' deeds are crammed into the 44 pages. In 1822, John Harris published another new abbreviated version of the tale, and noted in his 'Advertisement' that the work 'has been generally considered unfit for the perusal of the rising generation, in consequence of the coarseness of its language'. Harris promised that in his 48-page version, costing 1s 6d, the language had been corrected to that the book 'may be safely placed in the hands of youth of either sex, without the danger of corrupting their morals.' In fact, Tabart's editor had already accomplished this. George's mother's caesarean section, for instance, described in graphic detail in Johnson's original, had been excised from the Tabart text. So too had been passages dealing with the sexual assaults on Sabra occurring during George's absences which had appeared most eighteenth century chapbook versions (e.g. in a chapbook of c.1780 Sabra reports that the Earl of Coventry 'was enflamed with a desire of enjoying me ... and told me, if I did not comply, he would force me'). For an even further abridged version, see the Hockliffe Collection's other edition of the legend: 0719.