Poetry, Verse and Rhymes; Games. 0780: Anon., The Good Child; or, Sweet Home
| | |
| --- | --- |
| Author: | Anon. |
| Title: | The good child; or, sweet home |
| Cat. Number: | 0780 |
| Date: | No date but c.1825? |
| 1st Edition: | |
| Pub. Place: | London |
| Publisher: | Dean and Son, Threadneedle-street |
| Price: | 2d coloured |
| Pages: | 1 vol., 13pp |
| Size: | 14 x 9 cm |
| Illustrations: | There are hand coloured plates with extra uncoloured plates pinned in place |
| Note: | |
Images of all pages of this book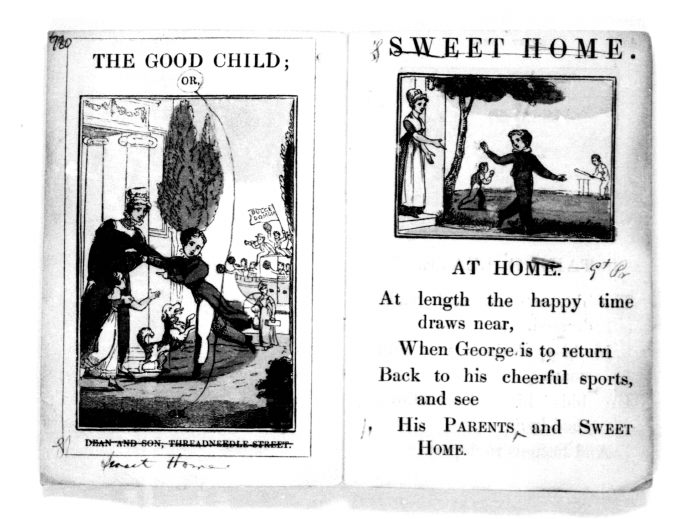 Introductory essay
The Good Child; or, Sweet Home seems especially designed to console a child forced to part from his family and friends to spend a term at boarding school. It begins with George at school, but with the end of term due, and continues with his arrival back at home. Once there, he and his friends can participate in all their favourite activities: '...they pass their time/With books and pictures gay,/At battledore, or bat and ball,/And in the garden play.' (p.7) When it rains, George concentrates on his books, and is rewarded with a plum-cake from his mother. When, at last, Autumn comes, George is content to return to school, knowing that he will soon be home again. Perhaps the book was deliberately commissioned to be bought be parents who wished to cheer up their school-bound sons.
The Hockliffe's copy of The Good Child is particularly interesting because it appears to have been the publisher's own copy. Across the top of the outside front cover is written 'Copy for next Edition'. Many manuscript notes and jottings are scattered throughout the volume, recommending typographical amendments for futhre editions. The presence of spare copies of the wood-cuts, pinned in over the pages (a fairly frequent feature in Hockliffe Collection books), is presumably also indicative that this was the publisher's copy.
Frederick Hockliffe, who amassed most of the Collection, worked for at time for Simpkin and Marshall, publishers of children's books in the mid-nineteenth century. It may have been this stint in London which provided him with the opportunity to collect these publisher's copies. On the other hand, the books may simply have found their way into the Bedford bookshop which Hockliffe later established.