Poetry, Verse and Rhymes; Games. 0781: Anon., Grandmamma Easy's New Story of the Queen of Hearts
| | |
| --- | --- |
| Author: | Anon. |
| Title: | Grandmamma Easy's new story of the Queen of Hearts |
| Cat. Number: | 0781 |
| Date: | No date but c.1840? |
| 1st Edition: | |
| Pub. Place: | London |
| Publisher: | Dean and Co., Threadneedle Street |
| Price: | 6d |
| Pages: | 1 vol., 8pp |
| Size: | 24.5 x 17 cm |
| Illustrations: | Decorated covers, frontispiece plus 7 further engravings |
| Note: | |
Images of all pages of this book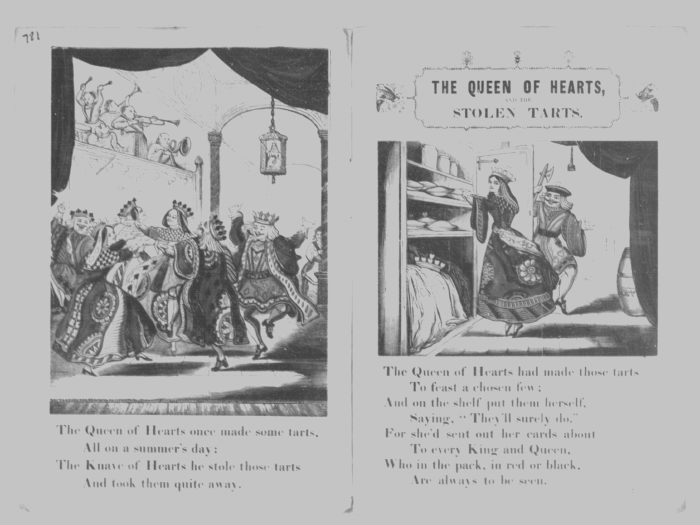 Introductory essay
The 'Queen of Hearts' nursery rhyme seems to have been a fragment of verse handed down through the oral tradition. It did not appear in print, apparently, until 1782, when the Queen's misfortunes with her tarts formed part of a twelve-line stanza dealing with all the monarchies to be found in a pack of cards (Carpenter 1984: 436). Thereafter, the incident formed the basis of numerous children's books, including picture books by Charles Lamb (see 0800) and Randolph Caldecott, and Lewis Carroll's Alice's Adventures in Wonderland (1865).
The text here describes a neat trick used by the King of Hearts to determine the guilt of the Knave (see pp.7-8). What stands out, though, are the fine illustrations to the story which add life to the playing-card characters.
Carpenter, Humphrey & Pritchard, Mari, The Oxford Companion to Children's Literature, Oxford: OUP, 1984
Charles Lamb,
The King and Queen of Hearts
De Montfort University, Hockliffe Project2001
Lamb, Charles The King and Queen of Hearts, with the rogueries of the Knave who stole the Queen's Pies illustrated by fifteen elegant engravings. 0800 1809 London M. J. Goodwin 1 vol., 28pp. 13 x 9.5 cm. fifteen elegant engravings
No digitised images are currently available.