Poetry, Verse and Rhymes; Games. 0867: Elizabeth Turner, The Daisy
| | |
| --- | --- |
| Author: | Turner, Elizabeth |
| Title: | The daisy: or, cautionary stories in verse. Adapted to the ideas of children from four to eight years old. Illustrated with thirty engravings. Part of 'Illustrated Shilling Series of Forgotten Children's Books' |
| Cat. Number: | 0867 |
| Date: | 1807 (facsimile); actually 1899-1900 |
| 1st Edition: | 1807 |
| Pub. Place: | London |
| Publisher: | J. Harris, successor to E. Newbery, and Crosby and Co. (facsimile); re-published by The Leadenhall Press, Ltd., 50, Leadenhall Street |
| Price: | Unknown |
| Pages: | 1 vol., 70pp. |
| Size: | 12.5 x 9.5 cm |
| Illustrations: | 30 wood engravings |
| Note: | A facsimile edition Bound in Dutch flower boards. See 0868-0870 for other non-facsimile editions of the text |
Images of all pages of this book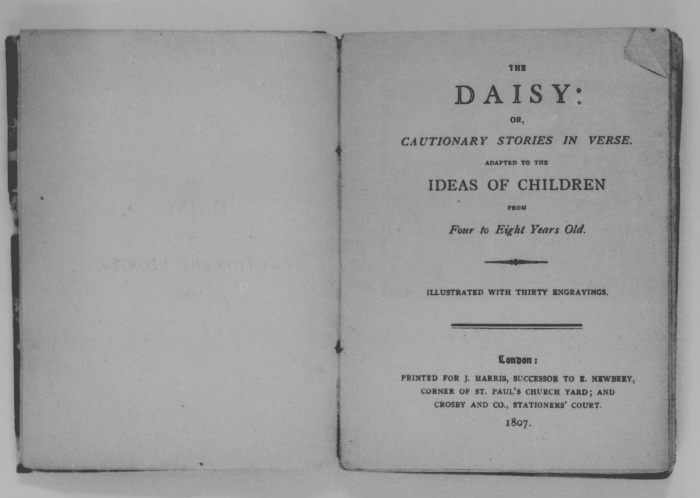 Introductory essay
The Daisy was first published, by John Harris, in 1807. This facsimile edition, published in 1899-1901, reproduces that text in its entirety, including the original Dutch flower board covers, and the wood engravings. Several pages describing the 'Forgotten Children's Books' series, of which this facsimile is a part, are to be found at the end of the volume (beginning on p.67).
The book, by Elizabeth Turner (d.1846), is composed of short cautionary tales, each one illustrated by an engraved head-piece. These tales do not bully the reader into good behaviour, as some cautionary tales do, nor do they provide horrific warnings of the consequences of disobedience. Rather, Turner seems to be trying to shame the reader into compliance. One girl, for instance, who complains about the size of her doll compared with that of her sister, is reprimanded thus: 'O silly Miss Jenny! / To by such a ninny, / To quarrel and make such a noise!' Only then does the girls' mother step in to confiscate the dolls (p.30). Only once are the consequences of bad behaviour more serious: when 'giddy Miss Helen' drowns in the well she has been forbidden to approach (p.14).
The Daisy was an enormous success, and was republished many times. The Hockliffe Collection contains a 'sixteenth' edition, undated but from about 1820 (0868) and a 'twenty-eighth' edition of c.1835 (0870). There are also several editions which combine The Daisy with Turner's sequel, The Cowslip (1811): 0869A) and 0863 (which is also a facsimile edition, from the same series as 0867).