Geography and Travel. 1025: Anon., The Countries of Europe
| | |
| --- | --- |
| Author: | Anon. |
| Title: | The countries of Europe and the manners and customs of its various nations. In easy and entertaining verse, for children by a lady. With sixteen illustrative embellishments |
| Cat. Number: | 1025 |
| Date: | No date but c.1825? |
| 1st Edition: | |
| Pub. Place: | London |
| Publisher: | Dean and Munday, Threadneedle-street |
| Price: | 1s |
| Pages: | 1 vol., 51pp. |
| Size: | 15.5 x 11.5 cm |
| Illustrations: | 16 engravings arranged in pairs on their own sheets |
| Note: | Card binding printed on both inside and outside covers |
Images of all pages of this book Note: these have NOT been verified or catalogued. Use with care.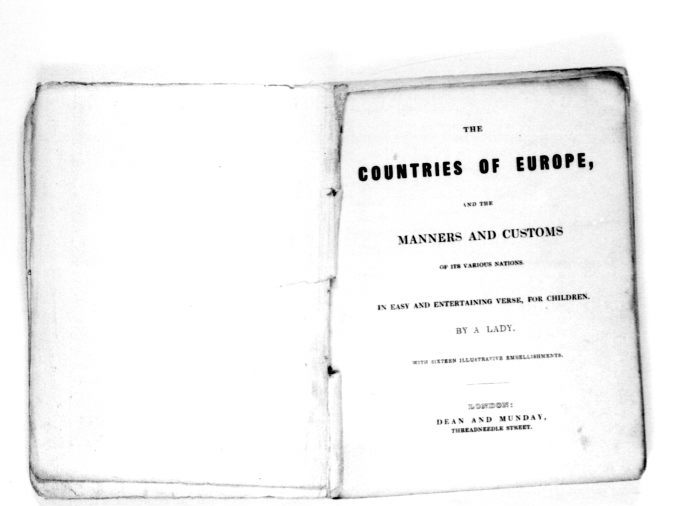 The Countries of Europe is in verse. The introductory stanzas, describing the map of Europe, set the tone:
Now, here's the Map of Europe:
Here's Iceland farthest north;
Where a volcano day and night
Sends fire and cinders forth.

And though for more than half the year,
There's snow and ice around,
Yet streams of water boiling hot,
Rise steaming from the ground.

For deep in caverns of the earth
The water is made hot:
So bring you mutton and your eggs,
To Nature's cauldron pot. (pp.5-6)
What follows is a combination of 'scenic' description and 'educational' material. For instance, a list of Turkey's chief exports are mixed with reflections on the incarceration of Turkish girls. The work seems to have been designed mainly for girls. The author makes it plain that she is glad that she is not a Turkish woman (p.14), and speaking of Pompeii, she notes that it was once full of 'little girls like you' (p.18). Certainly there is less overt 'geography', that is to say, fewer facts, than generally appeared in the standard geography text-books, aimed, perhaps, primarily at boys. At one point for example, when talking of Spain, the author can even write,
Of Spain, there's very much to tell,
And yet I fear its chronicle
You may not understand; - (p.28)
Spain's history as it appears here, culminating in its domination by France, is used to prove a moral point. Its subjection was its divine punishment for past transgressions: 'From Spain we learn that doing wrong,/Is never left unpunished long.' (p.30)
Napoleon and the guillotine feature when France is discussed, but only for scenic effect (p.35). The description of Ireland, on the other hand, is more political, ending with a paean to the recent Act of Union (1801): 'So we'll love the green shamrock as Erin's own crest,/And twine it with roses, the flower we love best' (p.50). The book ends with a pious plea that the reader may love England, but should nevertheless remember that 'Heaven is our country, our home is above' (p.51).