Geography and Travel. 1047: Anon., The Panorama of the World
| | |
| --- | --- |
| Author: | Anon. |
| Title: | The panorama of the world, or an enquiry into the manners and customs of the principal foreign inhabitants of the globe, with beautiful coloured engravings |
| Cat. Number: | 1047 |
| Date: | No date but c.1820? |
| 1st Edition: | |
| Pub. Place: | London |
| Publisher: | R. Miller |
| Price: | Unknown |
| Pages: | 1 vol., 126pp. |
| Size: | 13.5 x 8 cm |
| Illustrations: | |
| Note: | A similar version in the British Library was published by Thomas Crabb, 15 John Street, Blackfriars Road |
Images of all pages of this book Note: these have NOT been verified or catalogued. Use with care.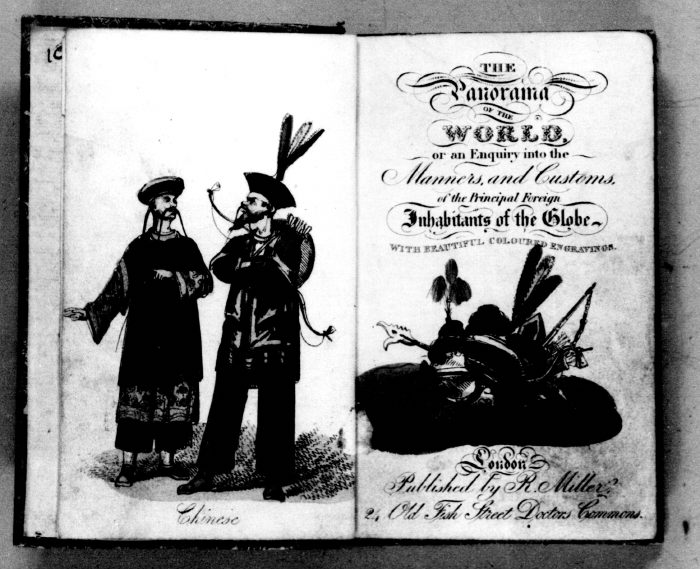 The book is divided into several 'tours'. The first deals with China and commences with the minimum of ceremony:
Friend: As you have visited Asia, I suppose your curiosity led you to explore China.'
Tourist: I have seen as much, I believe, as any stranger is permitted to see. The Chinese bridges, from their construction and extent, cannot be sufficiently admired.... (p.1)
This leads into a description of various rarities and sights. The 'Friend' interjects only to ask questions which prompt the tourist to specific information, for example 'What are the other chief productions of this country?' (p.17). This is, in other words, a more accessible and enjoyable version of the standard geography text-book, the same data being couched in a more amenable form.
In the tours which follow, the format remains the same but the identity of the two intelocutors varies. Sometimes a father instructs a son, or a 'tourist' may speak of his travels to his brother. Tour II is to 'Turkey in Asia', tour III to 'Turkey in Europe', tour IV to Spain, tour V to Hungary, tour VI to Persia, tour VII to Russia and tour VIII to Algiers. This last tour features on the Algerine pirates, characterised as the 'most dangerous pirates of all Africa; base, perfidious, and rapacious to the last degree' (p.97). The nineth and tenth tours are to Tunis and North America respectively. The 'Native Americans' are, on the whole, enthusiastically described. figuring as 'noble savages'. Their delight in strong liquor, supplied by the English, is reprobated, however, and the traveller also reports that they strangle their aged parents when the parents request this service,. They adhere in religion to 'jugglers' or witch-doctors, we learn, and they believe in life after death, though in a crude form, but they have horrid and cruel ceremonies to mark deaths in the community. Indeed the book closes with a discussion of the fate of captured soldiers, who are put to death if they are not taken as slaves. 'But we shall drop the subject, as it is now beginning to be disgusting', says the father, bringing the book to an end (p.126).