Geography and Travel. 1049: Peter Parley, Peter Parley's Tales About China and the Chinese
| | |
| --- | --- |
| Author: | Parley, Peter (Samuel Griswold Goodrich) |
| Title: | Peter Parley's Tales About China and the Chinese |
| Cat. Number: | 1049 |
| Date: | 1843 |
| 1st Edition: | |
| Pub. Place: | London |
| Publisher: | Simpkin, Marshall and Co. |
| Price: | Unknown |
| Pages: | 1 vol., 240pp. |
| Size: | 13.5 x 10.5 cm |
| Illustrations: | |
| Note: | |
Images of all pages of this book Note: these have NOT been verified or catalogued. Use with care.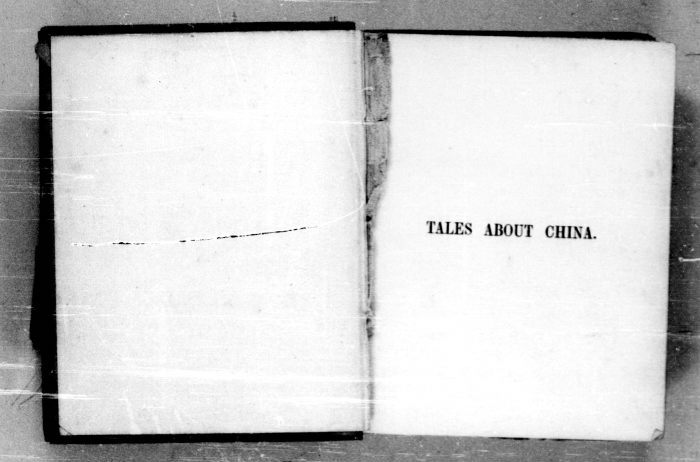 The Preface to
Peter Parley's Tales About China and the Chinese aimed to encourage interest in the book's subject, claiming that China was the most wonderful country on earth. It has the oldest government, the reader is informed, dating back to the foundation of Rome, and it is the most populous country in the world. Moreover, printing, gunpowder and navigation were all invented there, and China can boast both the most 'instructed' people - a million of whom know Confucious by heart - and the most extensive public works, such as the Great Wall and the Great Canal. However, this praise of the foreign quickly subsides, for China is 'not a great nation,' the author insists, 'in the sense which Britain is a great nation.' (p.viii) This is because they make no progress, and even deprive themselves of the means to grow richer and better. We can trade with them, the preface continues, but only 'under absurd and jealous restrictions'. And we can now make silk and china ware better that they can - all because of their absurd isolationism. Free trade and patriotism are the two themes which run through the book. It appeared, after all, just a year after the Treaty of Nanking had brought the Opium Wars to close, and Britain's war aims were apparently continued by Peter Parley within this children's book. The conclusion to the preface explicitly links the reader's personal development to their love of their motherland. 'If you will pay attention to what I tell you in the following pages, and reflect properly on what you learn, you will one day be able to form conclusions for yourselves, and will then see how thankful you ought to be that you were born Britons.' (p.ix)
'Peter Parley' was the pseudonym used by the American writer for children, Samuel Griswold Goodrich (1793-1860). Numerous books, often accounts of foreign travel, were issued under the name 'Peter Parley', not all of which were by Goodrich.