Fables and Fairy Tales. 0008: Madame Le Prince de Beaumont, Beauty and the Beast
| | |
| --- | --- |
| Author: | Le Prince de Beaumont, Marie |
| Title: | Beauty and the beast. A tale. For the entertainment of juvenile readers. Ornamented with elegant engravings |
| Cat. Number: | 0008 |
| Date: | No date but c.1820 |
| 1st Edition: | 1757 |
| Pub. Place: | Glasgow |
| Publisher: | J. Lumsden and Son |
| Price: | 6d |
| Pages: | 1 vol., 49pp. |
| Size: | 13 x 8.5 cm |
| Illustrations: | 7 wood engravings |
| Note: | |
Images of all pages of this book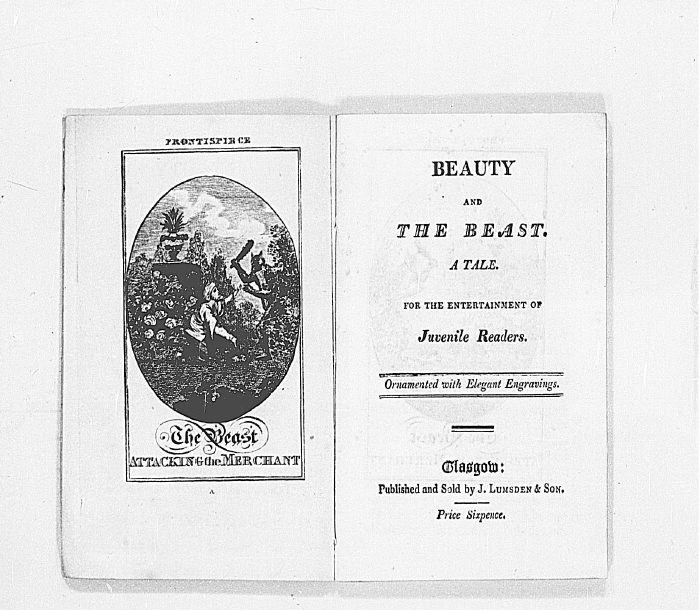 Introductory essay
The version of Beauty and the Beast which has become standard, and which is used in this edition in the Hockliffe Collection, was composed by Madame Marie Le Prince de Beaumont (1711-1780) in 1756. Le Prince De Beaumont had emigrated to Britain in 1745, but her tale was first published in French as an inset story meant to illustrate the moral lessons of her lengthy and rather serious Magasin des Enfans. A year after she wrote it, in 1757, the whole four volume work was translated as The Young Misses Magazine, and Beauty and the Beast thereby made its first appearance in English. Where Le Prince de Beaumont gained the inspiration for her tale remains unclear. Her Magasin des Enfans was written in emulation of Sarah Fielding's The Governess (1749), but she might have chosen any one or more of many sources for Beauty and the Beast. There are very similar stories amongst several of the compendiums of folk tales published in France in the early eighteenth century, but the theme of a young person marrying a monster who is later metamorphosed into a much more desirable spouse can be found in many national traditions as well as in classical literature. Le Prince De Beaumont's tale came to supersede them all though, and was rapidly adopted as a classic in Britain. As early as 1762, an identical text (but without the illustrations) had appeared under the title 'Beauty and the Beast. An Entertaining Moral Tale from the French' as part of The Polite Academy (0619 in the Hockliffe Collection). It was inserted between two chapters dedicated to teaching children how to hold themselves while dancing. 'Having given, I hope, sufficient Rules for good Behaviour ... of the Body', the author wrote, 'I shall present my little Readers with an entertaining moral Tale, which may serve as a Picture for the Mind.' (The Polite Academy, p.55) Many more abridged and chapbook versions were appearing by the end of the eighteenth century, which in itself testifies to the rapidly achieved popularity of the tale.
The edition which appears here was published by J. Lumsden and Son in Glasgow, as are a number of other books in the Hockliffe Collection (0049, 0115, 0139, 0187). Little is known about the company, but it seems to have produced books from the 1790s through to the 1840s, while continuing to be primarily an engraving, stationery and printing firm. According to the only study of Lumsden and Sons which has been produced, watermarks in another copy of 'Beauty and the Beast' bear the dates 1817 and 1818 (Roscoe and Brimmell, 1981). The tale cannot therefore have been published before then, and a date of about 1820 seems consistent with the general appearance of the book.
The lack of advertisments for Lumsden books, and the rarity of surving copies, suggest that only a small number of copies were printed, and that they were seldom distributed beyond Scotland and the north of England. However, Lumsden's production values were high, which suggests that the firm was hoping to reach a reasonably affluent readership. The price of sixpence recorded on the title-page would have put the book beyond the reach of the patrons of the chapmen. The attractive pink cover and decorated label on the Hockliffe Collection's copy of 'Beauty and the Beast' is typical of a Lumsden book. The firm issued copies of the same book in different coloured covers, one of the qualities which make Lumsden books much sought after today. Lumsden books are also set apart by reversible heads (such as that on the outside back cover - and reversed here - of Gulliver's Travels, 0049 in the Hockliffe Collection) and multi-coloured type (which features in the same book). Illustrations to the texts have sometimes been attributed to the celebrated engraver Thomas Bewick. Roscoe and Brimmell think this unlikely, although they do suggest that Bewick's workshop may have been responsible. The pictures certainly add a decidedly Oriental dimension to 'Beauty and the Beast', Beauty's father, and Beast, appearing in Eastern dress (although a final cut shows a large mansion, presumably Beast's, which is constructed in the best tradition of Palladian English country house architecture).
It is also worth noting that the book was addressed specifically to 'Juvenile Readers'. Of course, Madame Le Prince de Beaumont's tale, as it had originally appeared, had itself been intended for children, but this was not necessarily the case with all fairy stories. Like so many other forms of what is ostensibly children's literature, the market was probably broader than has often been supposed. The edition in the Hockliffe Collection which is presented here is a direct copy of Madame Le Prince de Beaumont's version. But whilst she had used the tale as an illustration of the rewards of virtue, the principal theme of her Magasin des Enfans, the tale's appearance here, shorn of its moralising context, suggests that its publishers were primarily hoping to exploit its potential to entertain rather than to edify. Indeed, the title-page announces that the book was intended purely for the entertainment of its readers, with no mention of the usual corollary 'instruction'. Whatever might appear on the title-page, though, the tale does retain Le Prince de Beaumont's moral manifesto. The text does not try to hide its anti-courtly agenda. It is a life of decadence which has ruined Beauty's sisters, we are told; it is wit and personal beauty which disfigures the men they eventually find to marry them; and Beast boasts that he cannot exhibit all the fashionable characteristics of court life, which is what Beauty first finds appealing about him p.32). At the end of the tale, a fairy suddenly appears to praise and reward Beauty for preferring a rather vague virtue 'over wit and beauty' (p.44). This was a lesson which would have played well in eighteenth and early nineteenth century England, not to mention in Lumsden's predominantly Presbyterian Scottish constituency. And contempt for decadent courtly life is paralleled by an equally candid recommendation of the middle-class values of hard work and perseverance which Beauty's sisters had shirked. Beauty's father specifically praises her 'humility, industry, and patience' (p.9), and it is her capacity for hard-work which qualifies her for the role of heroine. Once her father loses his (self-made) fortune, Beauty rises at four o'clock every day to ensure that the household runs smoothly even in the family's straitened circumstances. We should not be surprised that she flourishes under this regime, growing stronger and healthier. In fact, the tale might almost have been called 'Diligence and the Beast', a realisation which points to the irony underlying the original title. Just as Beast is no beast, so Beauty is no beauty, or rather just as Beast is only superficially beastly, so Beauty is only superficially beautiful. It is his underlying 'virtue, sweetness of temper and complaisance' (p.41) and her underlying 'humility, industry and patience' (p.9) which qualify them for their roles as hero and heroine.
In its emphasis on these middle-class values, Beauty and the Beast is not unusual amongst other eighteenth-century children's books. Whether books of instruction or books of amusement, whether religious, geographical, arithmetical or fairy tales, children's literature was largely devoted to explaining the advantages of industry to young readers. Beauty and the Beast was also typical in its efforts to promote reading. Beauty's sisters, when in the pomp of their decadent city life, tease her 'because she spent the greatest part of her time in reading good books' (p.6), and even when the family is plunged into poverty, Beauty spends what time she has left after work reading (p.8). Beast's castle excites her admiration not only because of its harpsichord but more especially because of its large library. Other texts might have included more naked propaganda for books, but no child could go away from Beauty and the Beast without being aware that if they wished to be like Beauty, and unlike her sisters, they should devote themselves to their books.
Beauty and the Beast appears elsewhere in the Hockliffe Collection as the only work from the French tradition of fairy tales which finds a place in an edition of Popular Tales published by J. Harris, successor to Elizabeth Newbery in 1810 (0036). The text is identical to that written by Le Prince de Beaumont and used in this Lumsden edition. Whilst the illustrations to the Lumsden edition place the tale in a vaguely Oriental setting, the illustrations which accompany the Harris edition relocate the tale to a more European context. Most obviously, the prince's turban and loose robes, though they remain the same general shape, have been transformed, in the Harris edition, into a pseudo-medieval costume (compare 0036:p.73 and 0008:p.49).
For more detail on the development of 'Beauty and the Beast' see Opie 1980, pp.179-95, Hearne 1989, and Warner 1995, pp.273-97.
Roscoe, S., and Brimmell, R. A., James Lumsden and Son of Glasgow. Their Juvenile Books and Chapbooks, Pinner, Middx.: Private Libraries Association, 1981
Opie, Peter and Iona, The Classic Fairy Tales, Oxford: Oxford University Press, 1974, rpt. London, 1980
Hearne, Betsy, Beauty and the Beast: Visions and revisions of an old tale, Chicago: University of Chicago Press, 1989
Warner, Marina, From the Beast to the Blonde. On Fairy Tales and their Tellers, 1994, rpt. London: Vintage, 1995