Stories Before 1850. 0187: Anon., Nurse Dandlem's little repository of great instruction
| | |
| --- | --- |
| Author: | Anon. |
| Title: | Nurse Dandlem's Little Repository of Great Instruction, containing The surprising Adventures of Little Wake Wilful, And his deliverance from the Giant Grumbolumbo. Written By the Famous Prussian, For the sole Amusement of the Chickabiddy Generation. Embellished with Copperplates |
| Cat. Number: | 0187 |
| Date: | No date |
| 1st Edition: | |
| Pub. Place: | Glasgow |
| Publisher: | J. Lumsden and Son |
| Price: | 2d |
| Pages: | 1 vol., 47pp. |
| Size: | 10 x 6 cm |
| Illustrations: | Frontispiece and 7 further full-page copper engravings, plus two woodcuts |
| Note: | |
Images of all pages of this book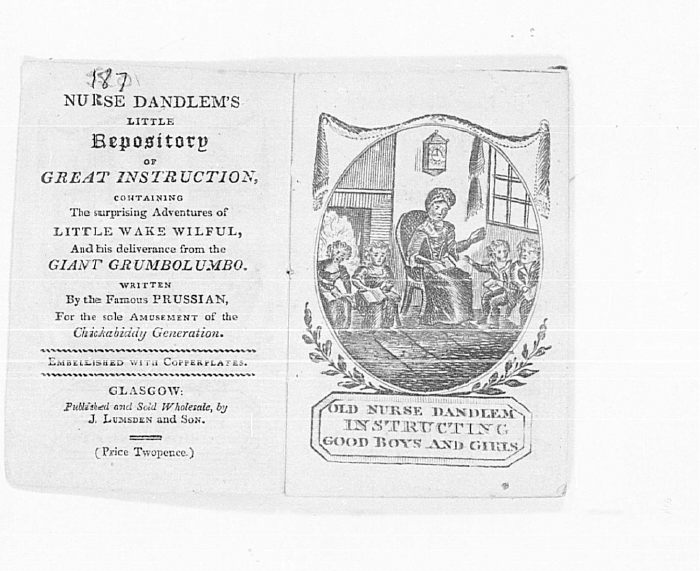 Introductory essay
In Sarah Fielding's The Governess, first published in 1749, Mrs. Teachum presides over a small school and provides a moral education for her pupils by interspersing short tales of giants and fairies into her generally improving conversation. Nurse Dandlem's Little Repository follows a similar pattern. Nurse Dandlem, however, is no governess, but runs a school open to the public which detains its pupils only from nine o'clock (judging by the clock in the frontispiece, where the school is depicted) until noon. Unlike Mrs. Teachum, Nurse Dandlem has some pretty serious delinquency to deal with. The crimes she specially addresses during the course of the book are truancy and one boy's theft of another's possession, as well as the more symbolic misdemeanours of inattention in school, bird's-nesting, and orchard-robbing. Nurse Dandlem's method of combating these faults is a combination of bribery ('She was a good friend to all little boys and girls who minded their book, and would never let any one go unrewarded', p.5), coercion (she will order 'all she hears a bad account of to be shut up', p.6), and that used by Mrs. Teachum too, the telling of instructive stories. Like Mrs. Teachum, Nurse Dandlem was clearly of the opinion that the best way to gain and keep the attention of children was with an exciting tale. She too uses giants and fairies, although her giants are far more frightening, and her fairies far more magical. This was a brave decision in the early nineteenth century, when the use of the supernatural in children's fiction came in for a great deal of censure. Indeed, even Fielding's very tame and very moral fairy stories were excised by Mary Martha Sherwood when she re-wrote The Governess in 1820.
Unwilling to punish one of her pupils for being inattentive in class (pictured p.10), Nurse Dandlem tells the story of Wake Wilful to persuade her class to foreswear their naughtiness. Wake was a very naughty boy, but he was soon punished. While playing truant, as was usual, he was press-ganged and sent aboard H.M.S. Dragon. He was as unpopular there as before, and when the ship was defeated in a battle with the famous pirate ship Paul Jones even the pirates were reluctant to take him on board and save him from his doomed ship. He was taken off the Dragon just in time in fact, for it exploded soon after, making Wake for the first time realise what dangers attend a life of obstinacy and mischievousness. Until this point, the book has followed the normal course of the orthodox moral tale, but once Wake is marooned on a desert island, he enters a fairy tale. On the island lives the Giant Grumbolumbo and the Fairy Starlight whose place the giant has usurped. The former delights in creating illusions to entrap sailors, while the latter specialises in making herself invisible. The Giant captures Wake and incarcerates him in a cave with all his other prisoners, who will be eaten when the Giant marries a neighbouring Giantess (pictured p.27 and p.34). When Fairy Starlight manages to recover her magic wand and overcomes Grumbolumbo she makes a sort of anti-Faustian pack with Wake - if he will reform she will set him free. He agrees and return home, a well-behaved boy. All this has the desired effect on Nurse Dandlem's pupils. Giles Prattle, who has been listening very attentively, returns the toy he has stolen from his classmate and his tears show his repentance. With lessons like this, the reader is left to conclude, it is no surprise that the children do well at school. The book concludes with several other, much shorter tales, testifying to the rewards of virtue and the equally sure punishment of vice.
This edition of Nurse Dandlem was published by J. Lumsden and Son in Glasgow, as are a number of other books in the Hockliffe Collection (0008, 0049, 0115 and 0139). Little is known about the company, but it seems to have produced books from the 1790s through to the 1840s, while continuing to be primarily an engraving, stationery and printing firm. For more on Lumsden and Sons see Roscoe and Brimmell's James Lumsden and Son of Glasgow, pp.72-73, where 1815 is suggested as an approximate date for the publication of Nurse Dandlem's Little Repository. A watermark for 1812 has been detected in another copy of the work.
Roscoe, S., and Brimmell, R. A., James Lumsden and Son of Glasgow. Their Juvenile Books and Chapbooks, Pinner, Middx.: Private Libraries Association, 1981