Fables and Fairy Tales. 0012: Charles Perrault, The Interesting Story of Cinderella and Her Glass Slipper
| | |
| --- | --- |
| Author: | Perrault, Charles (abridged from) |
| Title: | The interesting story of Cinderella and her glass slipper |
| Cat. Number: | 0012 |
| Date: | No date but 1814? |
| 1st Edition: | Perrault first published 'Cinderella' as one of his Histoires ou contes du temps passé in 1697; they were first translated into English, as Histories, or tales of past times, in 1729 |
| Pub. Place: | Banbury |
| Publisher: | J. G. Rusher |
| Price: | Unknown |
| Pages: | 1 vol., 15pp. |
| Size: | 9.5 x 6.5 cm |
| Illustrations: | Frontispiece plus 7 wood engravings |
| Note: | |
Images of all pages of this book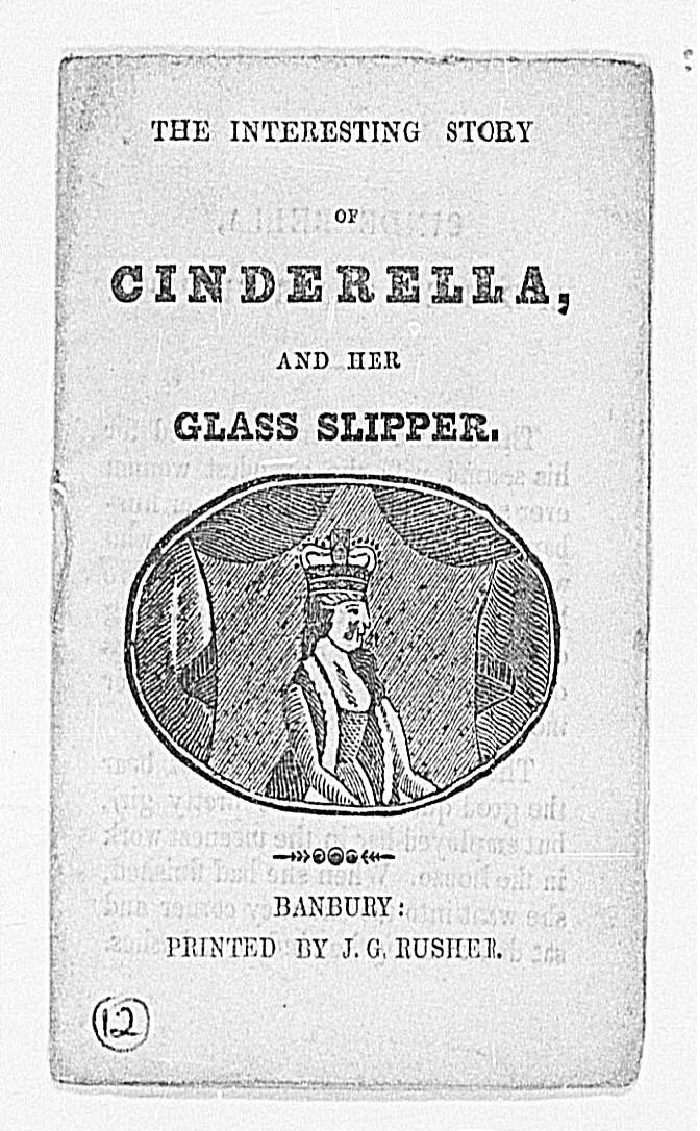 Introductory essay
Edwin Pearson, in a compendium of Banbury Chap Books and Nursery Toy Book Literature dates Rusher's edition of Cinderella to c.1814 but gives no evidence to support his claim. Pearson also attests that the book's illustrations were designed by Cruikshank and engraved by Branston (Pearson 1890: 42). Allen Robert Branston (1778-1827) was a well-known London engraver in the first two decades of the nineteenth century. Isaac Cruikshank (1756?-1811?) designed several frontispieces in the late eighteenth century, but his son George (1792-1878) was much better known for his book illustrations. He began to design engravings in about 1810, but he made his name with the designs for the first English translation of the Grimms' fairy tales in 1823. It is certainly possible that George Cruikshank produced work for Rusher in c.1814, before he had fully established himself. It is also possible that Cruikshank and Branston produced their engravings in London and then sold copies of the wood blocks to one or more provincial publishers, such as Rusher. It is also possible that these engravings were not by Cruikshank and Branston themselves, but that they were either pirated or have been erroneously attributed to them (just as so many wood engravings from the same period have been mis-attributed to Thomas Bewick). The wood-cut showing a woman playing the harpsichord to a lover, which features here on the outside back cover also appears on an undated battledore in the Hockliffe Collection: 0489.
Interestingly, George Cruikshank produced his own version of Cinderella in 1854. Like his other re-worked fairy tales, it had a strong temperance message. The fairy godmother urges the King to celebrate the marriage of his son to Cinderella by destroying all the strong drink in the kingdom.
Rusher's of Banbury was a leading producer of chapbooks, but one about whom little is known. John Golby Rusher (1784-1877) succeeded his father William (1759-1849) in his printing business, and established Banbury as an important publishing centre. He was still printing as late as 1872. Beyond this meagre data, we have only Rusher's own description of his enterprise to go on. His own Galloping Guide to the ABC contains this verse :
At RUSHER'S fam'd Warehouse,
Books, Pictures and Toys,
Are selling to please all
The good Girls and Boys:
For youth of all ages
There's plenty in store,
Amusement, instruction,
For rich and for poor. (Stockham 1980, 29)
For other texts in the Hockliffe Collection published by Rusher see 0022, 0083, 0084, 0093, 0112, 0474, 0475, 0476, 0679, 0682, 0689 and 0787.
The Hockliffe Collection possesses two further, probably contemporary versions of Cinderella: 0013 and (as part of a collection of Mother Goose's Tales: 0031.
For more on Cinderella see Warner 1995, 201-217, and Opie 1980.
Pearson, Edwin, Banbury chap books and nursery toy book literature [of 18th and 19th C.], London, 1890
Stockham, Peter, 'On Selling Children's Books', The Private Library, 3rd ser., 3, i (Spring 1980), 21-36
Warner, Marina, From the Beast to the Blonde. On Fairy Tales and their Tellers, 1994, rpt. London: Vintage, 1995
Opie, Peter and Iona, The Classic Fairy Tales, Oxford: Oxford University Press, 1974, rpt. London, 1980