Stories Before 1850. 0093: Daniel Defoe, Life and Adventures of Robinson Crusoe
| | |
| --- | --- |
| Author: | Defoe, Daniel |
| Title: | Life and Adventures of Robinson Crusoe |
| Cat. Number: | 0093 |
| Date: | No date |
| 1st Edition: | 1719 |
| Pub. Place: | Banbury |
| Publisher: | J. G. Rusher |
| Price: | Unknown |
| Pages: | 1 vol., 16pp. |
| Size: | 8.5 x 6 cm |
| Illustrations: | Seven wood-cuts |
| Note: | An abridgement |
Images of all pages of this book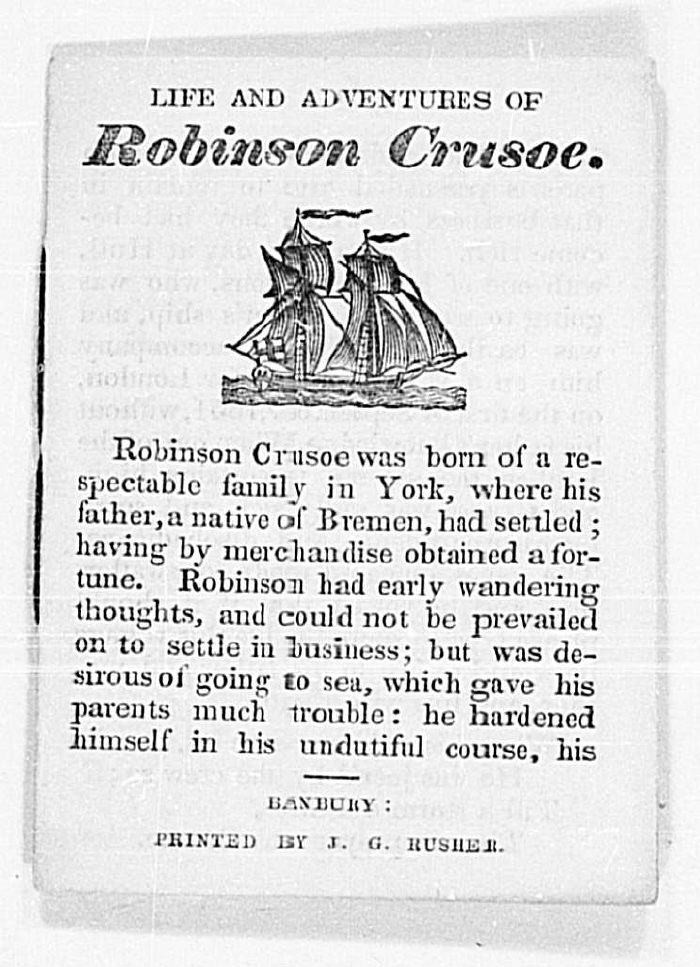 Introductory essay
Abridgements of Daniel Defoe's Robinson Crusoe were common in Britain and Europe in the century and a half after its original publication in 1719. Versions especially designed for children were published by Francis Newbery and Thomas Carnan in 1768 and Benjamin Tabart in 1805, but children doubtlessly read the many chapbook versions which began to circulate immediately after the work's original publication. Many different abbreviated versions were published from many different presses. This version by Rusher of Banbury is fairly standard. Its narrative passes with breath-taking speed so as to fit the whole of Defoe's original 364 pages into just sixteen (including seven conventional cuts). Some chapbook versions were just eight pages long. It is chiefly Crusoe's feats of arms which retain their place in this abridgement. His more spiritual crises have been excised, although the reader is pointedly told of the sucour he derives from his Bible. Other than that, the tale is not moral in way that most children's literature of the early nineteenth century was moral, save that at one point Crusoe regrets having disobeyed his parents by going to sea and vows to return to them if he is saved from a storm - a promise which he breaks (p.2). Perhaps the most peculiar feature of Rusher's version of the tale is that the pronouns are frequently switched. Although most of the text is narrated in the third person, at points Crusoe tells his story in the first person singular, then the first person plural (see pp.4 and 12).
Why children were so attracted to Robinson Crusoe and its variants is open to speculation. Rousseau, who went out of his way to praise the book in his mile, thought that it was the fact that Crusoe was utterly free, and living in a state of nature, which made the story so popular amongst children, for children themselves lived a similar life. A more prosaic explanation is that Defoe had written what was first and foremost an adventure story. This alone must have made it attractive to many readers, perhaps especially boys who might revel in the courage, ingenuity and pride of the solitary hero - the very things which are emphasised in this chapbook abridgement. What is remarkable is that the work seems somehow to have picked up an aura of respectability by the late eighteenth century, perhaps simply as a result of its venerability, and it was not targeted by those who sought to purify children's literature. When the moral tale began to dominate children's literature, the escape from didacticism which being castaway with Crusoe offered must have seemed doubly appealing. Redactions such as Joachim Heinrich Campe's New Robinson Crusoe (1779-80) only enhanced the credibility of Defoe's work amongst the strict, early nineteenth-century arbiters of the morality of children's books.
Rusher's of Banbury was a leading producer of chapbooks, but one about whom little is known. John Golby Rusher (1784-1877) succeeded his father William (1759-1849) in his printing business, and established Banbury as an important publishing centre. Beyond this meagre data, we have only Rusher's own description of his enterprise to go on. His Galloping Guide to the ABC contains this verse:
At RUSHER'S fam'd Warehouse,
Books, Pictures and Toys,
Are selling to please all
The good Girls and Boys:
For youth of all ages
There's plenty in store,
Amusement, instruction,
For rich and for poor. (Stockham 1980, 29)
Because J. G. Rusher published for so long (the British Library has a collection of 'Banbury Lists' - annual directories of local information - the first of which is dated 1812 and the last 1874) - it is difficult to establish the publication dates of his productions. As an estimate of the date of this edition of Robinson Crusoe, based purely on its appearance, 1820-1830 does not seem wholly improbable. For other texts in the Hockliffe Collection published by Rusher see 0012, 0022, 0083, 0084, 0474, 0475, 0476, 0679, 0682 and 0689.
For a brief discussion of the importance of Robinson Crusoe and its various sequels and revisions to the development of children's literature see Margaret Kinnell, 'Publishing for Children 1700-1780', pp.42-44, in Avery and Briggs, 1989.
For other versions of Robinson Crusoe in the Hockliffe Collection see 0037, 0080 and 0166. For a 1788 version of Philip Quarll, another Robinsonnade, see 0090.
Stockham, Peter, 'On Selling Children's Books', The Private Library, 3rd ser., 3, i (Spring 1980), 21-36
Avery, Gillian and Briggs, Julia (eds.), Children and Their Books. A Celebration of the Work of Iona and Peter Opie, Oxford: OUP, 1989