Stories Before 1850. 0210: A. Selwyn, Tales for a Winter's Fireside
| | |
| --- | --- |
| Author: | Selwyn, A. |
| Title: | Tales for a Winter's Fireside. In Two Volumes. By A. Selwyn; Author of "Montague Park," "A New Year's Gift," etc. etc., Volume One |
| Cat. Number: | 0210 |
| Date: | No date (but c.1824) |
| 1st Edition: | |
| Pub. Place: | London |
| Publisher: | William Cole, 10 Newgate Street |
| Price: | Unknown |
| Pages: | 1 vol., 142pp. (volume two missing) |
| Size: | 14 x 8.5 cm |
| Illustrations: | Frontispiece and three further engravings |
| Note: | The Hockliffe Collection contains only volume one of this two volume work. An inscription at the beginning of the volume, signed Louisa Mashiter, is dated 1834. |
Images of all pages of this book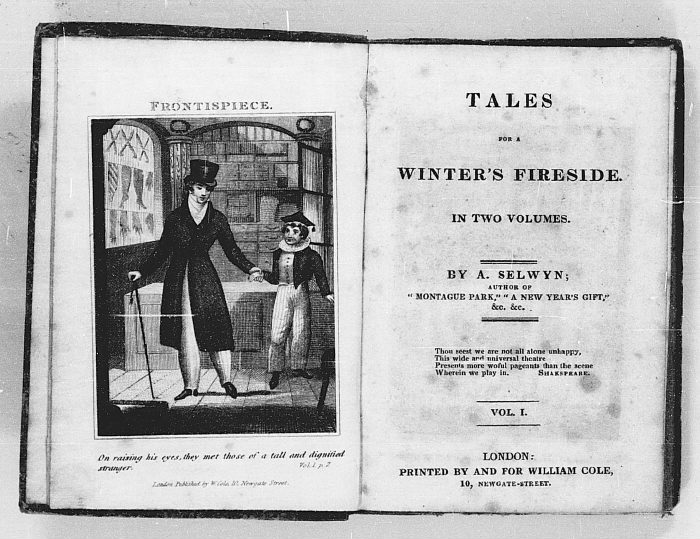 Introductory essay
Nothing is known about the author, A. Selwyn, except her sex and the impressive number of her books which were published within just a few years in the mid-1820s. Besides Tales of the Fireside, the British Library catalogue attributes ten works to her, all for children. Allibone's Critical Dictionary of English Literature (1859-71) adds another three titles. Selwyn wrote several novels and moral tales such as Montague Park (1825: 0210 in the Hockliffe Collection), Tales of the Vicarage (for John Harris, 1824), The Little Creoles (no date, but c.1825) and Revenge; or, the Young West Indian (no date, but c.1825). There were also several collections of short tales besides Tales of the Fireside, such as A New Year's Gift, or Domestic Tales for Children (1825). She was also responsible for Mary and Jane, or, Who Would Not Be Industrious? A Moral Fairy Tale (no date, but c.1840?) and possibly edited a collection of fairy stories. Last, there were several purely didactic works, namely A Key or Familiar Introduction to the Science of Botany (1824) and Ancient Grecian and Persian Biography.
The date of Tales of the Fireside is uncertain, but the British Library copy contains a water-mark dated 1824, suggesting that this, or a year later, was the publication date.
Volume one of Tales of the Fireside contains three separate stories: 'A Sketch of the Mortimer Family', 'Affliction's Best Solace' and 'The Sisters'. Volume two, which is missing from the Hockliffe Collection, contains three more: 'The Novitiate; or, The Abbey of the Pyrenees', 'The Fisherman' and 'Fanny Ashfield'.