Stories Before 1850. 0236: Anon., The Three Cakes
| | |
| --- | --- |
| Author: | Anon. |
| Title: | The three cakes: or, the generous youth. To which is added, The prodigal doubly punished. Embellished with 16 fine engravings on wood |
| Cat. Number: | 0236 |
| Date: | No date |
| 1st Edition: | |
| Pub. Place: | London |
| Publisher: | Whitrow and Co., Jewry-street, Aldgate |
| Price: | 3d |
| Pages: | 1 vol., 31pp. |
| Size: | 31 x 7 cm |
| Illustrations: | Front cover vignette, frontispiece plus fourteen further wood-engravings |
| Note: | |
Images of all pages of this book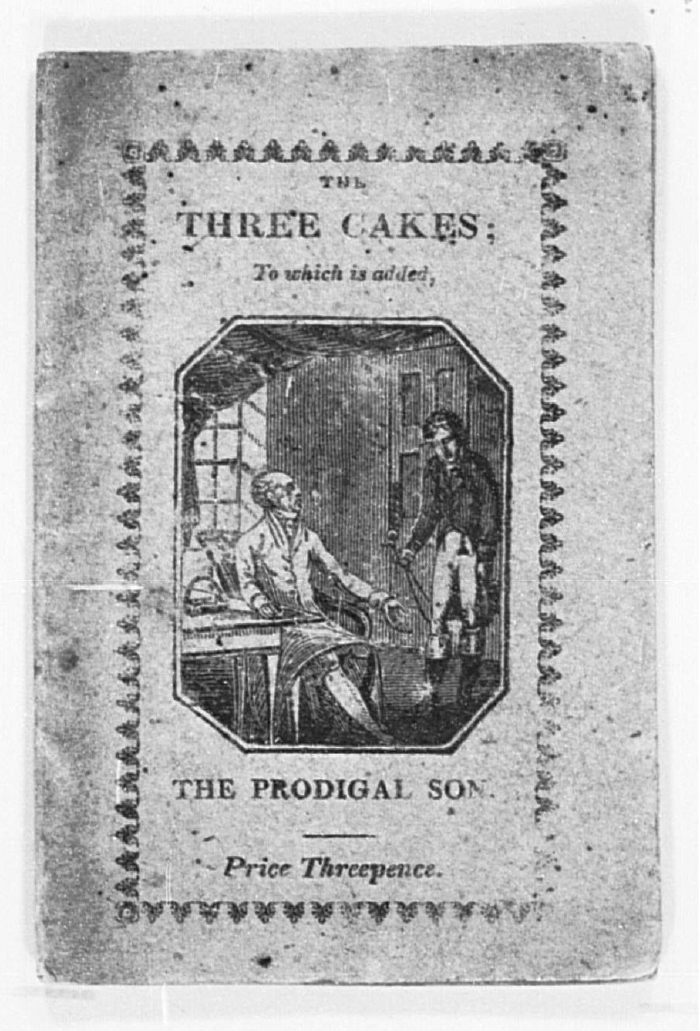 Introductory essay
'The Three Cakes' was directly lifted from the fourth volume of Anna Laetitia Barbauld's Lessons for Children, first published in 1779 (see 0482: 4:13ff.). It is possible (but unlikely) that the story predated even Barbauld's work. But in any case, the story was significantly expanded for this Whitrown and Co. edition, and many extra details were added, as well as the illustrations. A moral tale cast into the form of a chapbook, the book, as was typical for Whitrow and Co. productions, is bright, friendly and concise, and its many wood-engravings are simple but appealing.
The story is set in a school, apparently a boarding establishment for boys only. We are introduced to three boys, each of whom receives a cake from his mother, and the moral lesson comes from the ways in which they consume their presents. The first boy, Henry, is 'a special boy' who loves his book. He is depicted on p.5 reading under the shade of a tree, while another boy in the background plays with a hoop and seems to be inviting Henry to join him. Henry's mother orders a cake to be made for her son when she is told of his having won a prize at school. The cake is stuffed with almonds, candied lemon-peel and pistachio nuts, is smothered in sugar, and is 'as big as - let me see, - as big as - as a hat when flapped' (p.6). No sooner does Henry receive the cake than he begins to gobble it up, hardly ceasing until he has eaten the whole of it. Unsurprisingly, this causes him to be ill, and he cannot join in the games - taw, kites or cricket (pictured p.10) - his school-fellows play. Worse, the doctor has to be called and only 'physic and a strict regimen' enable Henry to recover his health. This is not the way to consume a cake, and his mother promises never to bake him another.
The second cake is sent to Francis when he writes home a perfect letter, wholly free from blots (he is pictured at his desk on p.14). He takes the opposite approach to Henry, vowing not to make himself ill by eating it too quickly and determined to make the pleasure last. He locks it away in his desk, but after a few days, the cake has started to go hard, then mouldy, and finally the maggots get at it and he is forced to throw it away. This is not the way to eat a cake either.
The third cake is sent to a boy named Gratian simply because his mother loves him and he loves her (their embrace is pictured p.18). But he calls his friends around him and divides the cake up equally between them all. This is not the summit of his benevolence though, for Gratian himself refrains from eating his own piece, which means then when a blind beggar happens along, and plays the boys many tunes on his fiddle, Gratian can have the satisfaction of giving the beggar his portion of cake (pictured in the frontispiece). This is clearly the way to consume a cake.
What follows 'The Three Cakes', as is standard in these Whitrow and Co. chapbooks, is a second, much shorter tale. It relates a conversation between a rich and charitable father and his profligate and libertine son. The father vows that for every penny he spends to buy his son out of debt, which he will do because he values the family's honour, he will distribute an equal amount to charity. The son, being doubly punished (presumably because both the money given to charity and that which is used to cover his debts will necessarily be subtracted from his inheritance), is soon cured of his profligacy.
Ian Maxted's The London Book Trades 1775-1800 lists Benjamin Whitrow as a 'wholesale stationer' in Jewry Street, Aldgate from 1790-1792 and in the Livery Ironmongers' Co. by 1792. Whitrow joined with William Champante, a wax chandler, in c.1785 and they worked together in a variety of trades until 1816 (Maxted 1977, pp.42 and 245). Philip Brown's London Publishers and Printers records that 'Whitrow & Co.' - the imprint which appears on this book - had become the successor to Champante and Whitrow at 2 Jewry Street in 1815 or 1816. Their imprint was subsequently replaced by another, 'Nowill and Burch', from 1816 to 1819 (Brown 1982, p.222). All this suggests that The Bad Boy Reformed by Kindness might have been published in 1815 or 1816, a date not inconsistent with the style of the book. For a other similar books in the Hockliffe Collection published by Whitrow & Co., see The Bad Boy Reformed by Kindness (0059) and The Fortunate Man (0112).
Maxted, Ian, The London Book Trades 1775-1800. A Preliminary Checklist of Members, Old Woking, Surrey, 1977
Brown, Philip A. H., London Publishers and Printers, c.1800-1870, London: British Library, 1982