Movable and Toy Books; Myths and Heroes. 0706: Anon., The History of Little Fanny
| | |
| --- | --- |
| Author: | Anon. |
| Title: | The history of little Fanny. Exemplified in a series of figures. The seventh edition |
| Cat. Number: | 0706 |
| Date: | 1811 |
| 1st Edition: | 1810 |
| Pub. Place: | London |
| Publisher: | S. and J. Fuller, Temple of Fancy, Rathbone Place |
| Price: | 5s 6d coloured (from an advertisement on the outside back cover of Phoebe, The Cottage Maid, S. and J. Fuller, 1811) |
| Pages: | 1 vol., 15pp. |
| Size: | 13 x 10 cm |
| Illustrations: | The illustrations are comprised of seven loose, headless figures. A separate, loose, paper head is to be slotted into each figure in turn. |
| Note: | The whole is enclosed in a grey cardboard case. This describes the book as the eighth edition, of 1811. Inscription on fly-leaf: 'Miss Boys / given her by /her sister Sarah on / her birthday'. Another edition of 0707 |
Images of all pages of this book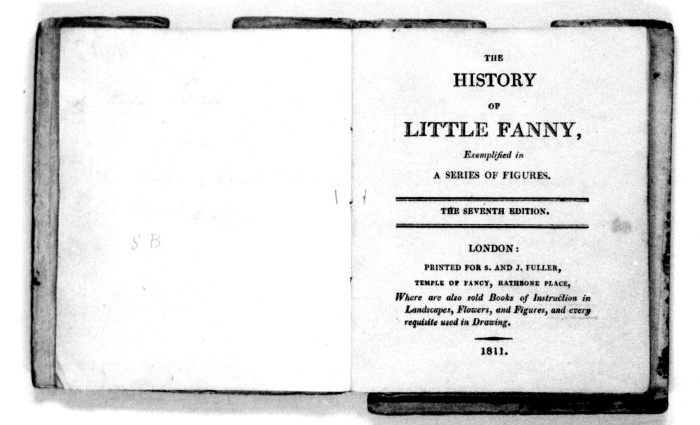 Introductory essay
The Hockliffe Collection contains three of S. and J. Fuller's early nineteenth century movable books, namely Frank Feignwell (0705) and two editions of The History of Little Fanny (the third of 1810, 0706, and the seventh of 1811, 0707). These books provide the reader with a narrative in verse and a small doll to be dressed in various paper costumes. The 'doll' is, in fact, nothing more than a paper head. A long paper tab extends beneath the head, which slides into each of the costumes. The idea was that as the story progressed, the book's user would change the doll's costume - that is to say slide the head into a new set of clothes, and add a new hat - to suit the protagonist's current adventure. Thus readers were able to create their own illustrations for their book. For an indication of how this works, see one of the costumes from 0707. For an animated, colour demonstration, see the website of the rare books collection of the University of Northern Texas: https://www.library.unt.edu/rarebooks/exhibits/popup2/fuller.htm.
Movable books of various kinds had been in existence for several centuries before they came to be used by children's publishers. Books with illustrations in levels, so that one layer could be lifted to remove a different image underneath, had been used to illustrate human anatomy as early as the fourteenth century. Rotating circles of paper pinned into books lent themselves well to accounts of astronomy (see Lindberg 1979 for accounts and images of both these kinds of movable book). However, it was only in the mid-eighteenth century that anyone first thought of applying these techniques to children's books. It was probably sometime in the 1760s that Robert Sayer first published his 'Harlequinades'. These sixpenny books (or a shilling coloured) featured flaps of paper which folded out to reveal a new set of images and verses which developed the narrative set out in the top layer, not unlike 0709 (see Haining 1979: 10-11).
The next major development was Fuller's doll-books. These contained an original text, were carefully hand-coloured, and each came in its own case. They were expensive therefore, selling for not less than five shillings - a substantial sum for any book, let alone a children's book of just 15 pages. They were probably designed primarily as gifts, something corroborated by inscriptions in the Hockliffe copies. The series began in 1810, and ten different titles were produced (Haining 1979: 14-15). The series was apparently a success, their title-pages claiming multiple editions within a year or two of their first publication. Yet publication does not seem to have extended beyond 1812, which is perhaps an indication that the affluent market at which they were aimed was a little too small to sustain profitability.
Whilst Frank Feignwell's Attempts to Amuse his Friends is a light and ostensibly comic book, The History of Little Fanny, though a toy-book, is textually a moral tale of the sort which had come to dominate children's literature by the early nineteenth century. It tells of a young girl who delights only in her doll and her fancy clothes. She is so vain, indeed, that she wishes to wear her fine bonnet, coat and muff while she walks in the park, even though the weather is far too warm. When her mother forbids her to do so, Fanny pouts and 'mutters something about going out.' The next time we see her, in fact, she has gone out with her maid, but in her obstreperous mood, she is easily tempted away from her companion by a beggar, and she is soon lost. Fanny is forced to become a beggar herself, but slowly rises through the ranks of society. She becomes an errand girl, selling fish, then selling eggs and butter. Finally, she is sent on an errand to her own house, and although she dares not enter, collapsing on the step, her mother finds her and takes her in. Her journey is complete and her reform is conclusive. Fanny has learned to respect her parents' wishes, and has even come to love reading. The final illustration depicts her with her book, her doll having been abandoned.
Fanny's adventures have provided ample opportunity for the illustrations to depict the various warps of life to be found in a city, although the costumes are not nearly so exotic as those which appear is some of S. and J. Fuller's other movable books. Oddly, Fanny's heads, as they appear in the Hockliffe copies, are of different design, both vis-a-vis one another, and compared to those which appear in most other versions of The History of Little Fanny (compare the two in 0706, p.2 and p.13, and the one which comes with 0707, on thefly-leaf). This may be because differently styled heads were produced for Fuller's successive editions, or because one of more of the Hockliffe heads have found their way into these books from different Fuller titles.
Other titles in the Fuller series included The History and Adventures of Little Henry (1810), a companion piece to The History of Little Fanny, Ellen, or the Naughty Girl Reclaimed (1811), and Phoebe, the Cottage Maid (1811). This last text altered the format a little by having its illustrations of headless bodies against ornate backdrops fixed in place. The readers simply moved the head from one page to the next, as he or she read through the book.
Lindberg, Sten G., trans. William S. Mitchell, 'Mobiles in books. Volvelles, inserts, pyramids, divinations, and children's games', The Private Library, 3rd ser., 2, i (Spring 1979), 49-82
Haining, Peter, Moveable Books. An Illustrated History ... from the Collection of David and Briar Philips, London: New English Library, 1979
Haining, Peter, Moveable Books. An Illustrated History ... from the Collection of David and Briar Philips, London: New English Library, 1979