Stories Before 1850. 0152: Edward Kendall, Keeper's Travels in Search of his Master
| | |
| --- | --- |
| Author: | Kendall, Edward Augustus |
| Title: | Keeper's travels in search of his master. Third edition |
| Cat. Number: | 0152 |
| Date: | 1803 |
| 1st Edition: | 1798 |
| Pub. Place: | London |
| Publisher: | J. Harris, successor to E. Newbery, at the Corner of St. Paul's Church-Yard |
| Price: | Unknown |
| Pages: | 1 vol., 174pp. |
| Size: | 10 x 8.5 cm |
| Illustrations: | Engraved frontispiece |
| Note: | An earlier edition of 0153 |
Images of all pages of this book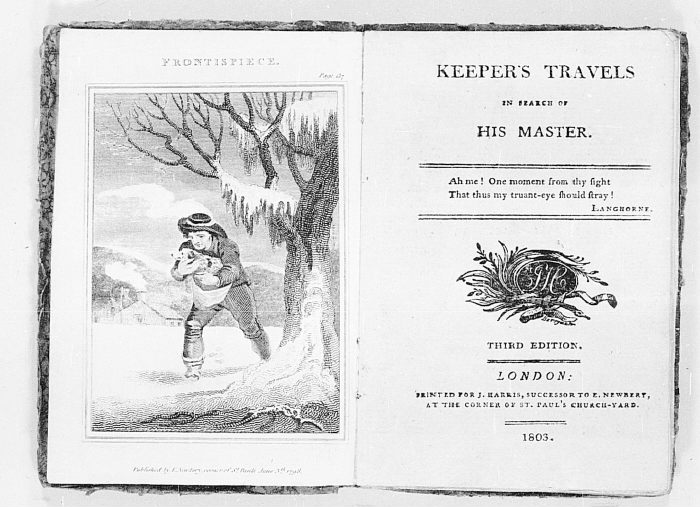 Introductory essay
Kendall's Keeper's Travels was first published by Elizabeth Newbery in 1798, and it immediately proved popular. John Harris kept the title in print when he took over the Newbery business in 1801, producing both of the Hockliffe editions (in 1803 and 1817), and a 'sixteenth' edition was published as late as 1879. Not everyone held Kendall or Keeper's Travels in such high regard though. Sarah Trimmer launched a savage attack in her Guardian of Education, positioning both the author the book squarely in the Jacobin camp. Kendall's Parental Education; or, Domestic Lessons would inevitably 'lead us into a full discussion of the principles of the New Philosophy', she asserted (Trimmer 1802-1806: 2 (1803), 101-106). And of Keeper's Travels she wrote,
We have long been used to hear of the RIGHTS OF MAN, and RIGHTS OF WOMEN; but the levelling system, which includes the RIGHTS OF ANIMALS, is here carried to the most ridiculous extreme. (Trimmer 1802-1806: 1 (1802), 400)
When Trimmer details the book's 'Jacobinism', however, it appears to exist merely in its abhorrence of cruelty to animals. The real reason for Trimmer's attack on Kendall was, no doubt, that he had translated work by Jacques-Henri Bernardin Saint-Pierre. The Abbé Barruel's Memoirs of the History of Jacobinism (1798), a key text for anti-Jacobins, had identified Saint-Pierre as one of the 'Illuminati', a shadowy group sometimes supposed to have orchestrated the French Revolution (See Trimmer 1802-1806: 2 (1803), 364-69).
In fact, Keeper's Travels is a fairly standard animal story of the kind which proliferated in the early nineteenth century. The Hockliffe Collection contains several: Dorothy Kilner's The Life and Perambulation of a Mouse (1784: 0159), Mary Pilkington's Marvellous Adventures; or, the vicissitudes of a cat (1802: 0197), Elizabeth Sandham's The Adventures of Poor Puss (1809: 0204), E. Smyth's History of Tabby, a favourite cat (1809: 0218), Eliza Fenwick's The Life of the Famous Dog Carlo (1809: 0162), and the anonymous Memoirs of Dick the Poney (1800: 0178-0179A) and Cato, or Interesting Adventures of A Dog of Sentiment (1816: 0082). Compared with these, Keeper's Travels was perhaps a little less twee than many, and a little less overtly moral. The 'ONE ERROR, ONE DERELICTION FROM THE PATH OF RIGHT' which Kendall sought to dramatise for the edification of his readers, was merely the momentary lapse of the dog Keeper who became interested in a basket of fowls at a market and consequently lost his master in the crowd (p.173). The rest of the book records Keeper's attempts to find his master once again, something accomplished in the final pages. By then, of course, Keeper has gone through many adventures and made many new friends. One of these is Caroline to whom the dog has become very attached. Which of these friends - Caroline or his first master - Keeper will serve provides something of a problem, but it is easily solved when they marry one another.
Edward Augustus Kendall (1776?-1842) was a prolific writer for children, but was also noted in his day as the author of several books describing his travels in America, and as the founder of several literary periodicals.
Trimmer, Sarah, The Guardian of Education, A Periodical Work, London: J. Hatchard, 1802-1806
Trimmer, Sarah, The Guardian of Education, A Periodical Work, London: J. Hatchard, 1802-1806
Trimmer, Sarah, The Guardian of Education, A Periodical Work, London: J. Hatchard, 1802-1806